After a day halt each at the beautiful Tuamotus Islands of Rangiroa and Fakarava the pen ultimate halt of the 11 Day Paul Gauguin Cruise is at one more stunning Island called Morrea (meaning 'Yellow Lizard' in the Tahitian dialect) before culmination at Tahiti. Situated within the Society Islands I stand watching this hilly Island from my Cabin's balcony, still in my night wear, trying to comprehend why has the Cook's Bay, right in front of me, and the adjoining Opunohu Bay fascinated so many Hollywood directors to shoot scenes here. The answer is simple. The picturesque hills behind the simmering shades of aqua and turquoise waters in the lagoon and silky white beaches is so irresistibly attractive that any creative film maker would like to show such grandiose to its viewers. Super hits like MGM's 'The Mutiny of the Bounty', starring Mel Gibson ( Mad Max Fame) and Antony Hopkins and 'Love Affair' along with other famous Hollywood and French Movies are among those that have been picturised at the French Polynesia Islands.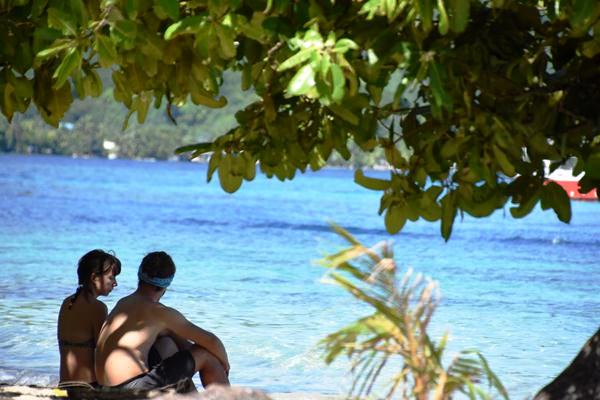 Like Huahine, Tahaa and Bora Bora, Morrea too is a part of the enchanting 129 Island French Polynesian Archipelago. This geologic hotspot, like any other, is formed some 1.5 to 2.5 million years ago resulting from incessant volcanic activity in this part of the Pacific. Replete of alluring snorkeling sites around the Island's crystal clear Lagoons that blend with pristine beaches covered with sexy silky white sand along with soaring mountains at the rear, make it an ideal location to exercise exciting adventures, both above and below the sea. The splendor of intermingling of the Ocean and the Land is so captivating that it can keep you riveted at them for hours.
After you land on the Island of Morrea, a 90 minute climb above the Magic Mountain begins from just across the pier. The climb is arduous but worth every penny once you reach above the cliff and witness some surreal, magically beautiful creation around. The area begs to get pictured. Any person with a Camera would love to oblige. I put my Nikon D7200 with 18-300 lens in place just to realize every composition competing with the other. Pleasantly confused, I keep Clicking.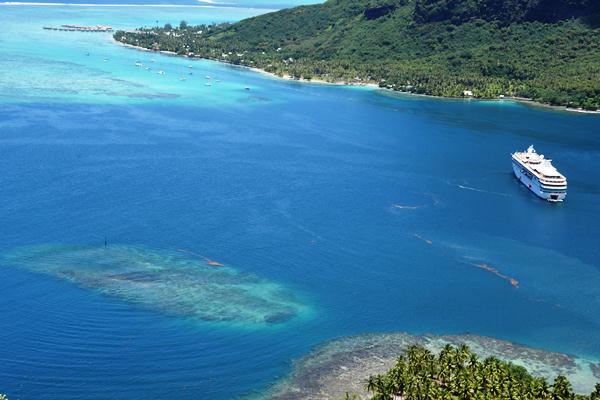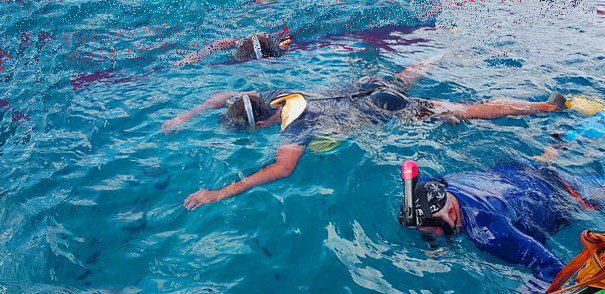 The sense of zero gravity Levitation is indescribable as you float over the crystal clear waters of the sea with your snorkeling gears on. Watching below you say 'Auē! (oh my!) as dream scene over the universe of charismatic Coral gardens gets enacted. Gorgeous colorful fishes zig zag along with harmless lemon Sharks and intimidating Sting Rays in stunning harmony. You are over whelmed at this exceptionally choreographed and unrehearsed drama; inspiring you to reflect upon the divine director responsible for this splendid show here at Morrea.
After 10 days of unqualified exuberance, exceptional joie de vivre, it was time now for a final disembark from the majestic Paul Gauguin. This Wanderlust was over. As reluctant as one could be, you prepare to leave amidst ubiquitous smiles, good byes, hugs and teary eyes. Māuruuru roa! (Thank you very much) is on each ones lips as one passes by the remarkably hospitable crew queued at the exit. Armed with abiding memories as I look around at my fellow travelers, I realize, maybe I will never get to meet or see these wonderful co-travelers ever again. But 'As All Things Come To An End', even this one had to.
Back at Papeete-Tahiti, before leaving by the late evening flight for Los Angeles, there are few hours in between. So a quick tour of the Capital city, organized by Paul Gauguin, was a welcoming invite on the platter.
A stylish travel bus, with driver cum Guide Mr. Gerald (a French Man settled in Papeete), is ready to show a few landmark places around. As we drive through the well tarred road, Gerald speaking over the mike placed near the steering wheel gives interesting information. Says: Out of the total population of 2,75,000 staying in whole of French Polynesia, 2,00,000 stay in Tahiti. Tahiti is an 8 shaped island divided into two. The larger one is called 'Tahiti nui' and the smaller one 'Tahiti iti'. Remarkably 47 of the 79 inhabited Islands in this archipelago have Airports built on them, presumably to help facilitate international tourism.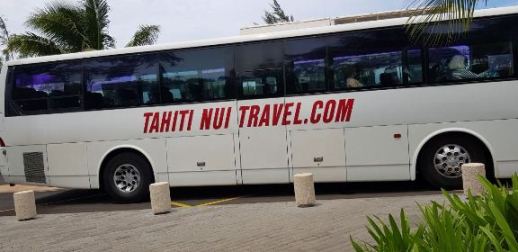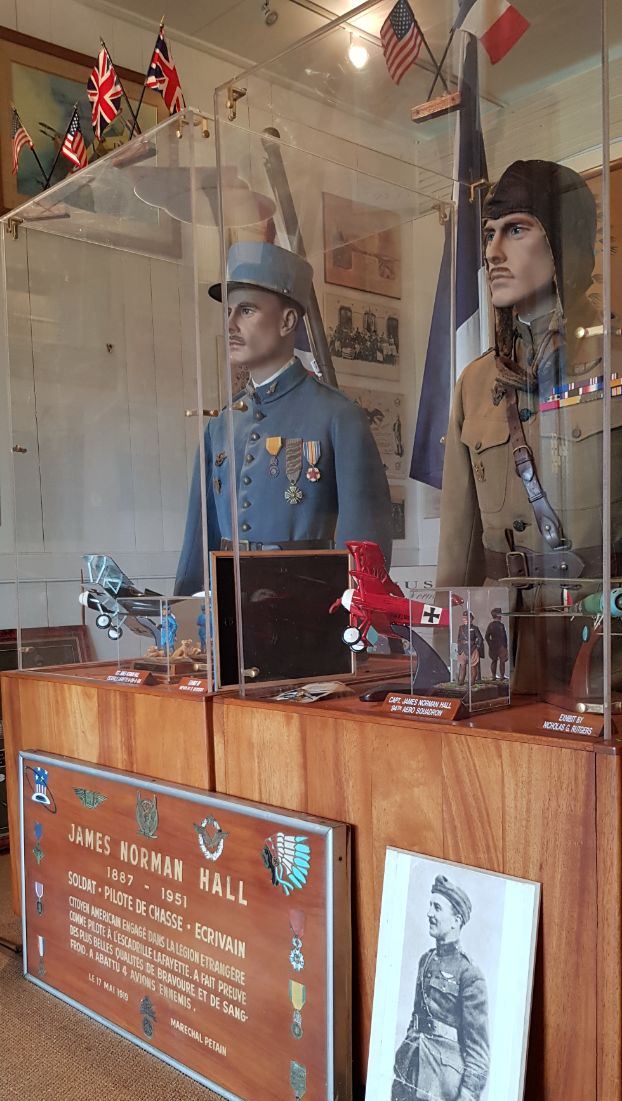 As Gerald continues with his running commentary, you pass from in front of an attractive Papeete Town Hall built in a typical French Colonial Style reportedly housing Mayor's office and Government departments. You then drive pass from in front of an eye catching Red and Yellow Cathedral, the oldest Catholic church in Tahiti before you take your first halt at:
A) The famous 'James Normal Hall Museum'. This place once housed a revered adventurer, soldier, author and poet named James Normal. Here you see elaborate display of pictures and artifacts that compel you to go back in time and imagine quite vividly how things would have been then and how a self-effacing Mr. Normal must have lived his life during those days.
B) 'Robert Wan Pearl Museum' is another place that's not to be missed. It's reputedly world's only museum dedicated exclusively to pearls depicting the Art, History, Philosophy and mythology of these beautiful Gems. It is also the place where World's largest Tahitian Pearl is displayed.
C) Next Gerald takes you to a small but beautiful 'Baugainville Park'. Tree top walkways passing through its exotic flora make you experience astonishing tranquility. A captivating view of Nanuu Bay compounds the pleasure with mesmerizing blending of beautiful Sea with island's lush Land taking place below.
D) Last place to visit is the 'Point Venus Light House'. Here you can see an old Light House built that, according to Gerald, could never be put to use. Little ahead is the 'Matavai Bay' where, as per the legend, Captain Cook had once stopped for sighting of the Transit of Venus.
On the way back to the Hotel, Gerald extolls the Nationalistic qualities inherent among the Tahitians. Says Gerald, "Though these Islanders, including those from Morrea and Tahiti, suffer from over 50% rate of unemployment but still 95% of the Youth who go abroad for higher studies, like to return back to their home land, unequivocally demonstrating their resolute to serve their Country." Commendable!!
As you alight from the bus, you say Māuruuru once again to a pleasantly verbose and amiable Gerald for a Aita atu ai! (fantastic) trip.
Back at your Hotel you quickly prepare your bags and proceed to the Airport with abiding memories to board the 8 hour flight back to Los Angeles.