Cruise through the indescribably beautiful archipelago of French Polynesian Islands, with Paul Gauguin. Sexy 'Huahine' to begin with.
The exceptionally enchanting and fabled French Polynesian Islands, situated in the heart of South Pacific Ocean, are beautiful enough to create mild tremor in the hearts of tourists visiting them though they themselves are the product of relentless seismic activity that's been happening over millions of years in this region. The episodic spouting Lava from within the earth's crust has resulted in the creation of five amazing archipelagos of over 129 islands. Huahine, the first halt of Cruise Ship – Paul Gauguin, is one such island that's part of these intensely mesmerizing Islands.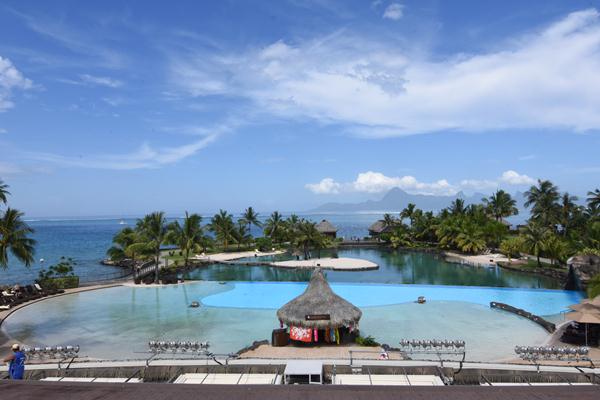 Post eight hour flight from LA and a short stopover at the picturesque 'Intercontinental Hotel', you board this massive centrally Air Conditioned luxury Ship stationed at Tahiti Port, the capital of French Polynesia. No sooner you enter this expansive vessel and settle on a snow white sheeted Queen Bed overlooking an exclusive attached Balcony on the 7th Deck of this 8 deck Vessel, you are in no doubt of being in an extensive pampering zone. The Cabin or State Room, as it is called, is provided with 24 hour non chargeable room service, fully stocked refrigerator and attached bathroom with a full size bath tub. You feel like a VIP. The 3 large dining restaurants on 5th, 6th & 8th Deck effectively cater to approx. 300 guests on-board with amazing élan. Dip in the Pool on the 8th Deck and enjoy the 5 star Spa & Gym on the 6th Deck. With over 350 member crew, the Guest:Crew ratio is skewed in favor of the guests; mollycoddling is therefore inevitable. As the Majesty commences its 10 Night 11 Day journey cutting through clear azure waters of the Pacific in this southern hemisphere, eating, drinking and merry making begins to roll. The Cultural evenings on Deck 5 certainly adds to the luster. You are free to select any pre planned excursions on each island, albeit at an extra cost.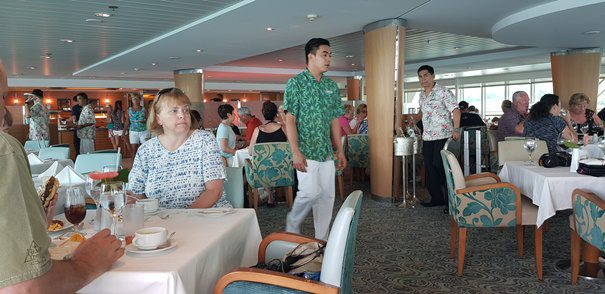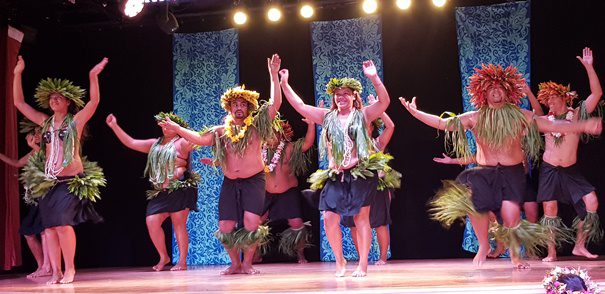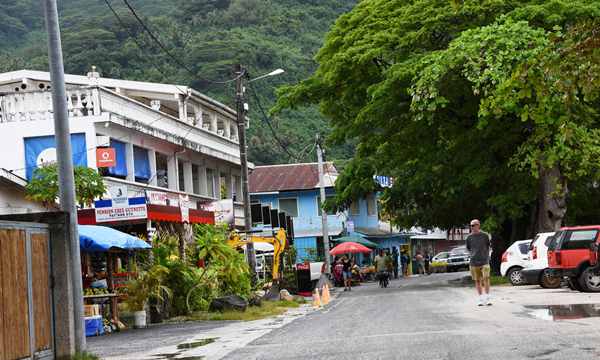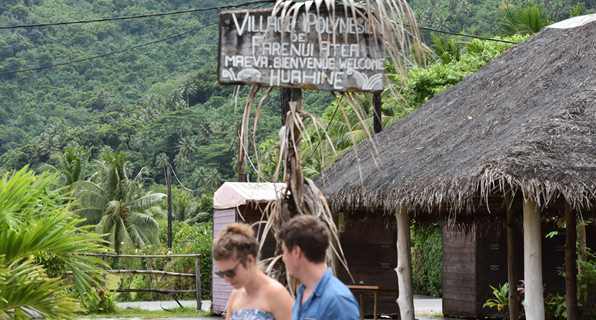 After cruising overnight, the first stop is near an Island called 'Huahine', one of the seventy nine inhabited islands in French Polynesia. Hua (amusingly means Sex) & hine (Vahine – 'Woman' in Tahitian vocabulary) gives Huahine a nickname – "Sexy Woman". Out of a total population of 275 Thousand put together in all the islands, 200 Thousand stay in Tahiti and the rest distributed among the other 78 islands. 6400 inhabitants stay on this Sexy Woman's Land.
At Huahine, the excitement is ubiquitous as smiling guests assemble, at deck 5, to be ferried to the pier in the Ship's tender boat. At pier representatives holding placards guide you towards your selected excursion. A local bus with wooden benches is there too to shuttle passengers between pier and the local town – "Fare". My pre booked Excursion being in the afternoon, I decided to explore this town all by myself. "Fare" – supposedly the main but nondescript town of Huahine has a row of stores with some restaurants, couple of ATM Machines, rest rooms and a Post Office on one side of the short road and a wharf and a handicraft shop on the other. A cursory look around but no "Sexy Woman" in the vicinity.. I take shuttle back to the pier. Ha…Ha..
At the pier, Joe, the Driver cum Guide prepares to take six of us on a four hour paid tour around the Island. A Mile into drive, Joe applies breaks. There's a small bridge and Joe points towards Huahine's supposed prominent mountain ridge that resembled a silhouette of a pregnant woman. Joe failed to tell who was responsible for this pregnancy. God ? Nature ?? Oh!! It doesn't matter…. Click, click and we proceed towards a small cute church that's surrounded by some small but delightful houses. A few miles ahead at a place called 'Faie', Joe stops, intriguingly runs and collects a can of Tuna flakes and then slips into a small gorge nearby. A shallow stream flows through this gorge and no sooner he begins to pour Tuna flakes into it, a bunch of eels come wriggling to enjoy their awaited delicacy. Joe then points towards the eyes of these exceptional eels. Their alluring Blue & Green color eyes looked incredibly beautiful. Joe helped in clicking their pictures on our respective mobile cameras. Interestingly, these eels are sacred to the locals for their exceptional quality to keep the streams clean of filth. They often live for up to 30 years, and for breading they leave this Sexy Woman's Island and travel deep into the Pacific.
Joe then takes turn towards the Pearl Farm where harvesting of the famous Tahitian Black Pearls is in progress. After parking the car near the shore, a small motorboat ferries us right at the center of a water body, towards a House Boat like structure. A beautiful young lady, can I call her Huahine (Sexy Woman) ?? awaits our arrival and zealously explains how with judicious Human intervention super seductive pearls are created within an Oyster. She demonstrates the way a nucleus is introduced and grafting conducted on live Oysters, which then transform into fascinating pearls after some 18 months of Harvesting.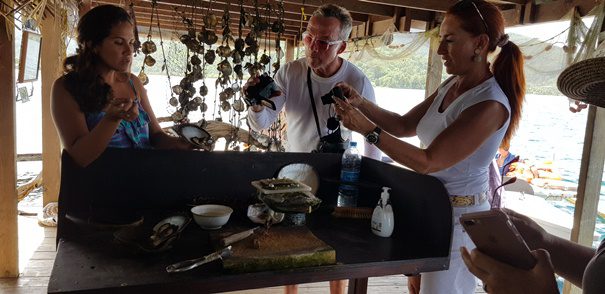 Half an hour of en-lightener on Pearl harvesting, we return back, feed on some yummy Coconut water and proceed towards 'Maeva'. Maeva, a major Cultural and Religious center has an outdoor museum where one can see some 40 marae (temples), believed to be built by their ancient chiefs. Surprisingly there are no Graveyards on this Island. All the deceased are buried within the premises of one's own homes. All R.I.P. where they once played, produced and stayed. On a lighter vein, what if one of them got up one fine night to check up on his family …. Scary ???
Four hours pass fleetingly but the extolled temptress remains elusive. Ms. Huahine's day off ?? Possible. Joe gets us back to the pier from where the Tender boat takes us back to the Ship. Drinks & Dinner awaits Guest as sailing to the next destinations commences – To the enchanting islands of "Tahaa" and "Bora Bora".