After a near 22 hour flight from Mumbai that included a 4 hour layover at London's Heathrow Airport you reach the bustling seaport in British Columbia – Vancouver. A City considered as most ethnically diverse place in the whole of Canada.
After emigration formalities are over, you collect your baggage and move out to take Taxi for your Hotel situated in Downtown Vancouver. Paramjeet, the Taxi driver, a Punjabi like me, is an interesting conversationalist. The camaraderie between us was therefore a natural corollary.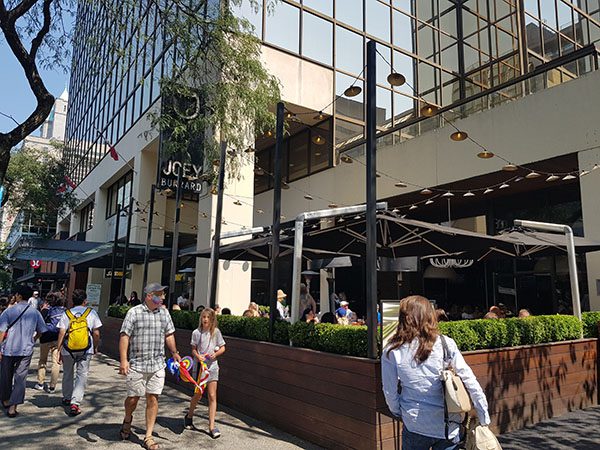 With 36 hours still left before you board the Seabourn Cruise for sojourn to Alaska, Paramjeet advice on important places to visit in Vancouver comes handy.
Convivial concierge, a Fijian gentleman of the Sutton Place Hotel – Aldrin/Juddgy, recommends taking afternoon meal at "Joey Burrard", a popular restaurant situated just across the road till your room gets ready. Watermelon Juice-Vodka Cocktail along with some sumptuous Salmon made for a good Lunch. Completely satiated, you pay the check & leave Joey's.
Once in your room you look outside of the window to see beautiful view of Downtown Vancouver. With your Camera you collect some amazing pictures before heading towards the Vancouver's most popular place – 'Capilano Suspension Bridge Park'.
Situated approximately 12 miles from your Hotel, a free shuttle service originating from just few blocks away can take you to this iconic Bridge.
200-500mm lens fitted on your Nikon D850 is conspicuous. Dev, the young driver of the shuttle Bus looks at your camera and welcomes you with an unmistakable broad smile. Soon you learn Dev himself is an avid photographer and the fascinating 200-500mm lens forced his smile.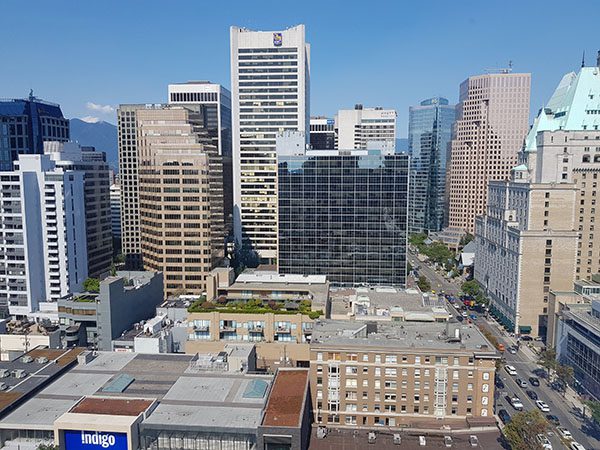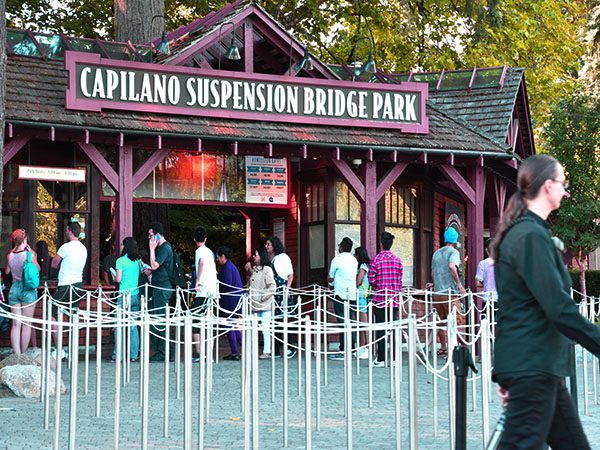 Capilano Suspension Bridge Park
As Dev drives the Bus through the busiest streets of Vancouver, you see the legendary Vancouver's "Trump Towers" on your right along with multiple major stores. Further crossing the overarching Lion's Gate and passing from the outskirts of the famed Stanley Park, you reach Capilano Suspension Bridge Park, in the north of Vancouver.
CAD 29 is what you pay to secure entry in to this top touring destination of Vancouver. A place that has evolved as a world class tourist attraction over the period of time.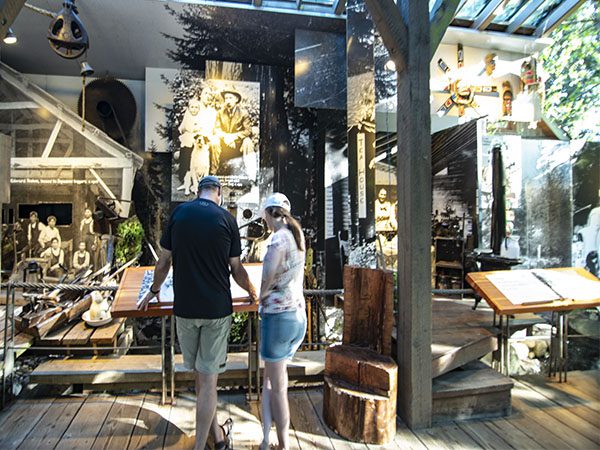 Entering here you first walk pass the 'Story Centre' where you can get educated on the rich history of this area. As you walk ahead, you see some attractive sculptures carved from large trees, supposedly sacred to ethnic population called 'Totems Poles'.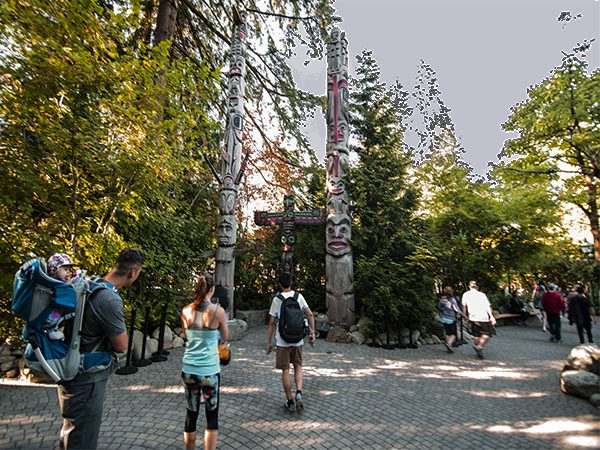 'Cliff Walk' next is a relative new attraction to the park. This takes you through the Rain forest allowing some interesting aerial view of the canyon, 300 feet below it.
You now reach a place for which you are actually here, an incredible architectural marvel considered to be the eighth wonder of the world – Capilano Suspension Bridge Park.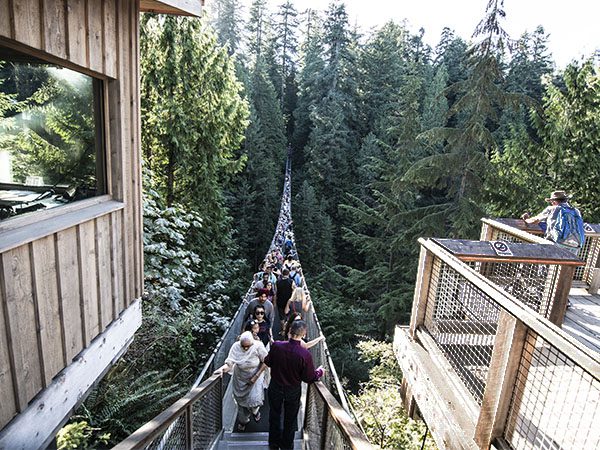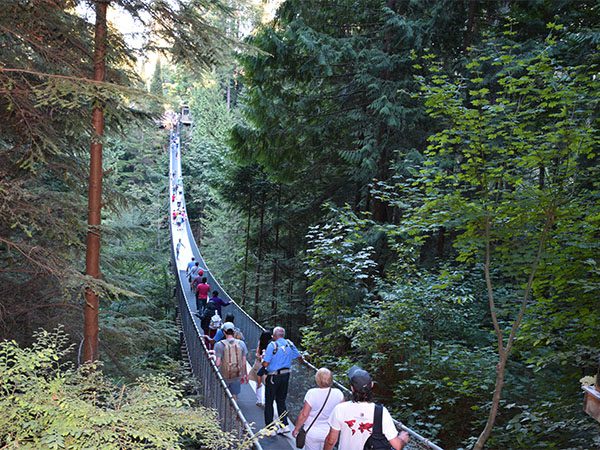 Suspended between two mountains, 230 feet over the Capilano River, this 450 feet long iconic bridge, incessantly swinging sideways, is a feat to watch. As you warily step on this cradling bridge, you hold on to its 2 inch strong steel railing and mark your steps slowly and with utmost caution. Tightly holding to the railing you carefully balance your each step and move towards the other (west) side.
Once you reach the west side you come across a set of awe inspiring mini suspension bridges; they are seven in no. These bridges, also suspended between platforms built around huge trunks of the Duglas Fir trees are built around 30 meters above the forest and are similarly in a state of unstoppable rock.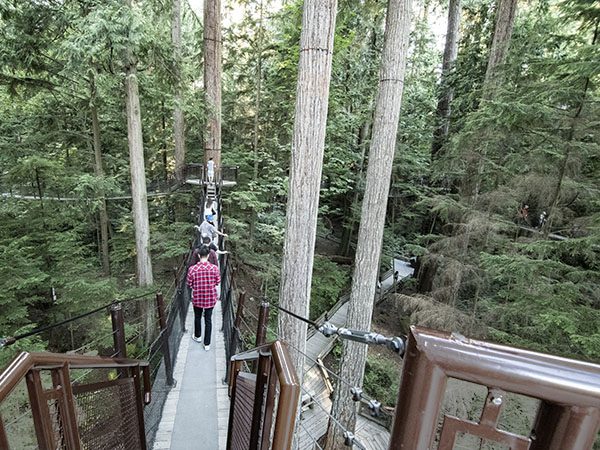 Crossing this west side portion of the Rain Forest through these bridges one after the other accentuates your excitement. Experience that leaves little doubt in one's mind as to why this exceptional marvel has attracted so many visitors from across the globe every single day.
On your way back halt at the Loggers Grill for some snacks and coffee, visit the Capilano Trading Post Gift Shop before returning back to your bus to go back.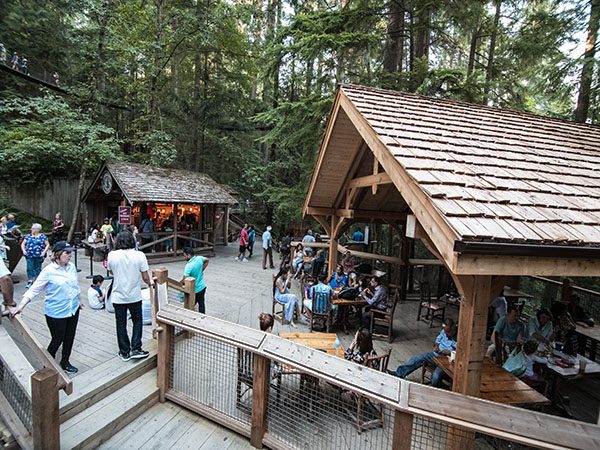 Granville Island
Next Day, as advised by concierge 'Juddgy' you walk a few blocks away from the hotel towards Aquatic Centre near the Sun-Set Beach. At the pier pay 5.5 CAD to the waiting blue color boat of 'False Creek Ferries' for a return ticket and get ferried to the 'Granville Island', a cultural hub situated across the creek. Public market on this island is presumably the best place to savour your breakfast.
At the Public Market you see numerous stalls selling fresh exotic fruits, restaurants offering various cuisines – Vegetarian, Non-Vegetarian, Sea Food, Continental, etc. You can pick and choose your delicacy, sit on any table nearby and enjoy. There are also shops marketing impressive hand-made crafts and colorful paintings created by local artists.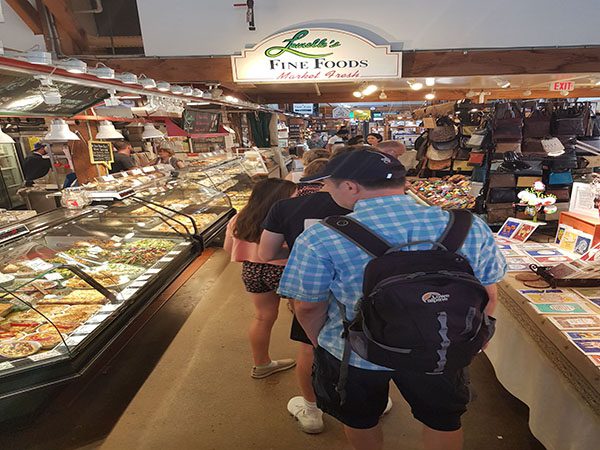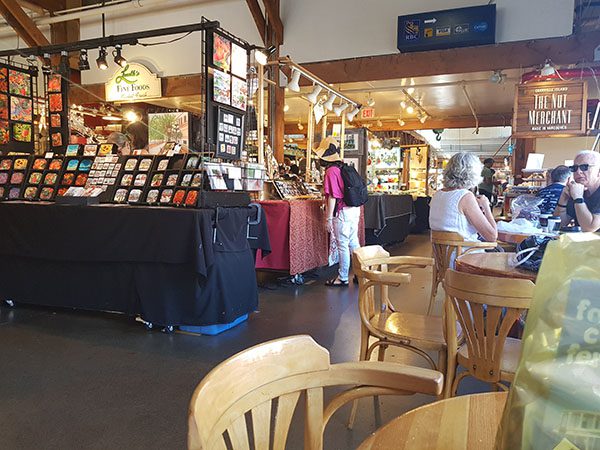 The ubiquitously displayed over-sized Blood Red Plums are mouth-watering; you get some packed along with few Dry Fruits before proceeding to place order for some soft Salmon filled croissant and scrambled eggs for breakfast.
Back at the Hotel, it's time to check-out and proceed towards the pier at 'Canada Place'. The luxurious Sebourn Cruise Ship is anchored here to take you for your eagerly awaited sea-journey to Alaska. After you check-in your luggage and before getting past emigration, you remember your friend's advice. Hurriedly you take the lift couple of floor above and reach a theater to watch a thrilling 20 minutes, 4D Show called – "Fly Over Canada".
Fly Over Canada
As you enter by paying CAD 35 as ticket fees, you are initially introduced to Canada through a notable Audio-Visual display performed in a huge hall. It's time now to move into a special theater, also known as 'boarding Zone'. Sitting in front of a huge 20 meter spherical screen you fastened the seat-belts attached to your seat. After being well ensconced on your seat, the light goes off and then begins an 8 minute life-time exhilarating experience.
As the movie begins you feel your seat getting lifted leaving your feet dangling in the air. Engulfed with sense of flying over from the east to west of Canada zooming pass over some of its spectacular landscapes, you are mesmerized whizzing over beautiful Rocky Mountains and the legendary Niagara falls. The wind, the mist and the aroma intrinsic to that area are sprinkled over you from all direction as a part of spectacular special effects to further ratchet up your illusion of you being there; actually.
Incredibly amazed and enthralled, you move down and proceed towards emigration to board the lavish vessel – Seabourn Sojourn for an 11 day, 10 stop Cruise from Vancouver to Seward (Alaska).
(Experience 'Cruising with Seabourn' mentioned in – Part 1, Part 2 & Part 3)