After disembarking the Seabourn Sojourn at Seward (Alaska) post fascinating 11 day Cruise from Vancouver, you head for a guided tour on a 150 seater Catamaran to the famous 600,000 acre Kenai Fjords National Park (KFNP) before leaving for Anchorage and then to Denali by Wilderness Express.
This multi-level cruiser has its cabins fitted with large windows and are kept reasonably heated (outside Temp being in single digit). This low temperature, however unbearable, is matched with equally tangible enthusiasm. Many revelers who crave to witness the wild life at Sea, unhindered, stay put at the top viewing deck to get a glimpse of some exotic memorable moments.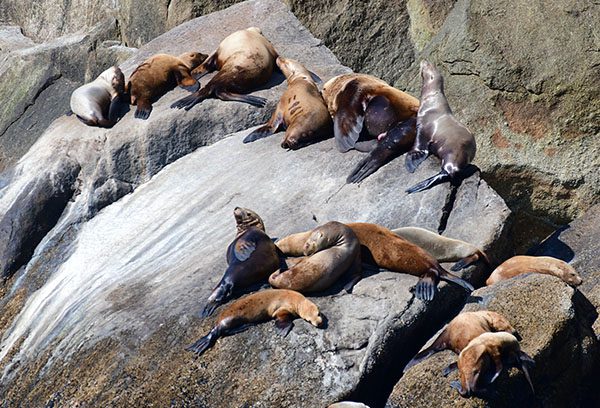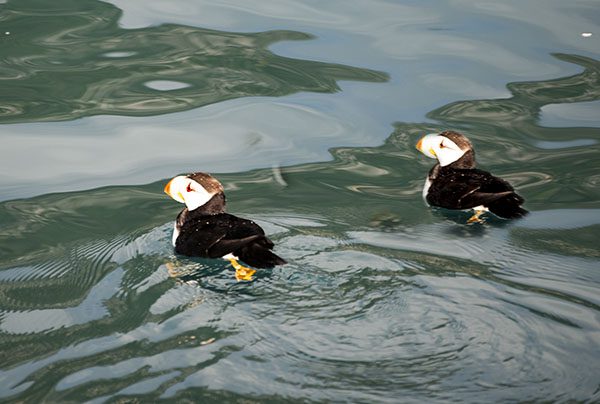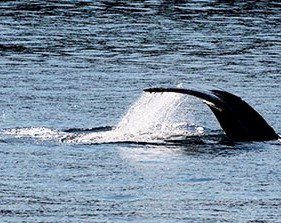 Kenai Fjords
During the course of this 5 hour Cruise you get to explore Stellar Sea Lions, Harbor Seals, Bald Eagles, host of tiny colorful birds (Puffins), Sea Gulls, humpback Whales and impressive Holgate Glacier.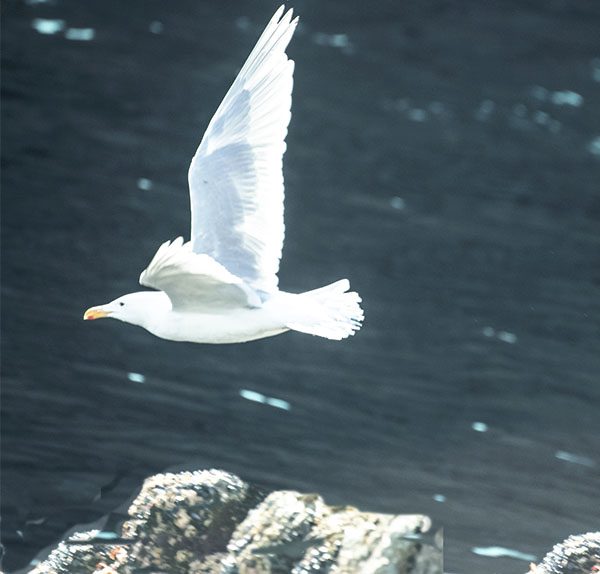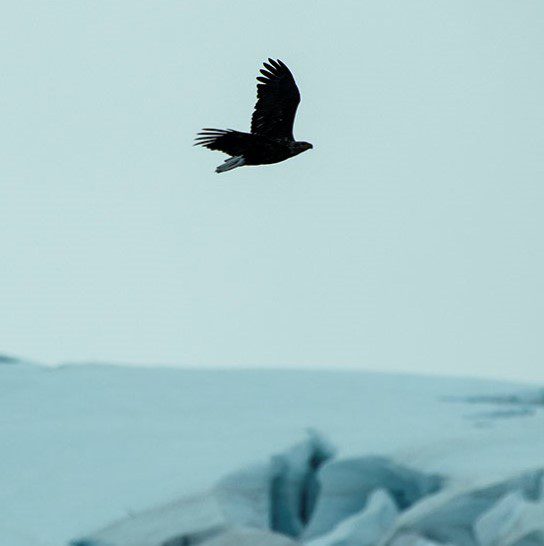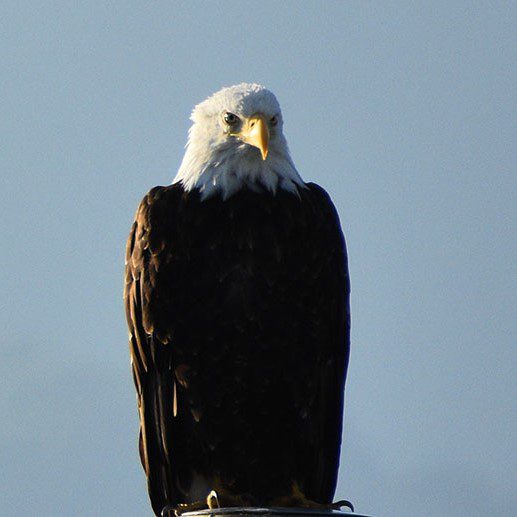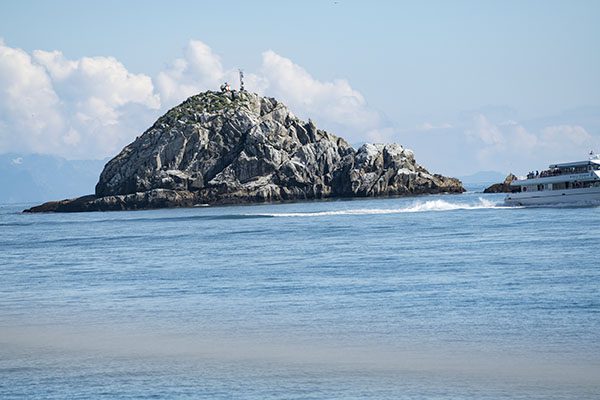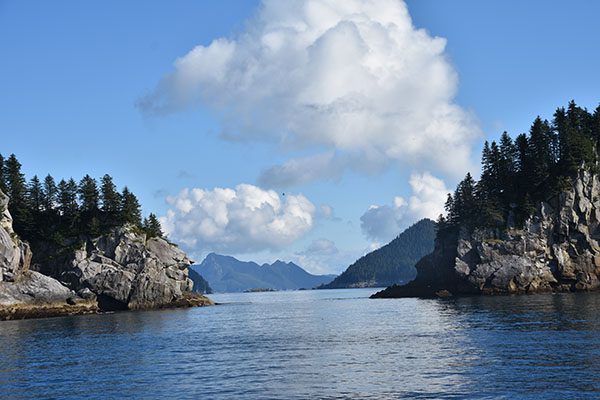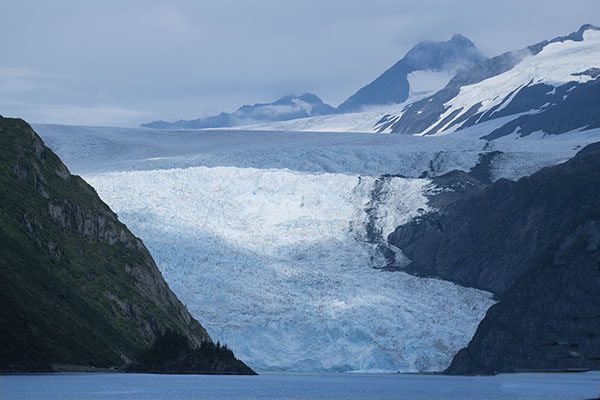 Seaward to Anchorage
After this you board the Bus to reach Anchorage for a night halt before proceeding to Denali by the ultra-sophisticated and legendary 'Wilderness Express'.
Crossing Keena Lake, Moose Pass, Canyon Creek (where people still come to find Gold), Silver Strip, Granite Creek (A spot famous for Snow Skiing), you pass from a place popular among the Locals – 'Turnagain Pass' and then drive for about 40-50 Miles parallel to a large water body – a part of the Pacific – Turnagain Arm. Turnagian Arm is notorious for its Sinking Mud-Flats that emerge twice a day during Low Tides. (Adventurers who have dared to cross this dangerous place then, have invariably met with their watery graves as water level rises by 25 feet during High tide). Then crossing Indian Valley and Portage Glacier you ultimately reach the outskirts of Anchorage.
Anchorage
The concentration of traffic suddenly mounts as you cross the Six lane Highway adorned with Black Spruce trees on its either side and few motels and occasional Gas Stations along the way. It shall be interestingly to note that one in every six Alaskan is a Licensed Pilot and one in every twenty-four Alaskans owns a plane.
On reaching Anchorage the Bus Driver takes you around impressive streets of Downtown Anchorage and then drops you at your pre-booked Hotel.
After checking-in at the hotel close to the Rail Station amidst downtown Anchorage in an endeavor to further explore the place you walk through various lanes where you come across reputed Five-Star Hotels, attractive Restaurants and tempting Gift Shops. A little shopping and it's dinner time.
As a connoisseur of sea food, "Bridge", a restaurant situated atop a Bridge over a mildly flowing river was where you settle for dinner. From the open window you see people with fishing gears waiting patiently for a catch. The food at the restaurant was reasonably priced and exceptionally palatable making the dining experience truly memorable.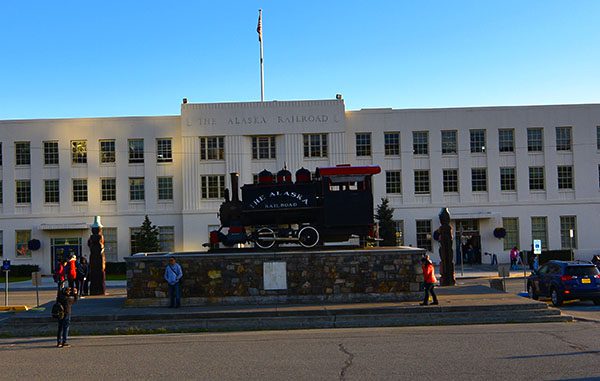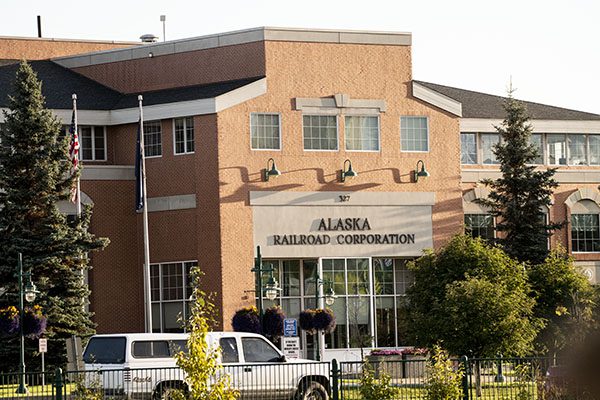 Next Day, early morning, Hotel's shuttle Bus transports you to the rail station to help you board the iconic Wilderness Express. 'Wilderness Express' is a pair of privately owned 80 seater aristocratic dome Cars that are attached to the end of the train pulled by the Alaskan Railroad Locomotives.
Wilderness Express
The full length curved glass dome on the upper level provides all its passengers a classic 360 degrees panoramic view. The reclining leather seats, split in pairs on either side of the aisle and with fold down tray on its front are reasonably comfortable. Right in front, to your right, you see a Bar that is stuffed with exotic liquor.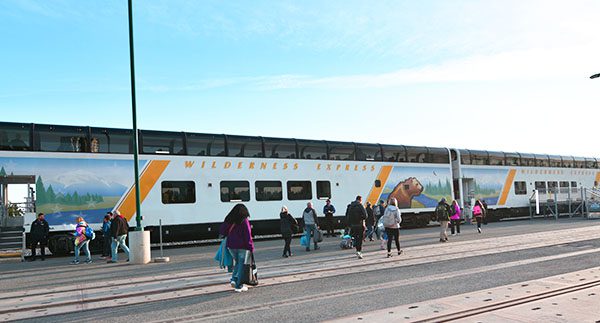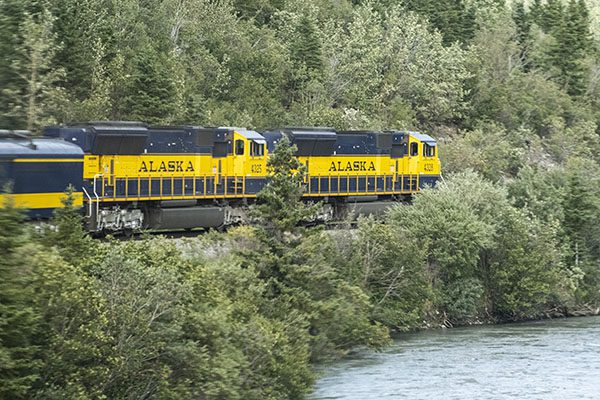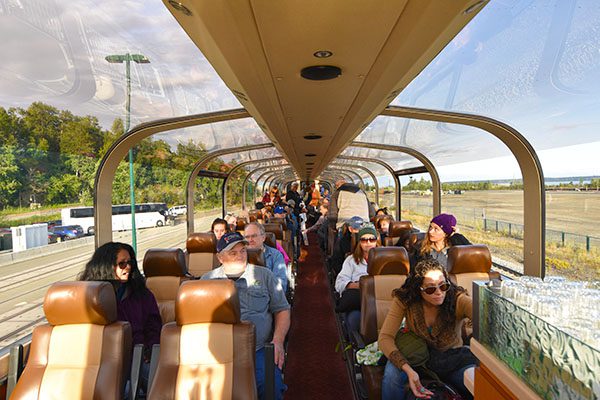 On the lower level of the Car is the dining area equipped with 10 tables where 36 passengers can eat at a time. You can order for Breakfast, Lunch or Dinner depending upon the time of the day and enjoy your meal admiring captivating divinity outside. Any dish of your choice can be selected from the al carte menu presented and pay accordingly; strictly by credit card.
It's 8 am, as you are seated; the Train commences its a little over seven hour journey towards Denali Park. It is a bright Day and all the seats are completely occupied.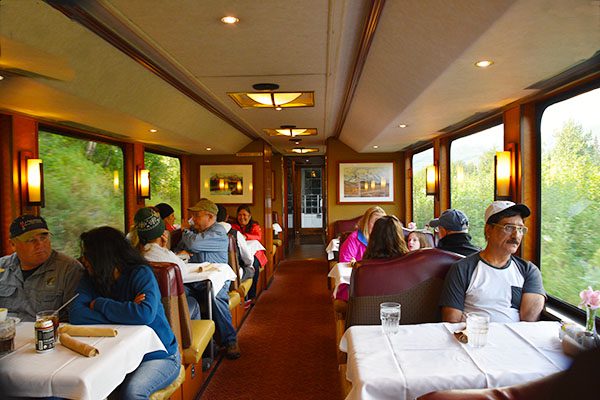 'Lohan' the young affable Car Captain who is also the Guide, introduces himself with assurance to apprise us of each important landmark that comes along the way. A smart stewardess walks up and down the aisle with alacrity to take orders for cocktails, beers or any other drink.
It is second half of August and the summer is nearing its end. You can witness the last of snowmelt happening. The creeks are gurgling thirstily and the cobalt blue Sky above makes a stupendous sight. Then as the train passes on the bridge over Susitna River, the view of the valley is breath taking. The range of snow peaked mountains make a picture postcard scenery. Everywhere you look makes your heart bursts with joy. The mesmerizing and drowning beauty of Alaska couldn't be more telling.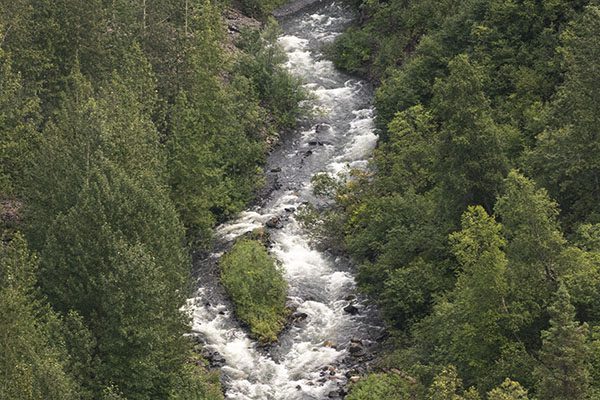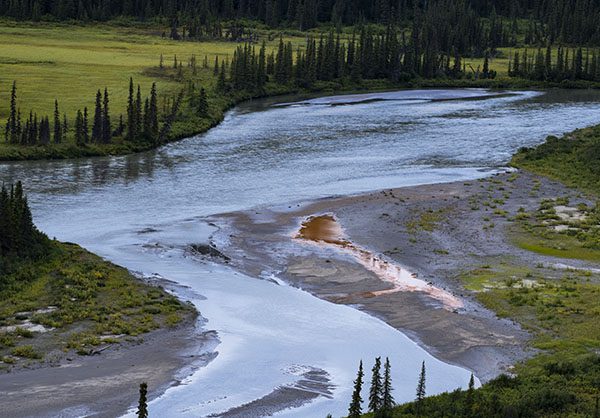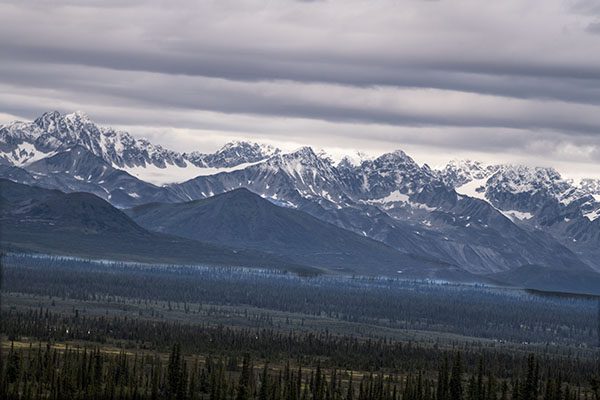 After three hours of this enlightening Journey, after passing through Wasilla, the train takes its first halt at Talkeetna. It is 11.30 am. Surprisingly 75% of the passengers alight here making the compartment look virtually empty. After 20 minutes halt, the train takes off. The empty chairs allow you to sit at a more vantage points to get better perspective of the outstanding scene outside.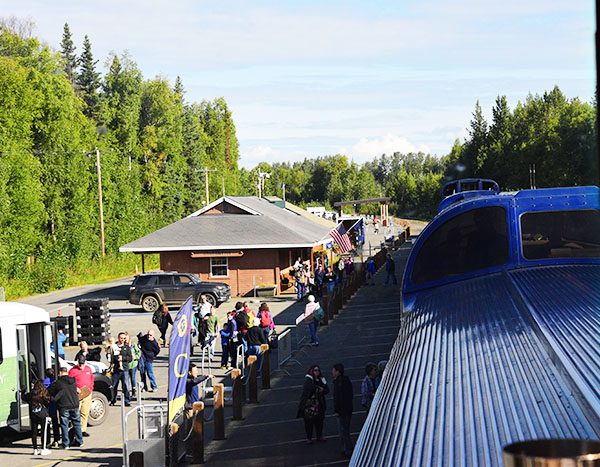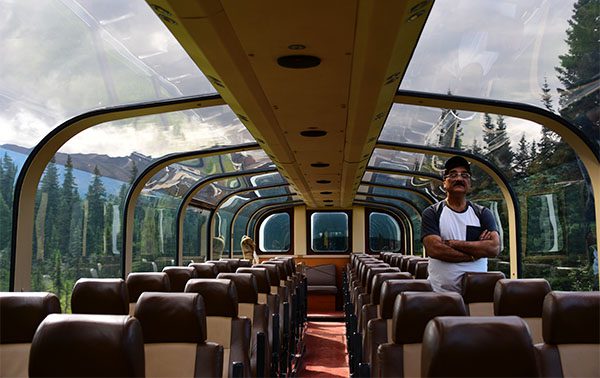 At the Hurricane Gulch trestle the train purposely slows down to enable the passengers assimilate the spectacular view of the creek below. This towering bridge is 914 ft long and stands 296 ft above the creek.
Further crossing bridges over Honolulu River, Riley Creek and Hines Creek, and passing close to Summit Lake, the Mirror Lake and Edes Lake and then traversing through the Windy Creek within the eastern boundary of Denali National Park and along the Nenana River; at around 4.pm you reach Denali Park Station.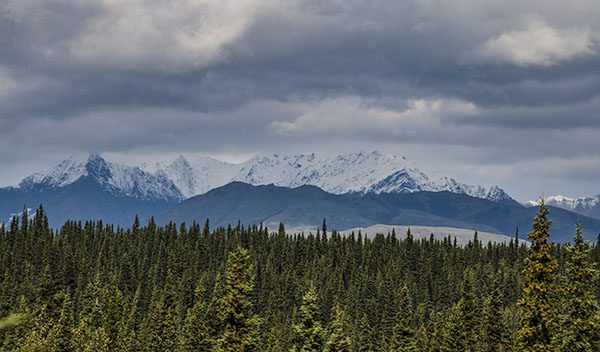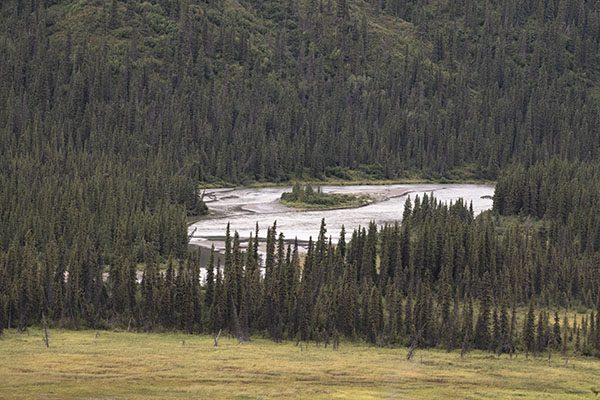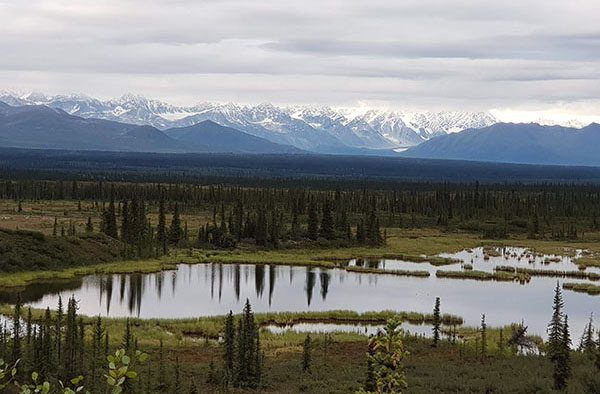 Denali
After thanking both, Lohan and the stewardess, you alight. A Bus belonging to your pre-booked Hotel is waiting to take you to the Hotel. In about next 20 minutes you are at your beautiful Denali Park Lodge perched right on top of a strategically located hill not too far from Downtown Denali.
Admiringly you look around as you walk towards your allotted room on the first floor of this two floor Hotel. Tall snow Peak Mountains are all around, albeit at a distance; down below you could see Highway that goes back to Anchorage if you drive towards the South and Fair-Banks to the North.
Jeep Safari
At sharp 5.15 Garry comes with his vehicle to take you for Excursion on Jeep Safari. The Caravan of 10 Jeeps (with 4 passengers in each) takes you for a four hour long drive covering around Ninety miles along the periphery of Denali National Park. During the course you come across some stellar locations though there was little wild life visible except for a pair of Mother and Baby Moose.
It's half past 10 in the evening when you get back to your Hotel. As you sit at the restaurant for dinner, you see the light outside as bright as it is during early evening back in India.
After satiated with continental dinner, you are back in your room and into the bed. Next day is the eagerly awaited tour into the renowned Denali National Park. A six million acres of wilderness.