It heightens Romance among Honeymooners; a Paradise for any Tourist, a Pride for its Inhabitants and threads of multiple hotspots woven into a single fabric for a Travel Writer like me. Surrounded by pristine azure and emerald Lagoons replete with splendid Coral reefs, this is the most famous 11.3 Sq Miles Mountainous Island in French Polynesia; it is Lagoons in Luxurious Bora Bora. A ideal location for SCUBA and Snorkeling adventurism.
After Huahine & Tahaa, on its 5th Day of voyage, Paul Gauguin anchors itself at the shores of this exceptionally scenic and stunning land mass.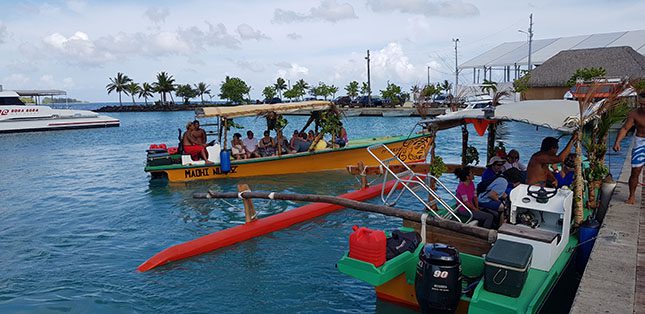 Once at "Bora Bora", you choose between some exciting excursions on the menu. 8.45 AM and you are at 'Deck 5' ready for a four hour "Lagoon Excursion". The Tender Boat transfers you to the pier from where the local Mahuris guide you towards your selected excursion. Once seated on an impressive flower decked motorized canoe, 'Arri', its Captain and his companion 'Non' take you amidst enchanting Lagoons encircling Bora Bora.
Lagoons in Luxurious Bora Bora
Hour into the Pacific, Arri stops his boat and you look down to see the area below replete of colorful fishes swiftly meandering among attractive Coral gardens. With your snorkeling Masks and Fins on, you climb down with alacrity, sure of encountering unforgettable rendezvous with the fabled Marine life in the Pacific. Amazing Yellow stripped Emperor Angles, Butterfly fishes; Red Snapper, Jack Fish and Lemon Sharks (non-dangerous) swim alongside with you at Lagoons in Luxurious Bora Bora with striking vanity. Your exhilaration has no bounds as you remain riveted to the nature's brilliant manifestation and its spellbinding splendor, almost enviously.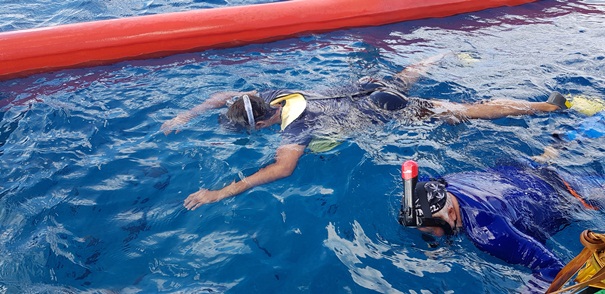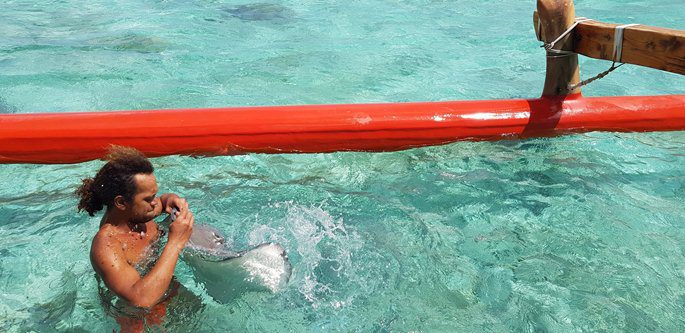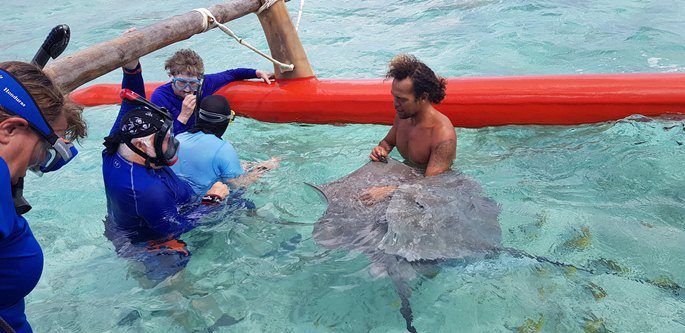 The snorkeling experience
As this hour long superb sea sojourn ends, Arri takes you towards the next destination. Wow… This place is heavily infested with Sting Rays. Non is the first disembark in these chest deep waters. Host of Sting Rays, with their long intimidating pointed tails, almost instantaneously surround Non. Their excitement is palpable. Non holds one of them in his arms, caresses' and amusingly kisses her on her mouth. She too responds happily. The bonhomie between the two is unmistakable. Overwhelmed, you too climb down the boat and hesitatingly touch to feel one of them. Aware they aren't harmful, emboldened, you pat a few others and feel their astonishingly smooth and slippery skin. It seems as if they have come out straight from some rejuvenating Oil Bath. Just then you see a huge batch of beautiful (but harmless) Lemon Sharks crossing close to you. You watch them pass by nonchalantly. Then suddenly a couple of them return to have a second look at you and then turn back on their course, almost teasingly.
Amidts enchanting Sting Rays
An hour amidst Sting Rays, Sharks and other enchanting Marine Animals at the Lagoons in Luxurious Bora Bora, you move towards the final halt. This area too being ideal for snorkeling, you prepare accordingly. Little after you are in with your head down, beginning to enjoy the world below, you feel salty sea water entering your mouth through your snorkel. Intriguingly you look up to find that it had begun to rain and the sea had suddenly turned rough with its wave size increased significantly. At a distance you notice your boat and see worried Arri, Non and others urging you to return immediately. You realize things were getting dangerous and risky. Putting all swimming experience into practice, you swim as swiftly as possible towards the boat from where you are pulled up, safe and sound.
Arri then takes you near various locations around Bora Bora. You pass by the most famous, alluring and expensive Hotels and Resorts along the Coast with rooms lined up like "Queue of Huts" extending right into the lagoon and costing anything between US$ 1,000 – 1,500 for a single night stay (nearly a Lakh of Indian Rupees). Four Seasons, Sofitel are among a few to state.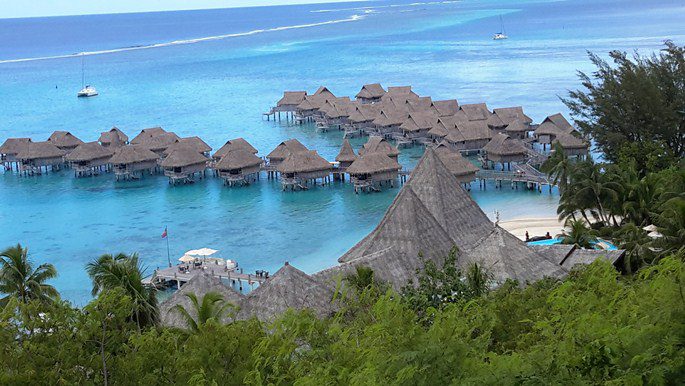 Next Morning, you are back to the pier for a 4 hour "Bora Bora Off Road Adventure" which will take you around the rugged area of Bora Bora in a six seater Land Rover safari. Just as you get seated, you are in for one regaling introduction. Hi' I am 'Frank' says this pepper haired 50 plus man wearing bright red cap, red shirt with white printed flowers, and without a pause adds: "Today my name is 'Frank', tomorrow it could be 'Obama' and day after someone else… & I am your Driver Cum Guide for the Day's excursion. Welcome you to Bora Bora". There's Instant laughter to Frank's unexpected humor laced frankness. A good beginning indeed! You think.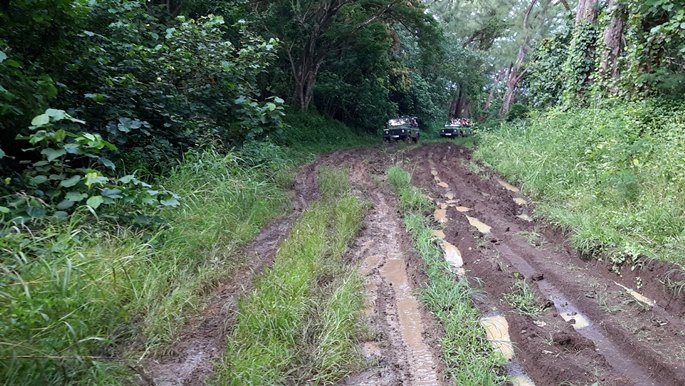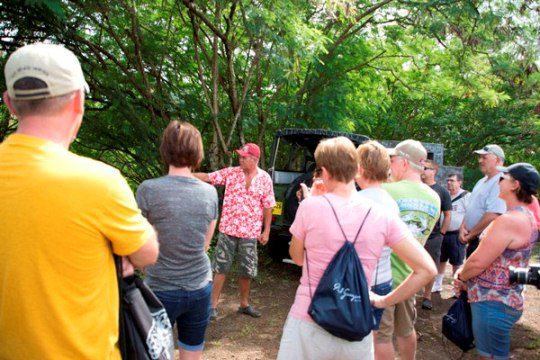 The very word "Off Road" suggests that the ride is bound to be bumpy and your apprehensions are vindicated soon after Frank turns his Jeep off the tarred Road into the rugged steep terrain. The slushy road drive shakes you from left to right and back to left. Only an exceptionally sturdy vehicle and a veteran driver could drive through this challenging landscape. And frankly, Frank does not disappoint. On the way, Frank introduces to us various Plants, Trees and Life Style of Bora Bora in his own unique way. You then pass through Bora Bora's largest town Vaitape. Vaitape is inhabited by some 5000 people (out of total population of little over 9000 in the Island). Historically aboriginal tribes of Polynesian Inland were incorrigible Cannibals who ate other Humans and indulged in Human Sacrifices as part of their rituals and celebrations. Thankfully this horrific custom ended in 1836. (Reason ? Says Frank jocularly : Because we started loving our Tourists).
Over to Pahonu Hill from where you get an expansive view of Bora Bora's 'U' shaped natural Harbor and a captivating view of the picturesque white sand 'Matira Beach'.
Matira Beach incidentally is described as the most beautiful beach in the World. Incredible indeed !!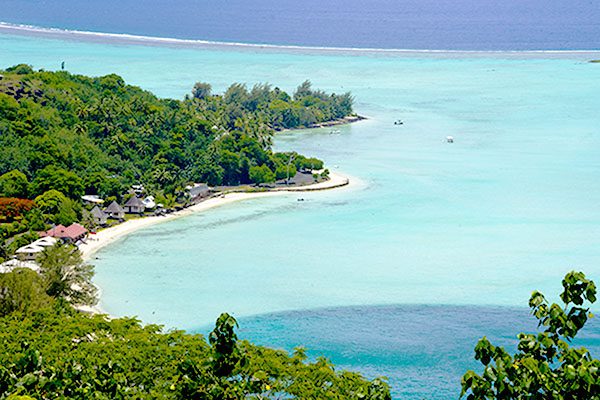 Finally along the Northern shore of Bora Bora you drive through the lush valley of Fa'anui and to the traditional plantation high-up in the Mountains to savor a spectacular view of Fa'anui Bay.
As this enchanting excursion ends, Frank drops us at the Pier. Back on the Ship you pamper yourself with some exotic Red Wine and choicest Dinner. Satiated as you reach your cabin you feel the Ship shaking. Yes, his majesty has moved, piercing through the waters of the Pacific, towards the Next Destination…..; the fascinating Islands of Rangiroa and Fakarava.