18th June 2017, Pakistan defeated India in ICC Champions Trophy at Oval. I spend the night in cacophony of bursting Crackers totally dismayed, wondering why our youth in Kashmir had strayed. Were they betrayed or were they misguided??? Next morning Faroque with his Shikara came sharp at 8 as Adil waited nonchalantly across the lake with his car to take me Sight Seeing Srinagar. I ensured my DSLR (camera) was in my company.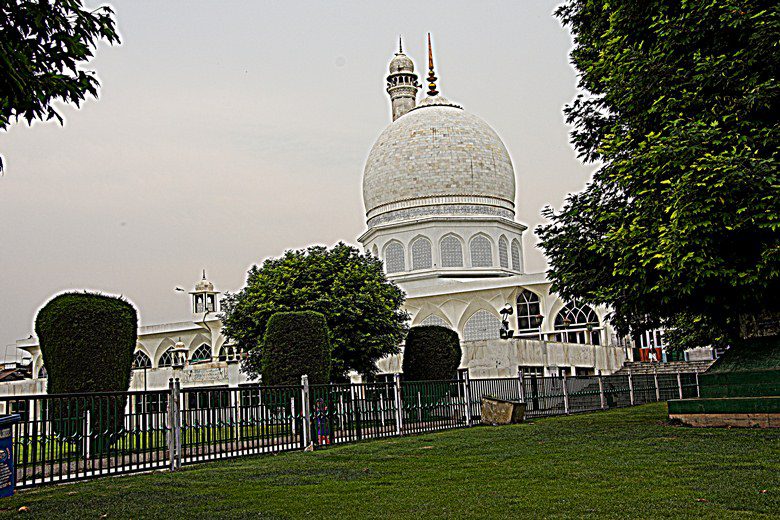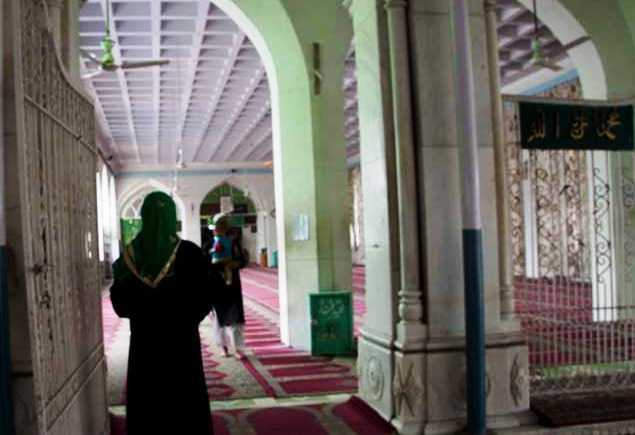 Hazratbal Dargah across Dal lake
Hazratbal Dargah in Srinagar, a hugely mesmerizing marble structure situated on the left banks of fascinating Dal Lake was the first halt. It was difficult to discern which was more compelling. The lake to my left or the Dargah on my right. After a few clicks I removed my shoes, covered my head and slowly walked through the walkway inside the Dargah. A middle-aged Maulvi inside, pointing at the floor above said, "there is kept the sacred hair of Prophet Mohammad (Moi-e-Muqqadus) as a revered relic since 1700 AD. The auspicious sight of this holy relic opens to public only on certain religious occasions." I pay my obeisance and quietly walk out.
Dal Lake
Next passing from outside the University of Srinagar situated on the Western side of Dal Lake, Adil informs that this prestigious University was established in 1948 and is spread over 263 acres of land. Its 6 huge Gates in different corners makes the sight truly impressive.
Then as the car cruises around the legendary Dal Lake, Adil points towards three tiny islets right in-side the Lake. Two of them had incredibly impressive Chinar trees grown on it. One of them is named "Char-Chinari" (four Chinars) for it has 4 Chinar trees grown on its four corners. I counted. They were four. Click, Click, Click….and they were in my camera. The car then steered towards the reputed Shalimar Garden/Bagh.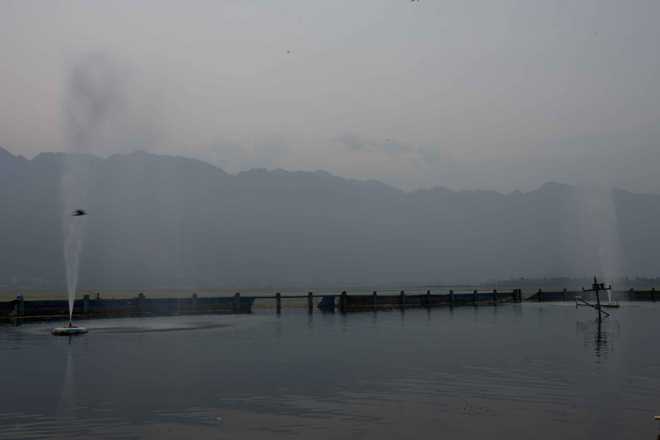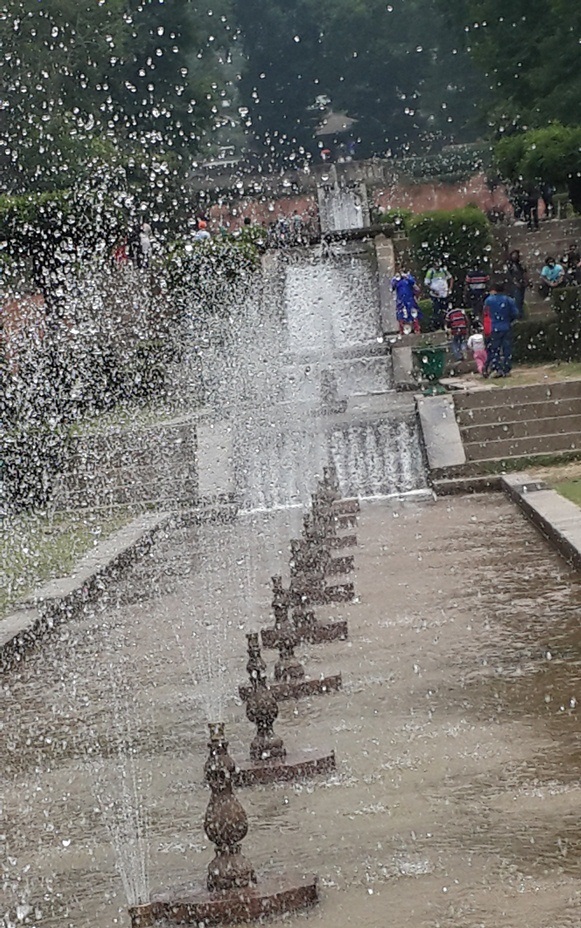 Nishat Garden
10 Shops on the road going towards Shalimar Bagh burnt post Indo-Pak match last night forced security personnel to block this way. There was no option except to give up on this visit. Sad, but never mind. Next we reached – 'Nishat Garden' also known as 'The Heritage Mughal Garden Nishat' or the 'Garden of Joy'. Driving through famous Vakil Colony and then from in front of the Governor's house, we reached this second largest garden of Kashmir. Situated on the eastern side of Dal Lake with Zabarwan Mountains in its backdrop, the whole place looked stunningly beautiful. The garden's awesome design rising from the edge of Dal Lake has murmuring water cascading down through its twelve artificially created terraces. Countless indescribably delightful flowery plants lined up make every soul fill with inexpressible joy. Entry fees for this eternal Joy – just Rs. 20/- .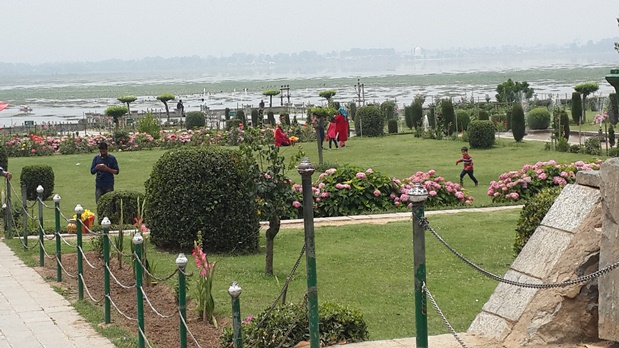 Tulip Garden
Famous Tulip Gardens was just 8-10 minutes away. Situated on the foothills of Zabarwan Range with an over view of the Dal Lake, it is spread over 30 hectares and is supposedly the largest Tulip Garden of Asia. Regretfully it was deserted on that day. And why not ?? With not a single Tulip plant alive except for some dried stems, who will come. Full bloom of Tulip flowers occurs only for around 15 days each year (mostly between 1st April and 15th April, during spring). Garden opens for tourists only after 15th March as plants prepare for bloom. Hence for those wanting to enjoy and take selfie with the blooming tulips should schedule their visit accordingly. Entry fees is Rs. 50/- for Adult and Rs. 25/- for kids.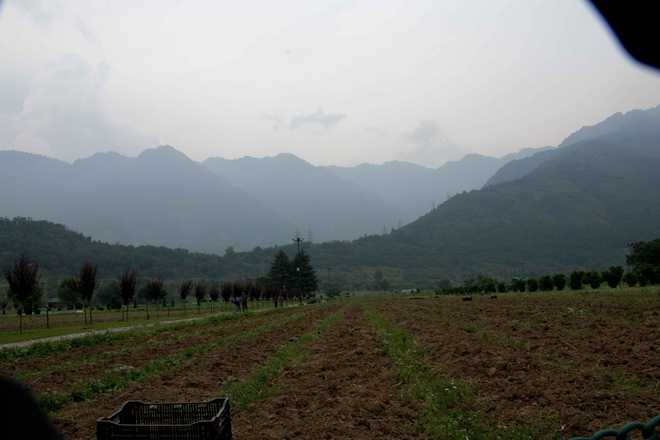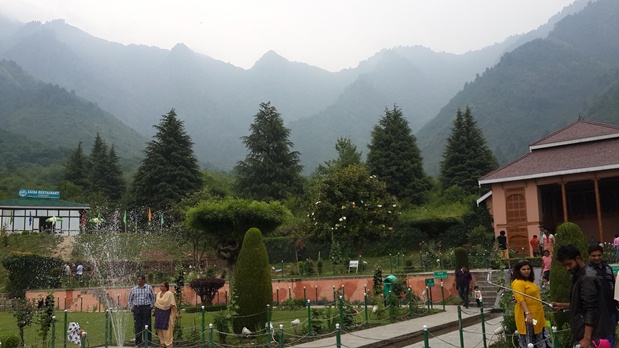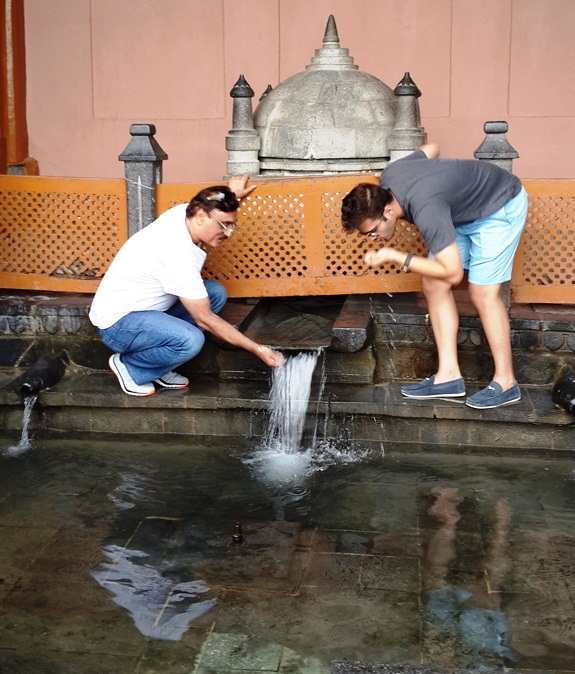 Chashme Shahi
Close by was another interesting place known as Chashme Shahi (Chashma in urdu means 'water spring'). Pay Rs 20/- for an adult and child 10/- and you are allowed inside. Climb up a few dozen steps and you witness set of beautiful fountains placed at different levels. Above is a simple but conspicuous structure where visitors queue up to taste pristine spring water flowing straight from within the hills. As you spread your palm to have first-hand taste of this exceptionally sweet-cool water, reputed to have medicinal qualities, you cannot help but smile & exclaim 'Wha- kya baat hai'. The water then flows down and is effectively used to create amazing fountains on downhill terraces. Capturing these amazing sequences would be any photographers delight and I surely was not the one to let it go.
Signals from my stomach now screamed "It's Lunch time….". I requested Adil to drive me to Hotel Lalit of which I am the member. With a discount coupon in hand, sitting on the vast scenic lawns replete with Chinar trees, overlooking stunning snowcapped mountain peaks and with cool breeze flowing across your body, lunch with wine could not have been relished at a better place or time. The experience was exceedingly exhilarating and satiating, both, for your stomach and your senses.
Pari Mahal
Time was the enemy. I reluctantly asked Adil to get the Car after which we drove towards the last destination of the day…. The Pari Mahal. This 17th Century constructed Pari Mahal situated above the Chashme Shahi Garden and towards the South-West of the Dal Lake was reportedly built over the ruins of an ancient Buddhist Monastery by Dara Shukoh, the eldest son of the 5th Mogul Emperor Shah Jahan. (recap : Dara Shukon being the eldest son of Shah Jahan was the heir-apparent to the throne. Sadly, his younger brother Aurangzeb captured and killed him in August 1659 and declared him as the Emperor. Rest is history). Pari Mahal Garden's high altitude makes it a vantage site to get a comprehensive and captivating view of the massive Dal Lake and its amazing surroundings. Just as I was riveted to the scenery around, rain gods decided to descend. Falling drops dramatically changed the hue, the color & the mood of the entire landscape. Standing below a stone structure my admiration for this heavenly splendor ratcheted and my Camera went ceaselessly to capture the magnificence of Srinagar from here, there and everywhere.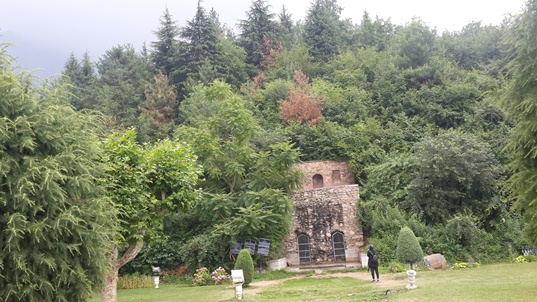 Just as Adil and I drove towards my Houseboat at Lake Nigel, looking out, enjoying the cool breeze hitting my face, famous couplet of Emperor Jahangir describing rang into my ears that said : "Gar firdaus, ruhe zamin ast, hamin asto, hamin asto, hamin asto".
(Meaning : If there is a heaven on earth, it is here, it is here, it is here.); How true…….
For more blogs on Kashmir visit www.bhupendergupta.com ; Pahalgam, Nubra, Pangong lake