Signing off from an enchanting 11 day Cruise visiting the beautiful French Polynesian Islands in the southern hemisphere, I reach Los Angeles International Airport in the Northern Hemisphere post an eight hour long flight from Tahiti. Once out from the Airport, I pick my pre booked self-driven Left Hand Drive white color Hundai SUV and prepare to commence my journey from Los Angeles to San Francisco meandering through the interior roads that pass through some fabled towns and incredible picturesque locales.
Once on NH1(North), you enter a massive six lane well cemented Highway where you see a sea of vehicles of different models nonchalantly zoom pass each other. You are nervous at first but then that was neither the time nor the place to panic. You gather all your guts; recollect various imperatives of driving a Left Hand Drive and begin your travel from Los Angeles to San Francisco in this new environment. Slowly your courage accelerates and so does the accelerator of your car. You soon overtake the first car on this challenging road and then the second and so on…..
Carmel Mall
The first stop of the day is at the imposing Camarillo Premium Outlets, a factory outlet, situated at the outskirts of LA. Spread over few acres this impressive shopping Mall is a favorite of avid Shoppers. It sells products manufactured by nearly all world renowned brands at incredibly discounted prices. You move from one shop to another wanting to buy practically everything on display. But then budget is your enemy; it stands between you and the product. You are compelled to stick to your purchasing list. You suddenly realize that the time spent at the Plaza has far exceeded than anticipated. You quickly return to the Car, hurriedly activate the GPS and steer your SUV towards the next stop. The famous town called 'Santa Barbara'.
Santa Barbara
Incidentally the name 'Santa Barbara' brought back some pleasant memories. During the late 80s & early 90s, when NBC telecast Soap Opera called 'Santa Barbara', it had captured the imagination of umpteen Urbane Indians. Those who religiously stayed riveted to their TV sets at prime time each evening, watched the mystery of the Murder of Canning Capwell Jr., brother of the main protagonist 'Kelly Capwell' of the wealthy Capwell Family of California, played first by gorgeous Robin Wright and then by Sexy Kimberly McArthur of Playboy Magazine fame, get unfolded.
As the Sun sets, the famous "State Street" of Santa Barbara gets adorned with glittering lights on its either side. You park your car and as move amidst upscale boutiques with queue of mannequins' dressed with alluring designer outfits and slew of attractive multi cuisine Restaurants, the hungry belly nudges you to enter into one of the enticing eating joint for plausibly a quick beer and some snacks. You oblige. A bit tipsy post couple of beers, you take another stroll around this captivating street before proceeding towards a tiny city – 'Morro Bay', for the scheduled Night Halt.
Morro Bay
Two hour drive from Santa Barbara through the night traffic, you enter this sleepy coastal city – 'Morro Bay'. It's 9 PM and the roads are deserted. There is no one at the reception of the Hotel. Are you really late? You question yourself. Just then a young lady shows up. You feel relieved! Present her with the booking voucher; she checks on her computer and hands you over the keys of your room and points towards the aging lift. With no help, you carry your own luggage to the room on the second floor and hit the Bed for a deserving rest.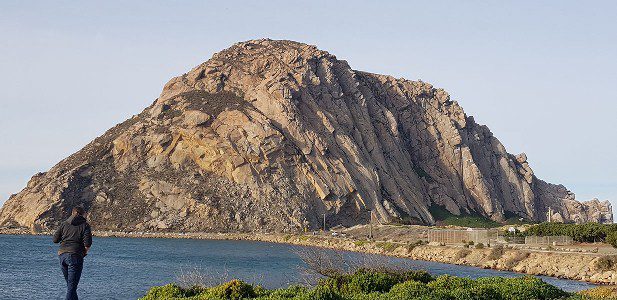 Next day Morning, as you peep out of your room, you see the beautiful blue sea across the terrace of your hotel and a striking huge brown Rock, purportedly formed from ancient volcanic mound, right at the end of the Beach. This attraction presumably no visitor coming to Morro Bay would like to miss. You quickly gulp your breakfast; pack your bags and speed towards this majestic mass in the pursuit to admire it from as close as possible. Incidentally the name of this City is derived from the name of this famous Rock.
A few clicks from different angles and you capture this huge 576 foot rock in your six inch DSLR. Back in Car you commence your journey from Los Angeles to San Francisco to reach the next planned halt en route San Francisco; the incredible Hearst Castle.
Hearst Castle
Forty Five minutes from Morro Bay is situated this extraordinary 19th Century magnum opus Castle built by presumably the richest man, a revered media czar, a reputed producer and a renowned actor of his time – Mr. William Hearst.
You park your Car and enter the Castle's impressive visitors' center where two smart ladies welcome you and explain four different tours available to visit this palatial Castle. The one that costs $25 seemed appropriate. You pay and board the scheduled Bus. During the next 45 minute drive up-hill, you listen to the pre-recorded voice that educates you on the history of this quintessential ostentatious structure built by architect Julia Morgan containing 56 bedrooms, 61 bathrooms, 19 sitting rooms and spread over 127 acres. Unsurprisingly it has attracted hundreds of visitors every day.
As you reach at the stairs of this epitome of opulence, you are welcomed by an immaculately dressed erudite guide Mr. John. After a short introduction, John leads the guests to witness the unmistakable display of affluence. You first pass through an exterior swimming-pool that seemed quite huge but was incidentally getting renovated at that time. Next you visit places where Mr. Hearst, who died in 1951, once aristocratically entertained his "Who's Who" guests that included the famous Hollywood Actors, renowned Directors, rich Producers and influential Political entities of those times. John's impressive articulation of the events made one wonder if he himself had been privy to those supposed extravagant splurges during the 30s & 40s.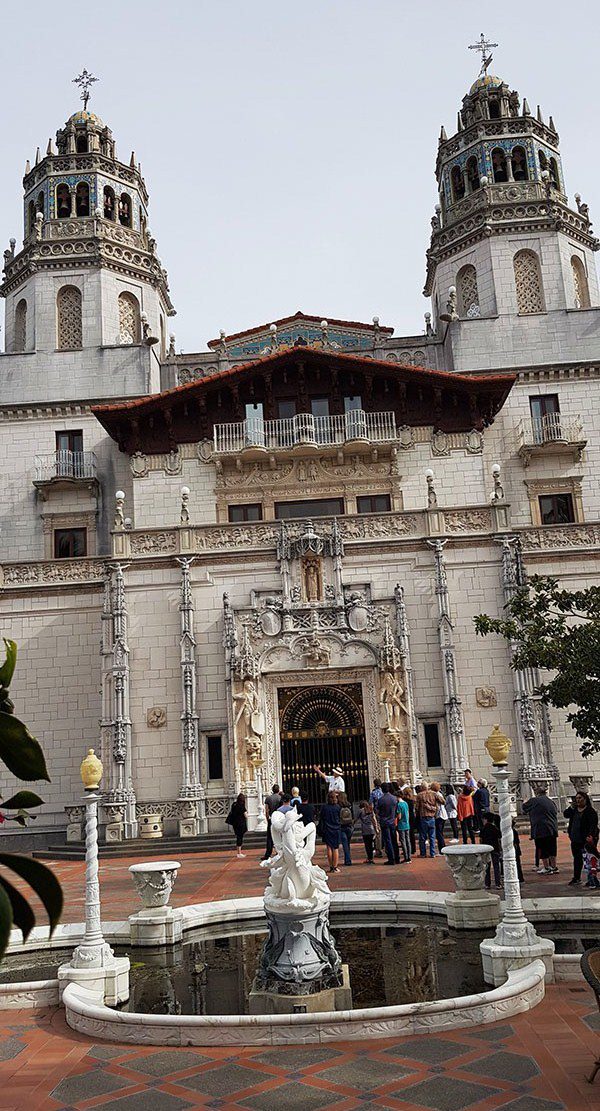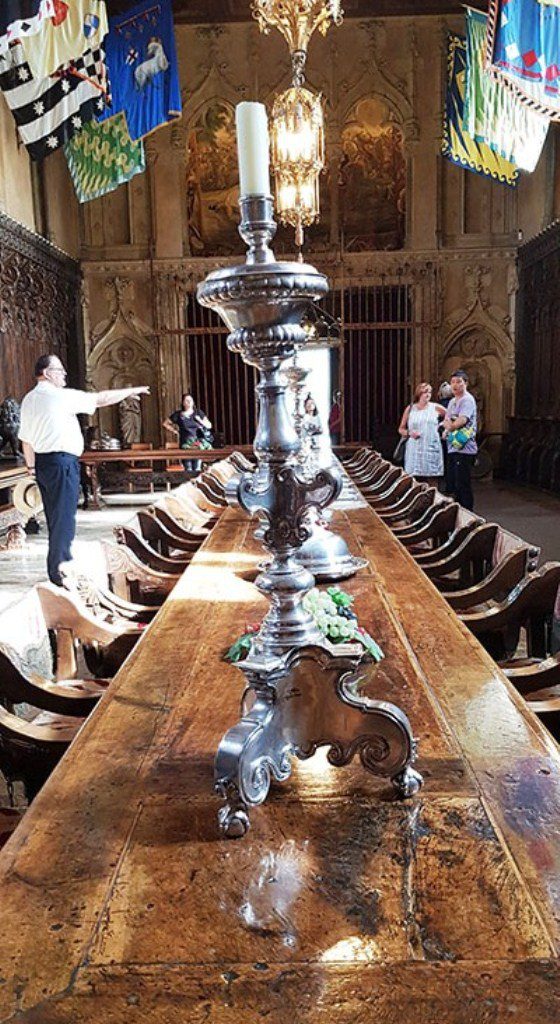 The unmitigated power of Wealth is reflected as you pass through an incredibly artistic assembly hall decorated with six majestic tapestries displayed on its gigantic walls. This is the place, John says, where Hearst's Guests first assembled pre-dinner, over drinks and for formal introductions. The artistic genius of Mr Hearst is unarguably compelling.
John then takes you to an equally spectacular, an awe inspiring dining room where one lovely long Rose Wood table is seen surrounded with folding chairs also made of Rose Wood. Next is a two table Billiard Room followed by a personal theater where a short film eulogizing Mr. William Hearst's life cements his aristocratic style in any participant's mind.
But the final was yet to come. As you move towards the exit, you exclaim 'Oh My God !!' as you dazedly walk along a mesmerizing water body called Roman Pool build in the interior of this Castle. It would be near impossible for anyone to justify this mega artistic magnificence in words.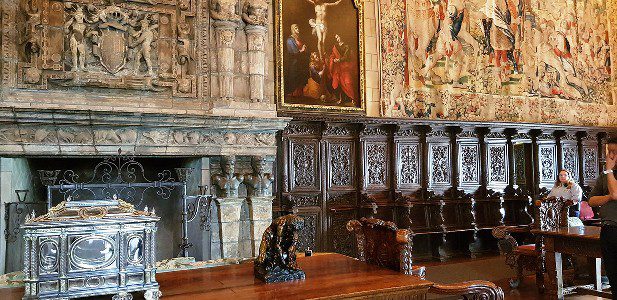 Elephant Seals
As you leave this castle with abiding memories, you are advised to visit Piedras Blancas Elephant Seal Rookery that is just about five Miles towards its North. Reaching there you are astonished to see thousands of light to dark color grey Elephant Seals or Sea Elephants of various sizes assembled on the beach for their annual mating/breeding season.
Wow… what a sight….these endangered marine mammals with their short limbs and no external ear are scattered all around mostly lying in the state of hibernation.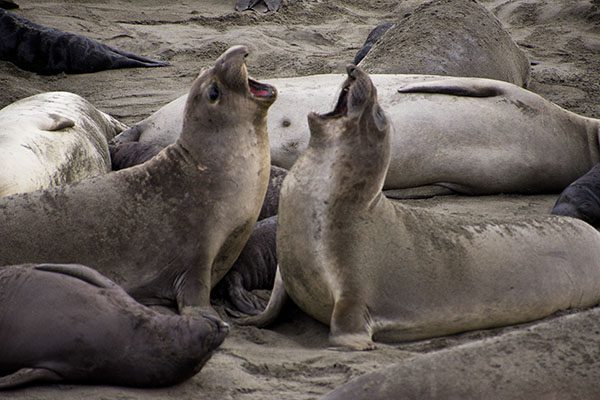 The barricades albeit do not allow you to go near them beyond a point. You see few juveniles nevertheless play among themselves while some reputedly polygamous alpha males with their thick necks, inflatable snouts (trunks) and roaring sound, attempt to serenade members of the opposite sex. One could keep watching them endlessly but……
The Sun was nearing the horizon and San Francisco was still no way near. Back into the car you read the sign that said that the route through the picturesque 'Big Sur' was closed due to the landslide. Unquestioningly disappointed, you take the alternate route that adds an extra hour to the driving time. A short stop on the way at 'Carmel by the Sea', though it had gone dark, was surprisingly serendipitous. As you walk down the Main Street here, you see shop after shop exhibiting some exceptionally mesmerizing paintings by some amazingly talented artists, up for sale. Alluring as they could be but impractical to buy and carry along, you leave the place feeling pleased to have at least witnessed some brilliant artistic creations.
By now, places in the US shut down comparatively early, is no surprise. You quickly pass through Santa Cruz and crossing the magnificently lit, the fabled 1.6 Km Golden Gate Bridge to reach San Francisco and from there to the Hotel near the iconic Fisherman's wharf by 9pm. The journey from Los Angeles to San Francisco ends after you are welcomed at the hotel reception with a customary glass of Wine. A relatively lavish room with a comfortable bed is where you spend the night. As the Sun rises the next day you are ready to visit places in and around San Francisco like Muir Woods, Alcatraz and enjoy the popular Tram and Cable Travel around the City.