A wave of apprehension struck me as Adil, my car driver, tugged my luggage into his car that early morning of mid-June, 2017. We were to leave Srinagar for Pahalgam, in throes of militancy . Pahalgam situated within Anantnag District in South Kashmir is unfortunately infamous for unprecedented insurgency and bloody militant activity. As Adil inserts the car key into ignition, journey into hitherto fabled dangerous territory commences.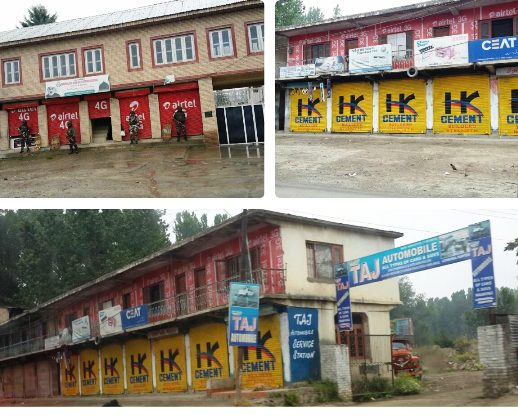 Pampore, city on the outskirts of Srinagar exhibited an eerie scenario. Our car accelerated into empty roads where shops with shut shutters were ubiquitous and security forces stood systematically scattered. Surely something was seriously amiss. A terrorist from the area had been eliminated by the security forces couple of days ago; a possible backlash therefore was expected said Adil.
Silence ensued thereafter until we reached National Highway No 1. Sign of traffic here gave a sigh of relief. Crossing 'Sangam', renowned for its Kashmiri Chinar yellow teak, wood extensively used for manufacturing best Cricketing bats, an interesting anecdote associated with this place came to light.
Thespian Raj Kapoor once serenaded the gorgeous Vaijantimala in his 1964 Magnamum Opus 'Sangam' with famous song lyrics "Bol Radha Bol Sangam Hoga Ke Nahi". As tribute the locals rechristened this place as 'Sangam'. 'Sangam' incidentally is also the place of confluence (sangam) of two Rivers, Ranbi Ara & Veshaw before they merge into the massive Jhelum.
Passing through Avintapura a little later, situated between Anantnag & Srinagar, Adil intriguingly albeit calls up someone from his mobile to check if all is fine. 10 Kms to the left of the road from NH1 is a place called 'Tral' in 'Pulwama' Disrtict from where the slain separatist Burhanwani of Hizbul Mujahideen hailed. Unquestioningly an area is prone to violence hence the call was prudent. My thoughts almost instantly flew back to July 2016 and aftermath, when Whani's elimination brought Kashmir into throes of unprecedented turbulence. Allying my fear, Adil remarked – "They don't harm Tourists".
40 Kms from Pulwama was Palgham. Hilly terrain in between inhibits speed and elongates your travel time but the stunningly scenic landscape throughout more than compensates. A well-constructed helipad on the outskirts is used to fly pilgrims to & fro from the Holy Amarnath Shrine Cave. For pilgrims desiring to visit the Shiva Lingam either by foot or on the horse back, is the Base camp a few hundred meters ahead suitable to halt before commencing the arduous 48 Kms trek. Return Journey from the Holy Shrine Cave takes nearly 3 days. Alternatively, drive 15 Kms up to Chandanwadi from where it takes 2 days to & fro.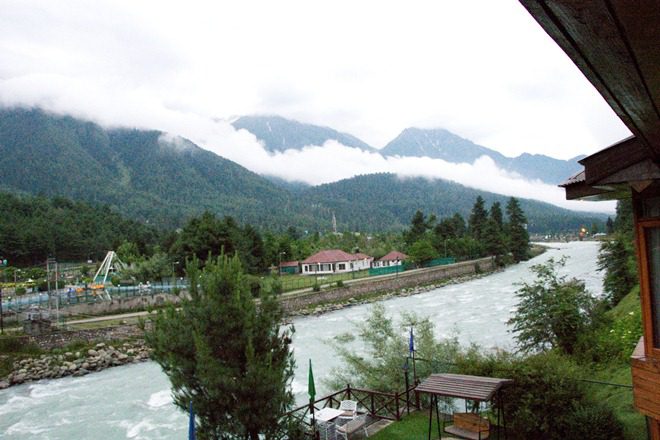 After nearly 5 hours of leaving Srinagar and covering approx. 150 Kms, there was this beautiful Hotel 'Heevan', perched alongside the cascading river 'Lidder' formed from the melting Glaciers. With snow peaked mountains standing at a distance in sentinel made the whole place look almost magical. Dropping me at the Hotel, Adil leaves. (Non-local vehicles are not permitted to take Tourists in and around Pahalgam.)
Despite being the otherwise peak period, the abysmal low occupancy in this prestigious hotel unarguably reflected the fear & insecurity housed in the minds of tourists, keeping them away from this idyllic place.
Even before I could check in, couple of desperate looking pony owners came pleading to me to take a ride on their pony. "No tourists so no business since last fortnight" said one ruefully.
After spending some time in my Hotel room riveted to the stunning serene view from the river facing window, I realized how close 'Heeven' was to 'Heaven'. To get a closer feel of the hypnotic divinity, I come out to take a 5 Kms pony ride up hill. The prices are listed. I decide against bargaining. Hire a pony as per the list price. Delighted Pony owner ensures I am comfortable on his pony, takes hold of my camera, puts it around his neck and there we go.
No sooner did the Horse turned left, leaving the main road, it ventured into a long narrow slushy stone & mud track that went steeply up the forested hill. Adventurous ?? Seemed so.  As we passed through the woods lined with huge pine & deodar trees, there came a point called Pahalgam Valley. A fascinating view of the Valley, the endless snaky contours of the flowing Lidder River were clearly visible from here. Click, click went my camera as we moved. Further we reached a place scattered with few tiny shanties called Dabian, supposed   to be the home of the local tribe, the Gujjars.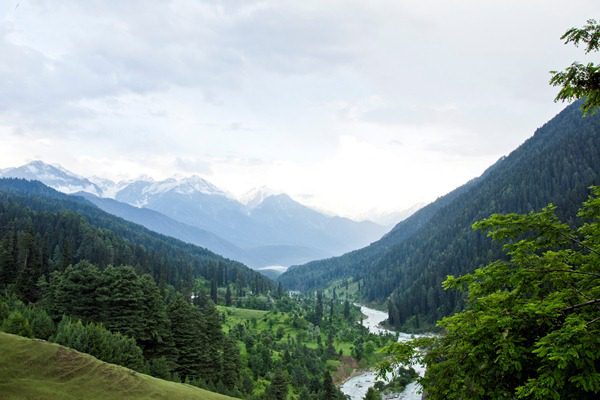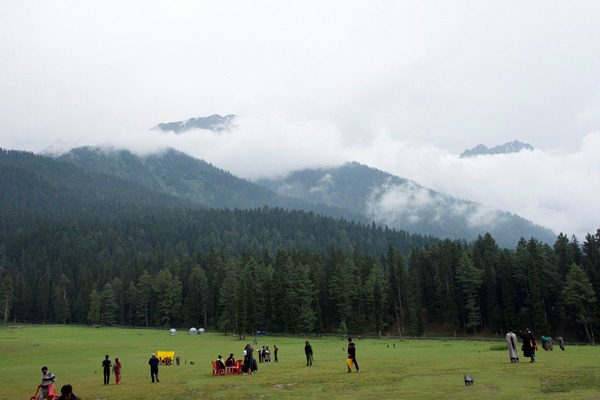 But it was when we reached Baisaran or more famously known as "Mini Switzerland" that one is awe struck by its magnificence. Baisaran is a large grassy meadow surrounded by thickly wooded pine forest with captivating snow-capped mountains standing behind as if guarding this exceptional lushly scenic beauty. The splendor of Baisaran is simply breathtaking & the sense of peace, absolutely absolute.
Rs 10 is the fees to enter this divine place. As I sipped a cup of hot coffee purchased from a makeshift tea stall, mesmerizingly riveted to the overwhelming grandeur of the place, the benevolence of the rain gods began to pour. The stall owner, almost instantaneously conjured up a thin plastic raincoat. Cost 250/-.  No option but to buy one; so did I. An inadvertent souvenir, I thought to myself.
After spending an hour, it was now time to move further and descend from the further end. Mid-way in-between you see a stunning waterfall located up the mountains amidst tall deodhar/pine trees cover. The serene environment with the Himalayas in the backdrop is so meditative that you can possibly sit hours appreciating its pristine, idyllic beauty.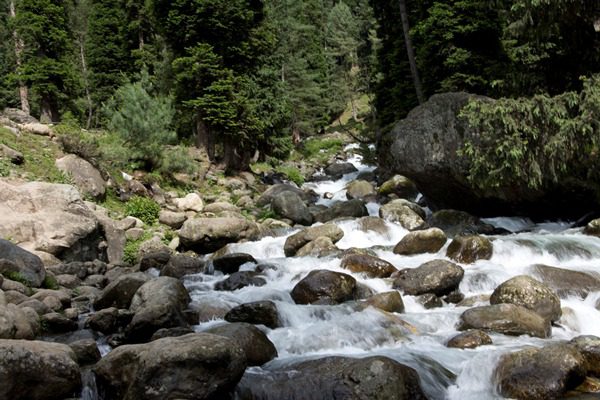 As we reach back, it was time to visit another extremely fabled tourist spot reputed for its captivating beauty and snow-capped mountains. It is called Chandanwadi. Located 15 Kms north-east of Pahalgam, one can reach Chandanwadi either by mini-bus, pony, jeep or taxi or even can one trek. On request, the pony owner helps in arranging for the local taxi. Thanking the pony owner I sit in the taxi, and am off to Chandanwadi.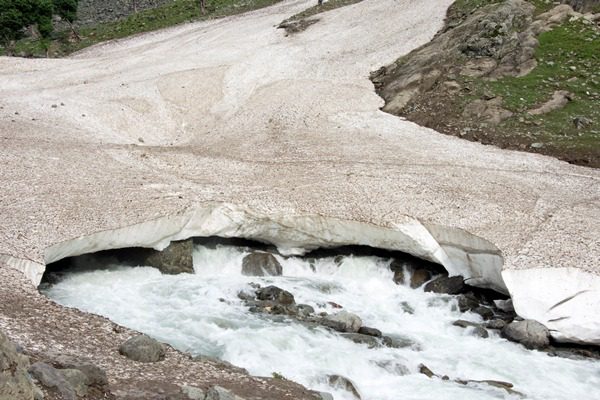 A scenic road drive passing by the banks of the meandering Lidder River and through the lush green conifers with occasional patches of rocks ensued. It took an enticing 30 minutes to reach here. This rocky and verdant Mountain Valley's main attraction is climbing up the Glaciers and slide down Snow Sledging. Pay Rs 300 for Snow coat and boots and walk up the glaciers with the help of wooded stick/s. On the way back, preferably slide down on the sledge. Sledge owner may however ask you to pay Rs 500/- for using his sledge. You can Bargain for a lower price nevertheless. I paid 200/-.
As you return, it's time for a hot Cuppa of Coffee. Couple of restaurants at the foothill beside the banks of the burbling Lidder River offers you place and ambience to enjoy your snacks/coffee in tranquility. Even as Lidder continues flows nonchalantly, unmindful of the numerous adulatory eyes staring at it without a blink, you look at your watch and realize: Oh!! It's time to return back to your Hotel, in Pahalgam. On the way back is the beautiful Betab Valley.  Next Morning Adil comes back to drive you to your next destination – The city of Flowers, the beautiful 'Gulmarg'.
As you leave Pahalgam, looking back you are compelled to conclude: "If Kashmir is the Paradise on this earth, Pahalgam is surely its Centre".