From Srinagar to Pahalgam to Sonmarg to Leh to Nubra Valley to Pangong and back to Leh for final two days stay marks the end of this captivating tour of Kashmir & Ladakh. The sublime serenity of Leh-Ladakh is surreal and almost indescribable. A place where you can sense serenity among striking Monasteries.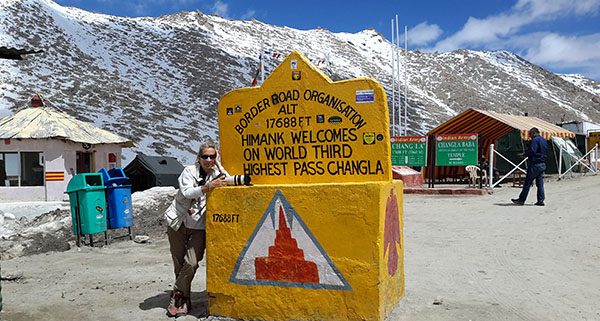 After a memorable short stay in Pangong, Jimmy drives me back in his Innova passing through treacherous terrain and steep strenuous climbs over lose mud and slush, at least in the initial 125 Kms drive. (Total distance between Pangong and Leh is 240 Kms.) By 10.30 you reach the exotic Chang La Pass situated at 17950 feet above sea level; the third highest motorable road on this planet.
Visiting colorful Buddhist Monasteries (also called 'Gompa') along the way, you first stop at the 600 years old Thiksey Monastery that houses an impressive 49 ft tall Maitreya Buddha temple belonging to the Yellow Hat sect of Buddhism. It is noted for its resemblance to the Potala Palace in Lhasa, Tibet. (Potala Palace in Tibet was the residence of the Dalai Lamas till the 14th Dalai Lama, after Tibet uprising, took asylum in India in 1959)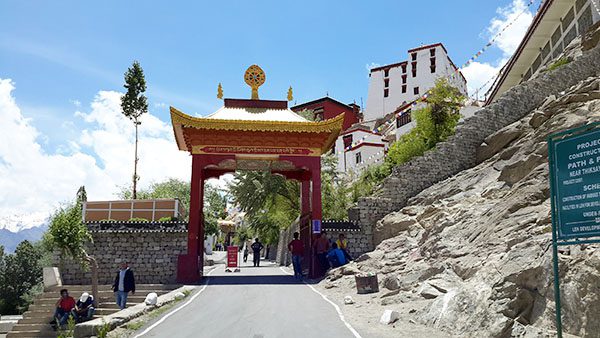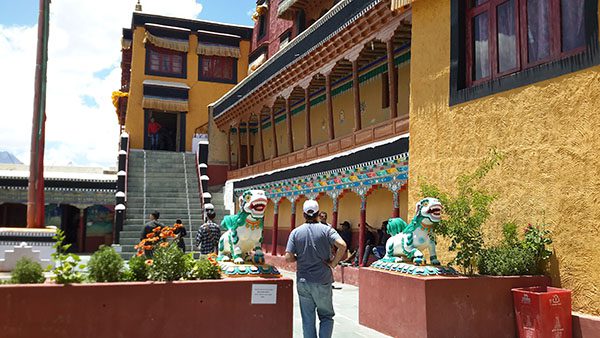 After the final halt at Shey Palace, a 16th century summer palace of Lehs royal family that has an amazing three storied high copper gilded statue of Lord Buddha built in it, Jimmy drives into the beautiful "Leh Palace Hotel" in Leh by 6 PM. Next morning, exploration of the beautiful city of "Leh" was on the itinerary.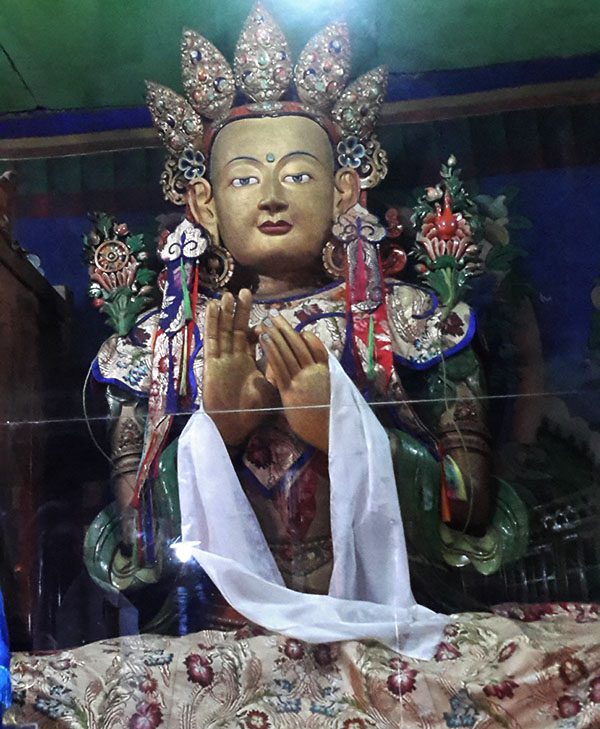 Next Day : Driver Ali reports at the Hotel with his Innova at sharp 8 am.
Passing through the famous Leh Bazar, Ali takes you to visit was the historic Sikh Gurudwara, Shri Pathar Saheb. Built in 1517 in the memory of Guru Nanak Dev JI, this Holy shrine is now looked after by the Indian Army. Cover your head, remove your shoes before you enter this Gurudwara. You see the Holy Granth Saheb placed right in front where you pay your obeisance and as you come down a few steps from behind, you see a huge stone (Pathar) with shape of a body carved on it. As the legend goes, this happened when Shri Guru Nanak Dev ji, during his Visit to Ladakh, stopped this huge boulder by his body that was thrown at him by the demon staying here during those times. This Gurudwara is also revered by the local Buddhist who venerate Guru Nanak ji as Guru Gompak Maharaj or even as Nanak Lama. After paying your respect, as you move out, there is small Hall where langar of Tea and Snacks is served to each visitor.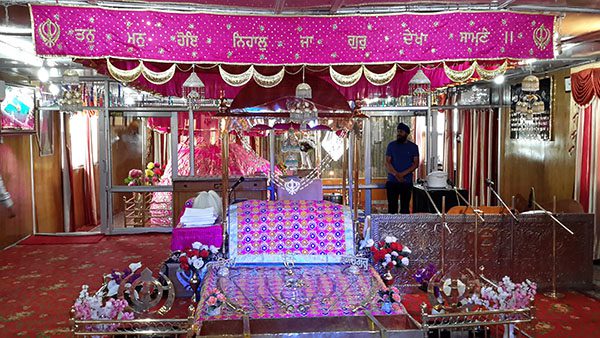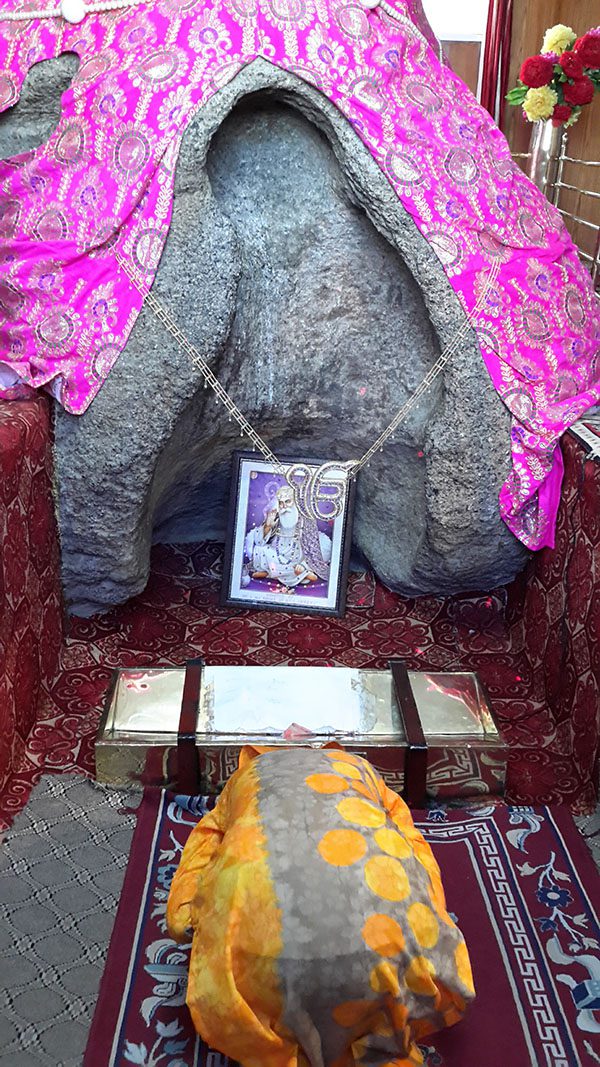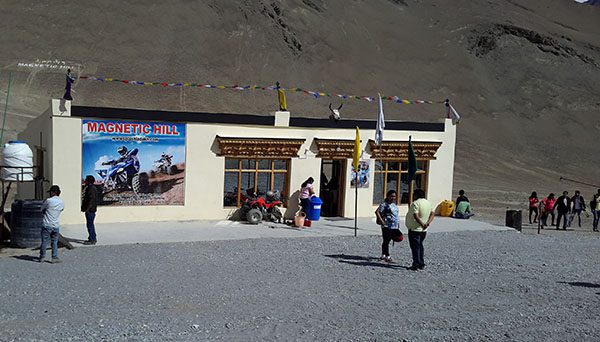 Leaving the Gurudwara, a few Kms ahead, we pass through the Magnetic Hills, believed to defy earth's gravity. Further from there is a place where confluence of two great Rivers, Zanskar and Indus is taking place. This place is also called Sangam or Union.
Moving still further, Ali takes turn away from the main road and crosses to the other side of the river. From a narrow road passing through Alchi Village, you reach the Alchi Monastery (also known as Alchi Choskor Monastery). Walk through a small path lined up with stalls where villagers sell artifacts to the visitors. Little ahead is three square and rectangular structures with flat roofs. This is Alchi Monastery. Within the shrine you see enshrined elaborate murals and the stucco images ascribable to period between 11th to 13th centuries A.D. An unmistakable reflection of some exceptional quality Buddhist art and architecture.
At one place you see around fifty Buddhist Monks seated on the floor around a long bench, in their familiar orange attire, chanting Buddhist Mantras. The sound and its vibrations are so intense and meditative that you hesitate to get-up and leave. Almost in trance you sit there till the riveting recitations and rituals are over.
The restaurant within the premises provides vegetarian food to its visitors. Had a quick bite before departing towards yet another famous Monastery called the Likir Monastery.
From Likir Monastery, Ali drives you back towards Sangam. This time he goes down right up to Sangam point where the noticeable confluence of muddy water of River Zanskar with bluish green waters of the Indus is visible. Ali advises to experience Rafting, a popular sport offered by "Indus Himalayan Explorers (IHM)" here.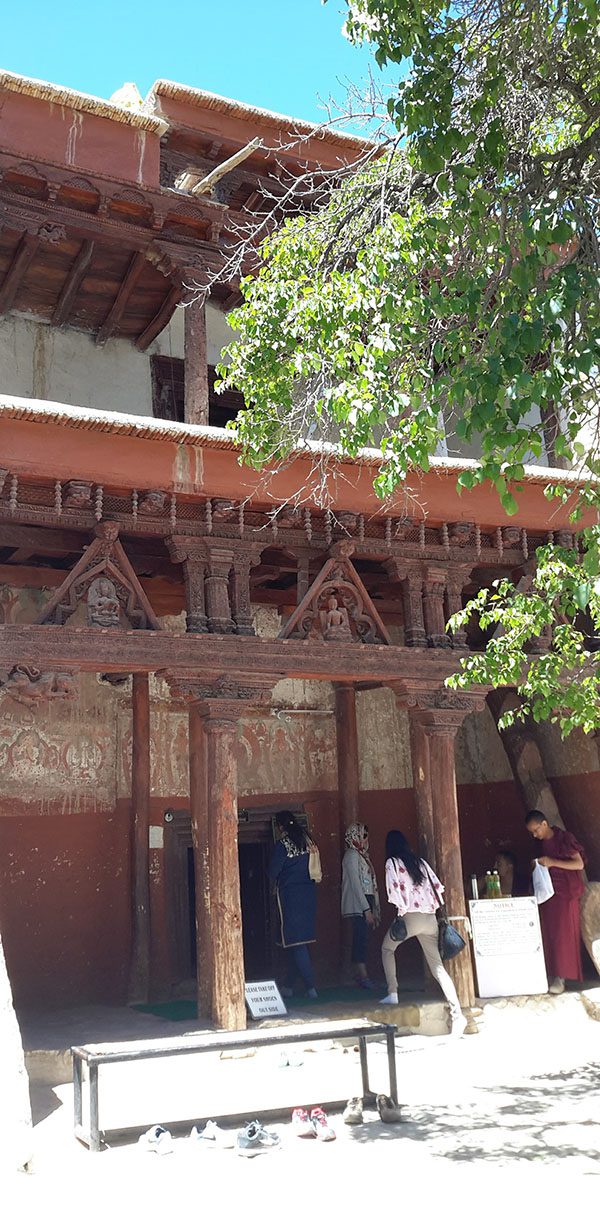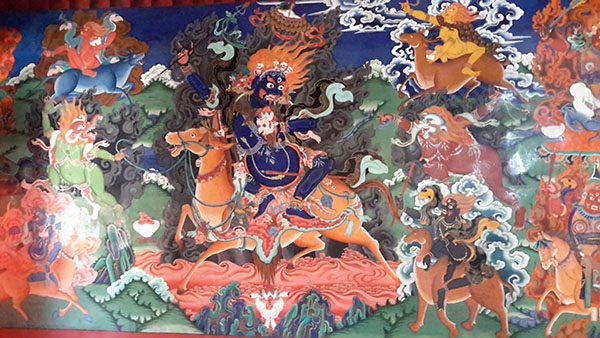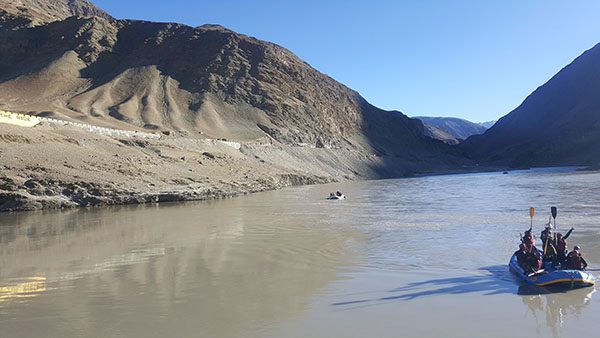 The chart at IHM allows you to choose between three options:
a) TSOGESTE which is 6 Kms and takes 1hour 45 Minutes with price of Rs.700/-
b) SCHORPOCHEY which is 14 Kms and takes 2 Hours and costs of Rs. 1,100/-
c) CHILLING that is 26 Kms, takes 3 hours and costs Rs. 1500/-
TSOGESTE is recommended for Children and Seniors and CHILLING for professional Rafters. SCHORPOCHEY was thus the best option for me. After you pay, the organizers provide you with rafting gears like Suit, Helmet and Shoes and then expect you to reach the starting point 14 Kms upstream, all by yourself.
On reaching there, you get a short orientation from the experts and thereafter with a row in your hand you are made to sit in the rafting boat. There are three other rafters (all females) along in this boat plus the chief boatman. Two of the three females claimed to have earlier experience in Rafting. And there I go for a lifetime experience of this sport.
There were two more rafting boats full with fun rafters. Just as the expedition begins, a strong wave comes from nowhere and nearly overturns all the three boats. There are screams all over. Slowly, moving little further the water begins to turn rapid and so do the heartbeats. The adrenalin rush is palpable. Soon, negotiating in choppy waters gets more and more exciting. The challenge is thrilling. After about 5 Kms the flow of water calms and so does the exhilaration. A few Kms ahead, Sangam point is now in the vicinity. The boat stops little away from the shore and you step down, well soaked, in the shallow waters of the river and walk slowly towards the shore.
Happy at the experience, you change to your own clothes and Ali drives you back to your Hotel with abiding memories of the day.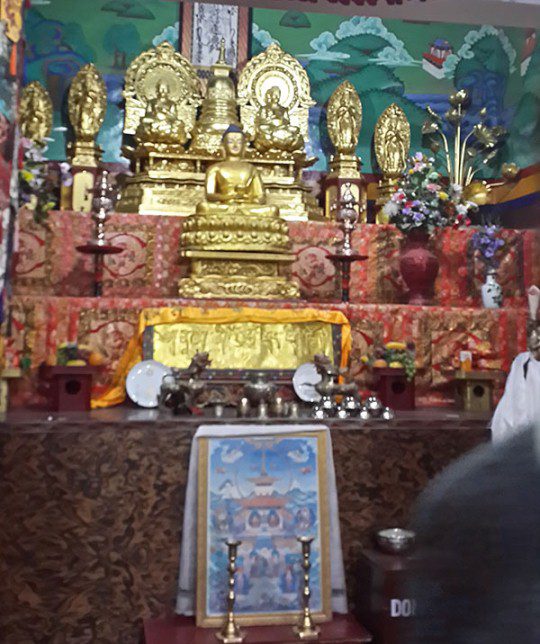 Next day :
Visitors travelling on motorbikes are ubiquitous in Leh Ladakh. Some get their own bikes while others take them on hire. Renting bikes is a thriving business here. I too decide to hire a bike and try. Wow !!! ……. Sounds cool……..
On request, Hotel reception dials a no and in no time a man with a bike reaches the hotel. It had been ages I had not ridden a two wheeler. With a bit of apprehension, I take charge of the bike that looked little old.
With helmet On, I reach the 11th Century Spituk Monastery that's 10 Kms away from the Hotel. Park the bike and climb up to the Monastery perched on a hill overlooking the beautiful Indus River. You see some fine collection of exquisite antiques such as vintage masks and thankas (antiquated arms) exhibited here. However the main attraction is the amazing finger high image of Lord Buddha and Amitayus.
Around 2 Kms on the way back is the famous Museum called Hall of Fame or Leh's War Gallery. This gallery is dedicated to the heroic sacrifices of the Indian Army and their remarkable fight against terrorism and infiltration. The entry ticket is Rs 50/ per person but if you plan to take your Camera along, pay an additional Rs. 100/- and click as many pictures inside.
As you walk past the amazing portraits and read the story behind every such image, you get the insight into an incredible life a soldier leads and the hardships Indian army faces to protect our borders. With a feeling of pride and admiration for these incredibly brave souls you leave the Museum.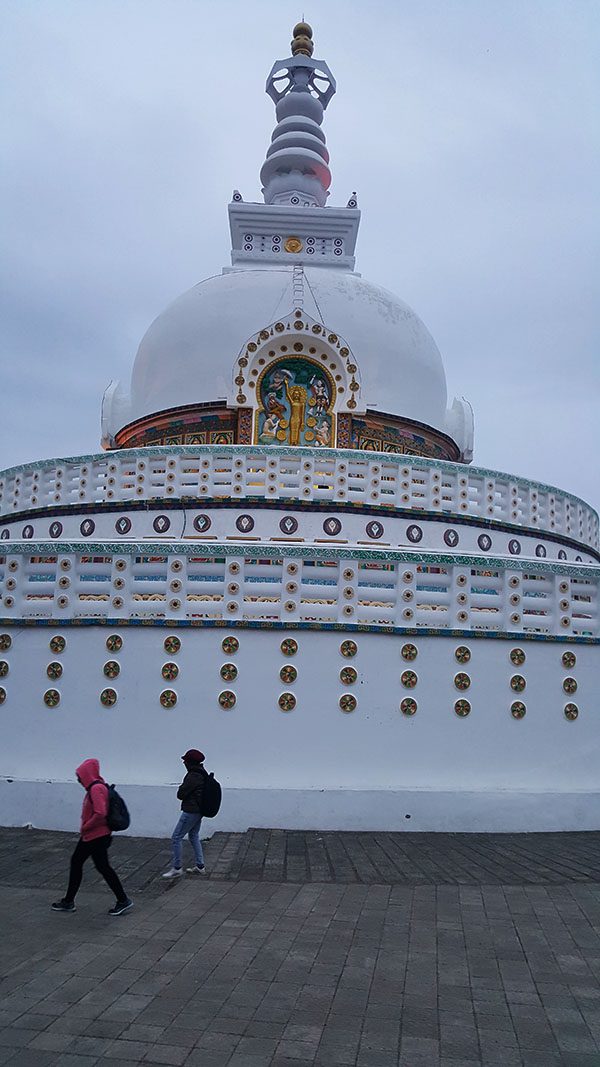 It is 6 PM and there is at-least one more important place to visit. The Shanti-Stupa. This beautiful Stupa, a symbol of peace and prosperity, was built in 1991 by the Japanese and Ladakh Buddhists together to commemorate 2500 Years of Buddhism. As you climb up on the tarred road, you pass from in front of a meditation hall that has an impressive and mesmerizing Buddha Statue; so captivating that you can keep staring at it endlessly.
Another reason that attracts tourist to this place besides its religious significance is its spectacular location. You get an astounding panoramic view of the beautiful landscape surrounded with mountains on one side and the city of Leh on the other. Moreover the Sunrise and Sunset view form here are legendary.
Suddenly it begins to drizzle. I quickly start my bike and climb down the steep road very carefully. On reaching the Hotel, return the keys of the bike at the reception, have my dinner, rewind my experience and retire for the day.
Your mind cajoles you to stay longer and devour the mesmerizing magnificence of this place even more. But only if wishes were horses….. Early next Morning Ali stands with his car to take me to the Airport. Back to Mumbai via Delhi and from there to Home Sweet Home. Thus an exceptionally thrilling trip to Kashmir and Leh-Ladakh ends.