If you have seen 2015 super hit Amir Starrer "3 Idiots", you will know how Lake Pangong looks like. The incredible beauty of town Pangong Tso must have prodded actor Amir Khan and the entire unit of "3 Idiots" to pack their bags and cameras and scoot here to shoot critical film sequences before final pack-up. So let's Travel to Ethereal Pangong Lake from Nubra Valley to experience the scene ourselves.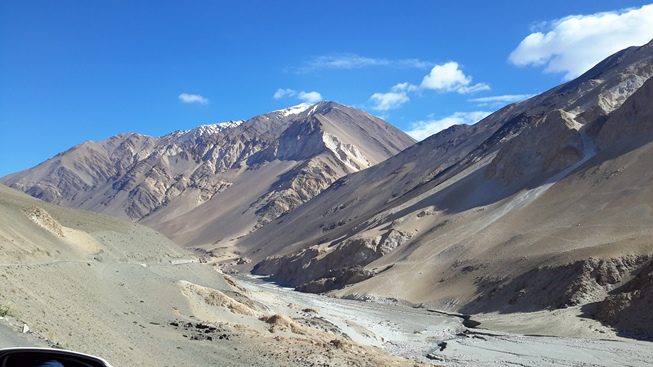 After leaving Nubra early morning, passing through kuccha-pucca roads with streams of water from melting glaciers rolling across roads at every other place, the drive was indeed enthralling. These thin streams suddenly turn thick and thicker as the Sun rises; the solar heat rapidly increases the speed of glacier melting. Such streams turn into mini rivers and in no time make commuting extremely dangerous and sometimes even impossible. Once stranded, it could take hours or even days to escape out.
Luckily the experienced Jimmy, my car driver, was aware of these serious perils and he cruised through these notorious spots before they could swell and sign danger. The distinct manifestation of nature never fails to captivate you as you cross this striking stretch of creation. The astonishingly colorful Mountains, the streams of clear water uninhibitedly meandering between their feet, the unexpected propping up of astonishingly attractive squirrel like animals called 'Marmots' from their burrows, the sudden descent of clouds creating a white veil, intriguingly obscuring some seemingly beautiful spots is indescribable. You unquestioningly go into trance little realizing when you reached the top of the curve from where the magnificence of the Pangong Lake and its surroundings can be seen.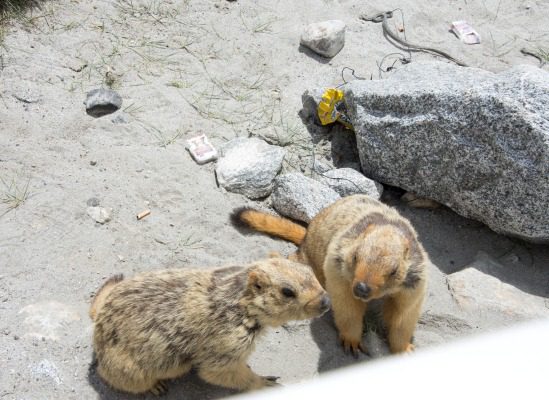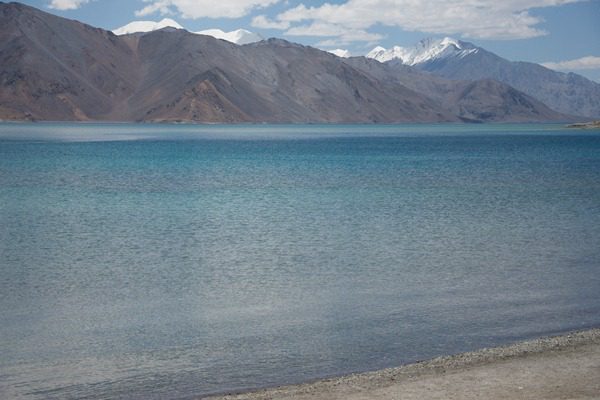 Situated 14000 Mts above the Sea level, temperature at Pangong Tso gets unbearably low (up to minus 14 degree Celsius) during winter. It becomes inhabitable then. Even the colossal Pangong Lake gets completely frozen. The accumulation of snow is so high that is measured in Meters, not cms or inches. For a night accommodation therefore, only Camps and Resorts built of canvases are available. These cottages are erected before every summer and dismantled as the winter nears. You could see around 40 – 50 such camps situated alongside, close to the banks of this picturesque lake. Each camp has a cluster of 12 to 18 cottages within it. Beginning June to end September is the right time if you desire to visit this beautiful place. Interestingly only one third of this vast Lake is within India, the balance two-third falls under the Chinese territory.       
Some tourists come to visit the Lake for a day; they reach here by afternoon and spend time at the Northern part of the Lake and return. The magnificence of this vast miracle, according to me, is nearly impossible to comprehend in some few hours. Those who wish to enjoy a fuller beauty of this stunningly miraculous phenomenon prefer to stay back, at least for a night.
After a short visit to the lake, I checked into my pre-booked tiny Cottage at "Pangong Delight Camp" for a night stay. Kailash, the amiable Manager of this Camp, welcomed me with a most desired steaming Hot Cuppa Tea. These small Cottages are brilliantly constructed; ensuring the inmates are kept suitably warm as night progresses to become increasingly chillier. The Price of each Cottage here varies between Rs.1500/- to Rs.8,000/-, depending upon how early you book, its proximity to the lake and other amenities provided. Buffet dinner and morning breakfast is included in this price and is served in a separate Cottage for all guests.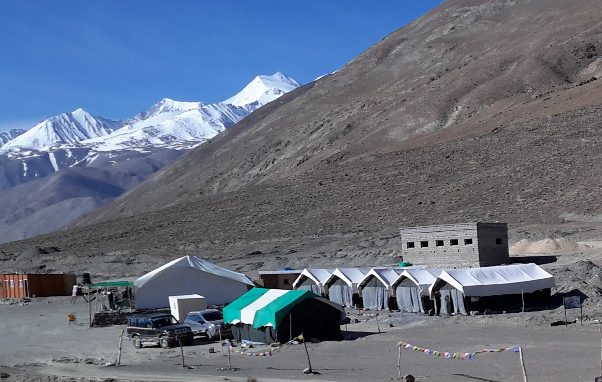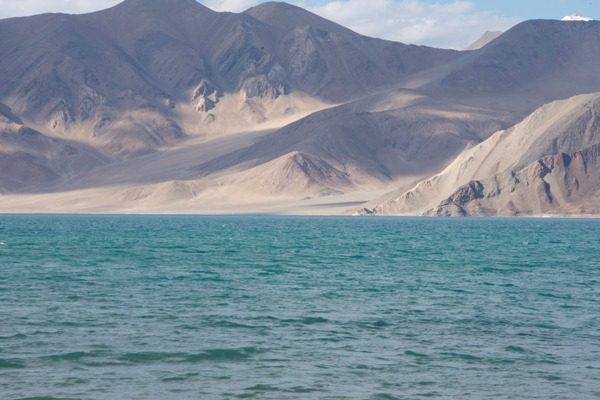 There were few hours left before Sun set and dinner time. I tugged the camera on my shoulder and with tripod in my hand, requested Jimmy to quickly drive me back to strategic points on the Lake's bank from where my camera would do the rest. Every moment besides this tranquil, ethereal Lake seemed like dwelling amidst divinity. You couldn't ask for more. As the Sun slowly set behind the tall mountains, the scene kept changing every minute. I positioned my Camera to capture every possible moment for posterity.
After a short but memorable stay, next morning, quick breakfast and were off to a 240 Kms drive back to Leh.
By 10.30, negotiating some steep strenuous climbs over lose mud and slush, reached the exotic Chang La Pass. 17950 feet above sea level, Chang La Pass is reputed to be the third highest motorable road in the world . A small halt here and then proceeded to visit some of the ubiquitous Buddhist Monasteries (also called 'Gompa'). First to come on the way was the 'Thiksey Monastery'. Here the 49 ft tall "Maitreya Buddha" statue was incredibly spectacular. Visitors enthusiastically queued to take photographs with this hugely impressive Idol. I too waited for my turn, clicked a few pictures and proceeded towards the next destination, Shey Palace. The final halt was at the 11th Century Spituk Monastery and from there to Leh.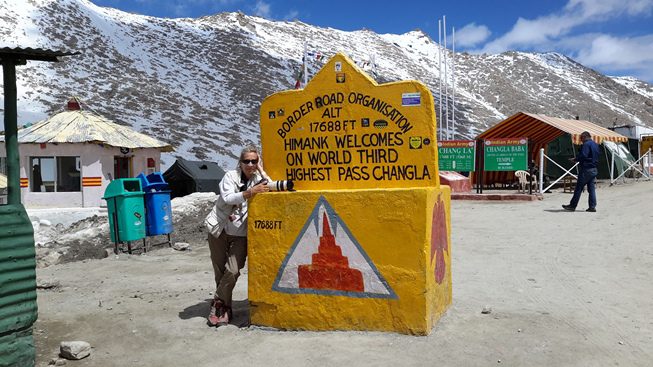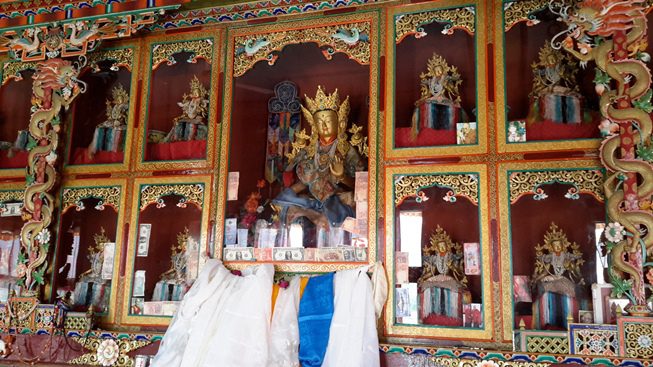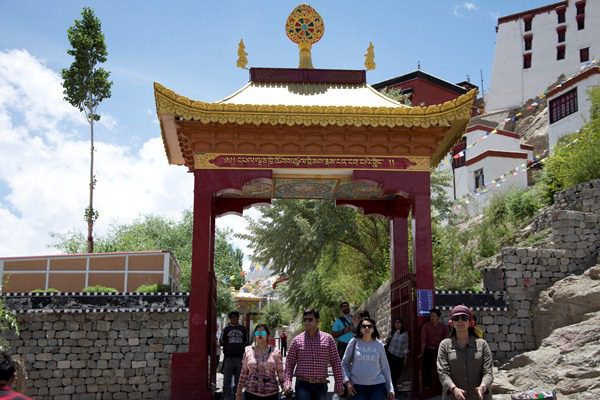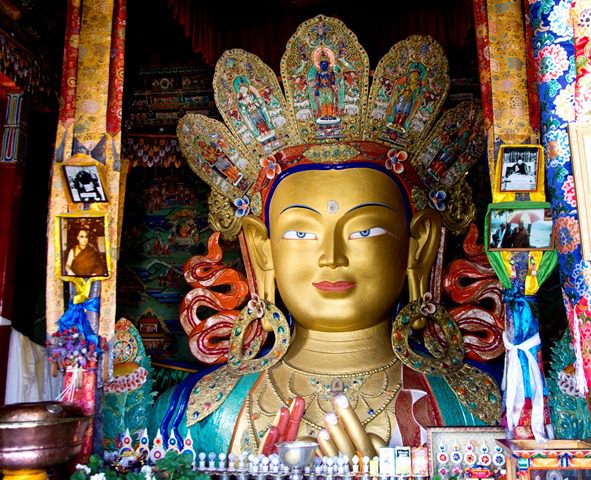 Checked-in at yet another beautiful Hotel – "The Zen Ladakh". Tired, but some good wine came to my aid; dined and went to bed early to get up fresh the next morning to explore the city of "Leh"…. on a rented bike. On Bike?? Wow !!! ……. Sounds cool……..
For more blogs on Kashmir, Srinagar, Pahalgam,Sonmarg and Nubra Valley visit www.bhupendergupta.com