"The happiness of the bee & the dolphins is to exist. For man it is to know that & to wonder at it." So go for SCUBA in Goa and Explore a different world, Under Water.
Over 2/3rd or over 75% of our planet is covered with water (71% by Ocean). Humans endeavor to explore a part of the balance 25% that lies over water. We visit Mountains, Forests, Snow clad areas, rivers and even go up to sandy sea shores to experience the ambiance of some of the most amazing Beaches in the World. Virtually in-comprehensive of a totally different and utterly fascinating world incessantly unfolding a few meters beyond the shore in to the sea.
Since primordial days Man's intrinsic instinct to know the unknown has seldom failed to fade. It was the enigmatic expansive Sea that attracted the human attention centuries before they looked up, towards the outer space. Unblessed with Gills, the advent of newer and safer under water breathing technologies excited adventurists who foresaw SCUBA diving as an unmistaken thrilling recreational sport.
The thought of Deep Water Diving was indescribably fascinating; to realize this thought I reached to the Internet and through internet an organization named 'Barracuda Diving'. Situated in Goa, this diving institute, an authorized training and recommending body for aspiring SCUBA Divers, represents two international certifying bodies viz. SSI and PADI. SSI cost's Rs. 19500/- and PADI Rs. 22000/-. Difference: SSI gave literature on line while PADI furnished the same through hard copies; training nevertheless remaining same. Four day course includes first Two days training sessions in the Pool, where you are accustomed with various Skills, and the next Two days at Deep Sea where you perform four dives (two dives/day). I settled for SSI.
After finalizing on mutually agreed dates and paying 50% fees in advance, the soft copies land on my Computer with significant information on aspects of SCUBA Diving along with Dos and Don'ts and fundamental precautions necessary for safer diving. This seven chapter literature supported by videos is undoubtedly comprehensive and hugely informative as you plan to SCUBA in Goa . Each of these chapters is followed by a mandatory on line test which all aspirants have to undergo.
As agreed, I land on schedule at picturesque Goa. Call the institute and plan for Pool training the next Morning. An expert instructor is assigned who goes on to explain/demonstrate, essentials of SCUBA diving. Interestingly the acronym SCUBA stands for "Self-Contained Under-Water Breathing Apparatus". Hence optimum quality and efficacy of SCUBA equipment/apparatus is imperative. Besides a Snorkel attached Mask that accurately fits your face & Fins that properly fit your feet, other equipment include:
Buoyancy Compensator (BC) : Worn as a jacket with mechanism of air getting filled or removed as and when desired by the diver. It helps control buoyancy, crucial during dive.
Delivery System : This critical system ensures constant supply of breathing air to the Diver at ambient pressure under water. The air is drawn from the attached air cylinder.
Information System : Equally critical, it furnishes information to the diver on various aspects during the dive like:
Depth at which the Diver is under water,
Directions to help the diver to navigate deep down,
Balance Air in the Cylinder at a particular time,
Time spent by the Diver under water etc. etc.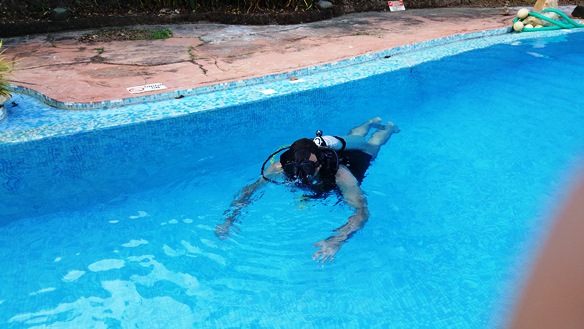 An over two and a half hour session that ensued was indeed challenging. You are educated on how to check & test each equipment, their utility during the dive and their post dive care. Soon I realized things are not going to be as smooth as I had imagined. Next day the same exercises continued with few more additions. The challenge grew but so did my resolute.
Replication of these exercises was now to be conducted under water, at high seas. Sounded scary !!
As the excitement grew, a dampener arrived: Indian Navy along with the Goa Security forces had organized an exercise/ mock drill called "Sagar Kavach" that would continue for the next 48 hours, hence no boats could venture into the sea till then. Mood got sullied but the only option left was to delay the return and complete the course.
This incidentally came a Blessing in Disguise as it gave an inadvertent opportunity to see different parts of Goa. Next two days, hired a bike & visited Goa's fabled beaches like Baga, Calangute, Anjuna, its celebrated Churches including St. Francis Church in Old Goa and the one in Panaji and feasted in Goa's famed eating joints.
8 am was the reporting time at the Nerul Jetty. The boat was ready to leave. A fascinating over one hour cruise ensued as this craft pierced into the mild waves & pleasant breeze over Goa's clear aqua sea. The chief instructor used this time prudently to explain once again, what was expected of me after we reached the destination.
At location, the boat anchored a few hundred meters away from an island. The chief, fully geared up in his SCUBA suit, sat on the edge of the boat. With his back towards the sea he rolls behind into it, goes below into the water before popping up again after few seconds. Your heart beat multiplies. You fret. You want to run away but, but, you are in mid-sea and the Boatman would not oblige.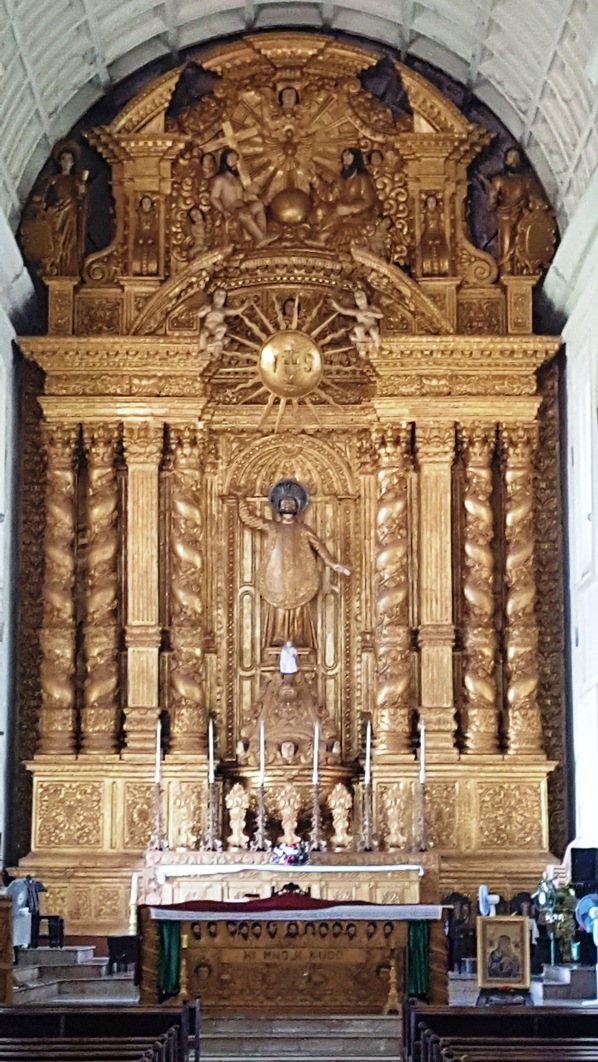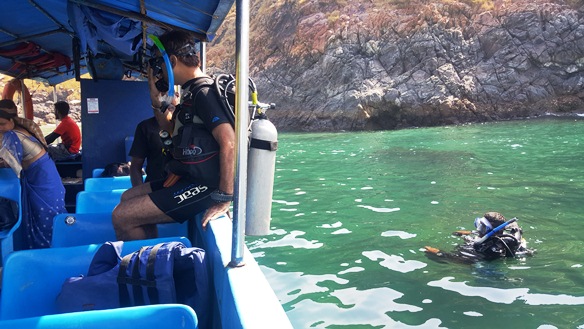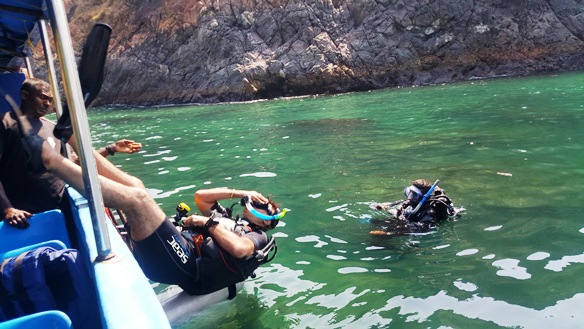 Pushed with your back to the wall, you gather sufficient courage and follow the instruction akin an obedient student. With a sense of ambivalence you keep your amusingly tensed buttocks on the edge of the boat. The jacket (BC) is inflated, you secure your mask & belt with both your hands, and as nervous as one could be, you drop yourself backwards into the sea. Dump.. you go a few feet down into the water, "drowned ?? Thankfully No". The air in the jacket has created positive buoyancy and you are pushed back to the surface. What a sigh !! Not a bad beginning !! I thought to myself. Ha…Ha…the smile is back…… Let's go now……
Your instructor then issues sign to deflate the BC slowly. As the air is pushed out of the Jacket, your first descent into the hitherto unseen world underneath begins. "Don't stop breathing" reminds the instructor.
Once you reach the sea-bed, you are mesmerized looking at the surroundings through the near clear water. White soft sand below your knees, tiny colorful fishes moving around nonchalantly, live corals at a distance augment your fascination further.
Accompanying instructor now signs you to repeat the SCUBA skills that were learnt in the pool. Your adrenaline rush accelerates. 'Hope I can do' – you think to yourself. Knowing skills is critical as well as mandatory to get you the diving license. These include:
Adeptness in removing Water out from Mouth or Mask, in-case water enters Mask during dive.
What to do when you find yourself low on air, in deep water.
What to do when you are out of air during the Dive.
And numerous other signs that are imperative to interact/intimate with your buddy or companion divers under water.
After successfully performing the exercises, now comes the real fun for which you were here. You inflate your jacket once again but just slightly, necessary to achieve neutral buoyancy. (In this state, you are neither pulled up due to Positive Buoyancy nor do you sink from negative Buoyancy) Then, with the help of the fins, you begin to swim horizontally to explore contemporaries in the world below.
40-45 minutes inside the sea, meandering in wonderment, you encounter with fishes of different hues moving uninhibitedly over spectacularly colored huge live corals, resembling massive bunches of Mushrooms. The ambience leaves you spellbound. An amazing bonhomie begins to develop which is broken suddenly as the instructor shows sign, "it's time to ascend". 'OK' I sign back. Use the fins to ascend slowly towards the surface. Once up, you are expected to remove all your equipment, in proper sequence as trained, and proceed for a swimming test. (You need to swim a minimum of 200 meters without any support in addition to 10 minutes of free float over the sea, to qualify for the certificate.)
After a short break, you get ready for your second dive. The same way to go down, same skills repeated and the same gripping experience relived once again. 45 Minutes and you are up again. Somewhat exhausted this time. It's time to return. Anchor lifted, boatman restarts the boat's engine and we are back on the Jetty by Lunch.
Next day same time, different location but same exercises replicated for the 3rd and 4th time. More two dives accomplished. (A minimum of four Dives are necessary to qualify for an Open Water Diver License/Certificate.) 'Happy the man was I'. After reaching the Jetty, you go back to your room, get ready and come back again, this time for a written (Objective) test. Secure 90% and above and you qualify for the recommendation of your certificate.
Same night I returned back to Mumbai by road with an exceptional experience much worth its value. (You are advised against flying for 24 hours after your last dive since it takes time for the absorbed Nitrogen to be released from your body).
As Gilovich famously said: We are the sum total of our Experience. Hence it's sometimes prudent to spend money on an Experience rather than on Things.
In next Six days, I get my License through Mail. There I am "A Qualified Open Water Diver" a step higher than being a "SCUBA Diver".

Important Caveat: Even if you are an expert diver, it is ill-advised to venture into Deep Sea Diving without either a qualified Buddy or an able instructor along.
For more travel blogs kindly visit at www.bhupendergupta.com and to experience world under water click to links on my visit to Polynesian Islands of Bora Bora, Taha'a and Morrea