India has seen the highest price rise of Petrol & Diesel despite the International Crude Oil Prices falling from a high of US$ 111.8 per barrel in September 2012 to US$ 52.73 per barrel today. Average Petrol price in India is Rs.73.9 per ltr, whereas in the neighboring countries the price are much lower.
Myanmar it is Rs.33.28
Pakistan it sells at Rs.43.28
Sri Lanka too has kept it moderate at Rs.53.43
Nepal & Bhutan are at Rs.61.13 & Rs.62.72 respectively.
This unjustifiably rise is primarily due to an imprudent move of the present BJP ruled Govt in India to increase Excise Duties on both Petrol & Diesel, ostensibly is to maintain its fiscal deficit target.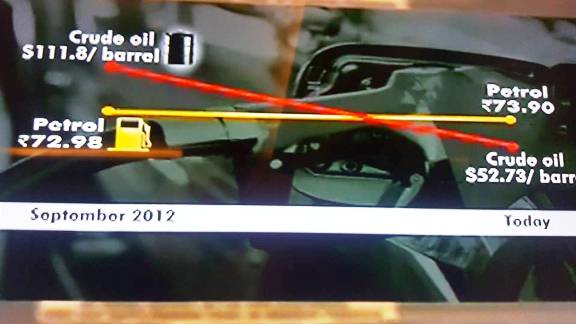 Despite India saving a whopping  $90 billion this hike is been termed as Highway_Loot  by the common man in India.
Though the Dealer's Petrol price is just Rs.30.70
But the additional  taxes on Petrol has taken the prices in different cities as :
Mumbai 160% raised price to Rs.79.48 per lt., 
Kolkata 140% makes Petrol cost Rs. 73.12,
Chennai 137% and you pay Rs.72.95,
Delhi 130%, you spend Rs.70.38/Litre.