The Majestic Paul Gauguin Ship departs from 'Huahine' alias "Sexy Woman" and elegantly cruises through the night towards another enchanting Island within the French Polynesia archipelago – "Taha'a", also known as 'Motu Mahana'. I wake up to the sweet aroma of Vanilla and Hibiscus that pulls me towards my Cabin's Gallery from where I witness "Taha'a", a beautiful flower-shaped island stationed right in front of me. 35 Sq Miles of this sleepy landmass with pillowy mountains has just 500 inhabitants living over it. Once here, strange laid back vibes uncannily catapult you away from your mundane tensions and unworthy worries. Sounds alluring …. Indeed it is !!! So… Welcome to the peaceful Taha'a.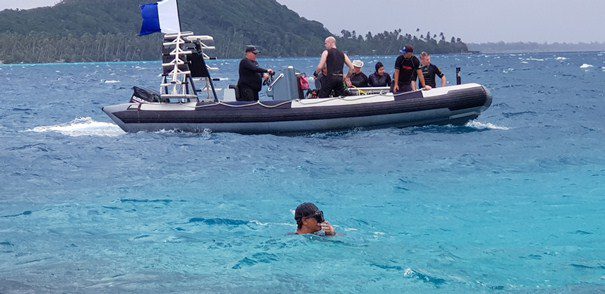 Out of a dozen choices offered, I booked myself for the exciting "Coral Garden Drift Snorkel Excursion". Motorized boat hurriedly ferries the guests towards the west coast of Taha'a; site presumably ideal for such Snorkeling expedition. After disembarking, you walk about half a Mile towards the higher end of the strait from where you notice water from the Pacific gushing in the shallow lagoon. The current's palpable. You wear your snorkeling equipment, Mask and fins and are ready for impending excitement. The accompanying Guide then instructs you to snorkel with the flow of current, towards the direction of the boat.
As you lay over the salty water of the Pacific with your head facing inside the ocean, you almost instantly enter into the realm of a different, an almost surreal World. You sense yourself flying over the Garden of Eden, that's seemingly submerged in this part of the Ocean. Innumerable delightfully colored corals adorn the area as they lay adjacent to one another swinging enticingly with the water current. Charming Angles (Fishes) with their iconic distinctive stripes swim nonchalantly in-between these Corals making one wonder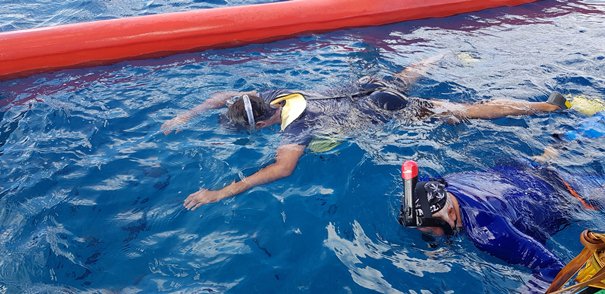 if the fabled 'Eves' have descended and metamorphosed in to these beautiful creatures. The drama is awfully breathtaking. The camaraderie between species is unmistakable. Juvenile Sharks swim harmlessly alongside Angles, Cat fish and others. As you set your sight on one fish, there comes another, equally attractive. You are happily confused as to where and whom to look at. Just then, to add to your confusion, there comes yet another, then another and then a stream of others follow. You are bound to be spellbound.
PS : Do not to get tempted and touch any of the corals, and if you happen to touch them, even by chance, be sure of take back with you some serious bruises. These Charming and Innocuous looking Corals are remarkably tough and sharp. As you are pushed ahead by the firm water current, the scene underwater gets increasingly captivating. OMG!! You tell to yourself, this place is unarguably manyfold beautiful and alluring than possibly any place over the land. You then begin to question, Has nature been more liberal in bestowing its benevolence to the life under the Sea ?? May be YES…… You could be compelled to conclude.
20-30 minutes of this divine experience, has every reason to get embedded in your memory for this lifetime. At the end, as the Masks went off, expression of amazement was unmistakable on the faces of every participant.
Back on your boat, you are treated with some fresh Fruits and Coconut water. The motorman then turns the boat's steering towards Paul Gauguin's private Islet in anticipation of yet another enthralling and memorable experience.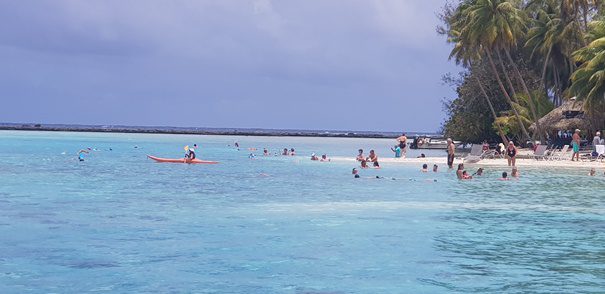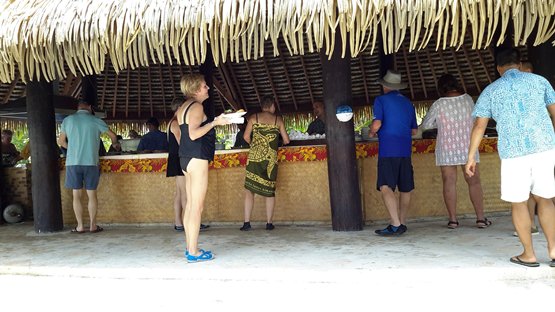 As you reach near this Islet or the Motu Mahana, you see other guests, presumably back from their respective excursions, engrossed in various activities. Few lay Sun-Bathing on the chairs laid on white sand beach; some are seen swinging their limbs over the sparkling clear waters, either snorkeling or swimming, some indulged in rowing Kayak and some connoisseurs of liquor & wine stood near the floating Bar chatting and creating new acquaintances. On the beach too there is an elaborate bar to wet the pallets of those who desire to remain dry, out of water. So merry making was all that all are expected to do here. The bonhomie couldn't be missed. To add to the enjoyment, a small troupe of talented local artists went around singing & dancing, entertaining every guest there.
Elaborate Barbeque lunch with dishes of exotic variety is then lavishly served to the guests. Satiated, it's now time to return back to your Ship. The tender boat ensures all guests are back into the Ship, safe and secured.
Don't forget, Taha'a is reputed for its exceptional quality Black Pearls skillfully harvested in Pearl Farms around here. So if you are interested, this is the place to get your Pearl. I brought one for my-self and am happy that I did.
It's now time to cruise towards the next destination….. the Famous, the Exotic, the mesmerizing … Island of "Bora Bora".