Situated 160 Kms north of Leh, Nubra Valley is a place rarely missed by any tourist visiting Ladakh. You would be un-lucky, if, on the particular day, inclement weather restricted your entry into this fabled Valley. I was lucky as the weather on that day looked clear and propitious, promising an enchanting drive.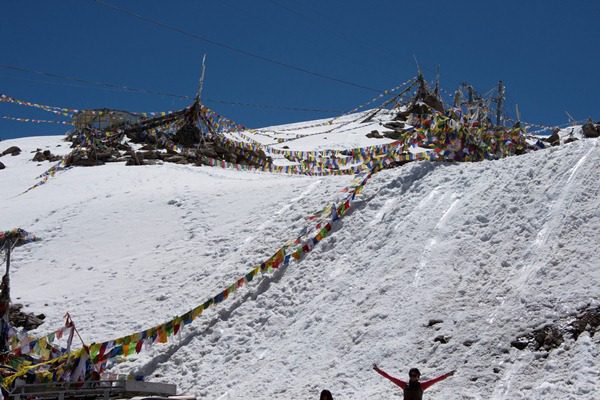 34 Kms from Leh, you pass through an awesome place called Khardung-La. Situated at an astounding height of 18380 Mts above sea level, Khardung-La is recorded as the highest motorable road in the World. A profound sense of joie-di-vivre engulfs you as your driver slowly negotiates the car on the road, surrounded on both side with silvery white snow.
Imagine a scene wherein with a slight extension of your hand, you are able to touch and enjoy the titillating chill of this magnificence. All Smiles .. Right ?? Tourists, without exception, ensure to halt here, at-least for some time, to catch some memorable moments at this splendid place.
Towards Nubra Valley from here, Jimmy, my car driver, cuts his 'Innova' through one mountain to another with amazing proficiency. After nearly four and a half hours of captivating drive we reach the outskirts of the Valley. Ensconced between the Saltoro & Sasermuztag ranges, sub-divisions of the famous Karakoram Range, Nubra valley is hugely deprived of rains. The surrounding tall ranges inhibit the clouds to enter in here resulting in large stretches getting converted in to quintessential desert. Sand Dunes at Sumur & Hundar are resultant of this low rain effect.
"Double Hump Camels" also known as "Double Humped Bactrian Camels" are omnipresent in this expanse of desert. One can see these innocent herbivores obediently walk on the soft Sand along their respective masters. Bumpy ride on these ceaselessly chewing desert animals, after they are colorfully saddled, is what all tourists look forward for. But it is not free. Price for this exciting experience: Rs 200/- for a 15 Minutes stroll & 350 for 30 minutes. The 30 Minute ride takes you deeper into the desert. Without much debate with myself, I decided to go deep. After the fascinating 30 minutes, I alighted this amazing animal and walked up to my car for a visit to the nearby famous, "Diskit Monastery".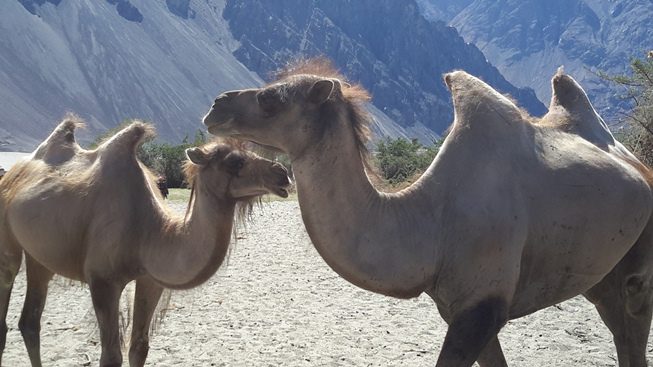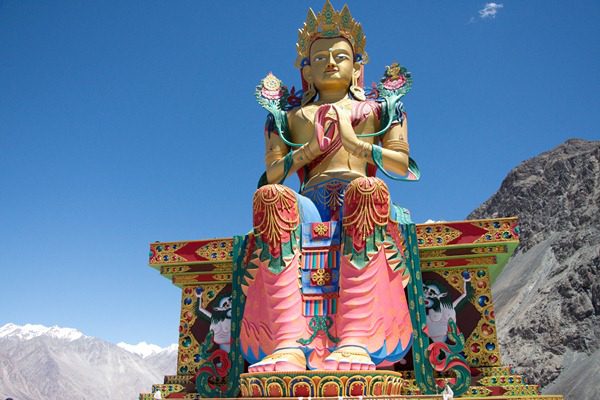 Diskit Monastery facing the Shyok River, a tributary of Indus River, is deeply appreciated for it impressive architecture and the huge 32 meters tall Jampa Buddha Statue surmounted on the top of this revered place. After spending some time admiring its various facets you move further.
20 Kms towards Siachen, you come across a Lake called Lohan Lake. Surrounded by Hills, it is also called the "Secret Lake", presumably because the existence of this lake gets revealed only after one reaches near its banks. Little further is another sacrosanct place of the Buddhist worship – "Ensa Monastery". Now  it was time to check-in at the pre-booked resort "Lchang Nang Retreat" for a night halt.
Mr Stoben, the young owner of 'Lchang Naang Retreat', during his customary courtesy visit to guest cottages, enthusiastically extolled his property spread over 20 Acers. During the course of our conversation, he revealed that the old 'Silk Route', established during the 'Han Dynasty' in China (operational from 2 BC to 14 AD) connecting China to the west, passed through Nubra Valley, from just in front of this resort. Nubra thus was considered to be the gateway to India in those times and the language spoken by then natives was called "Ladakhi Yarkandi". "My Grandfather still speaks this language" says Stoben with palpable pride.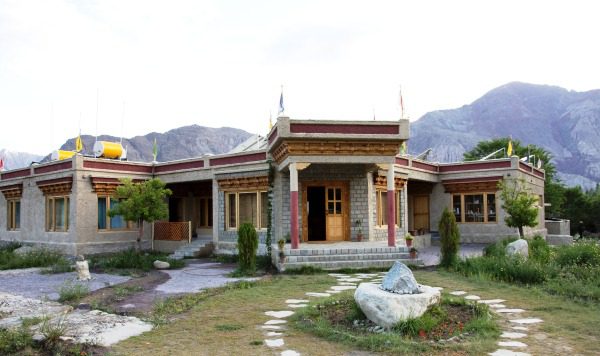 After a night halt at Nubra Valley, the next day journey was to the exceptionally picturesque "Pangong Lake" situated near the Indo-China border. This lake has become increasingly famous and popular after some scenes of Amir Khan starrer "3 Idiots" were shot here.
Before going to sleep, there was a strict advisory from Jimmy, my driver, and corroborated by the Hotel Manager. We should leave as early as possible next morning. Reason: as the Sun rises, its heat starts melting the glaciers causing instant floods; travel then becomes extremely dangerous. Next Morning at 6, packed my breakfast & was on my way to Pangong. Good Bye to Nice Nubra.