After a near three hour flight you reach Guwahati from Mumbai, the largest city of Assam situated in the North-East of India. The fabled Wild Life at Manas National Park also known as Manas Tiger Reserve, a UNESCO Natural World Heritage site is the irresistible attraction that has pulled you over 2800 Kms towards east.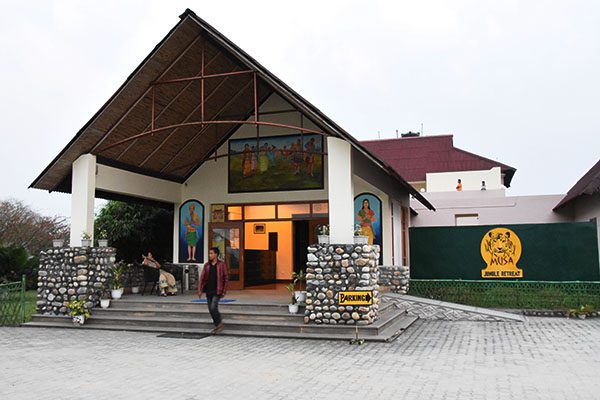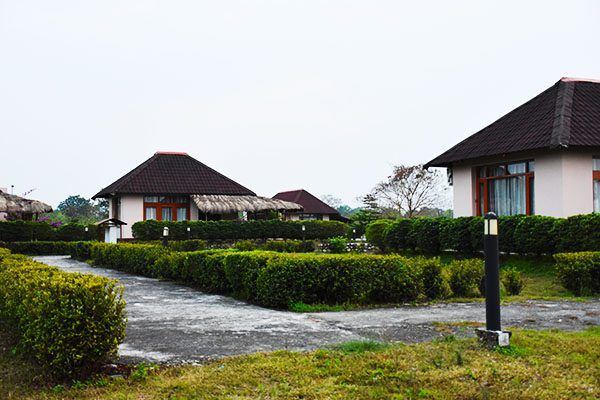 Babul, the driver of the pre booked taxi welcomes you as you arrive and drives you 130 kms north-west of Guwahati to a beautiful Resort 'Musa', situated right at the outskirts of this Reserve.
It is six in the evening, the Sun has already set and darkness has begun to cover the area. Some innocuous Deer's have surprisingly come near the park's barbed wire in their endeavor to graze. You pick your camera, request a staff of the resort to accompany you and with the help of a powerful torch light up the reddish-brown fur of these four legged mammals and capture them in your camera.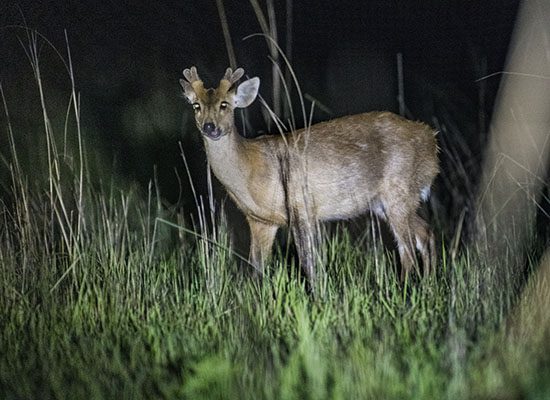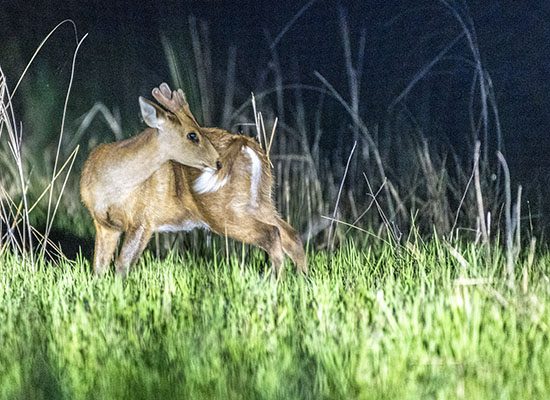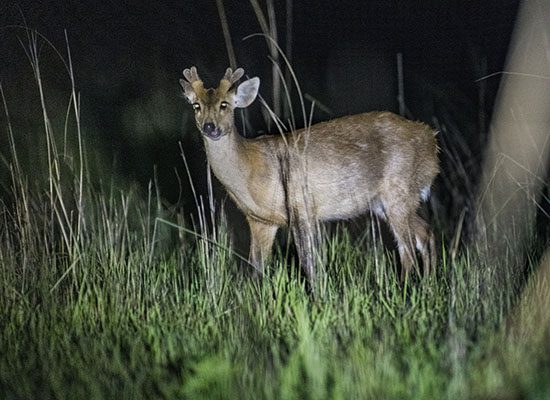 Day 1
Next Morning, it is 6 AM and Tapan is ready with his Jeep, a 'Four Wheel Drive', along with a mandatory Gunman to venture into the Jungle through the Bansbari Range.
Entering the gate of the park, your first encounter is with some amazing colorful Peacocks. Their Shining blue long neck with attractive eyes and incredible iridescent long tails makes them look fabulous. Some of them remain safely perched on the tree branches making them look even more stunning.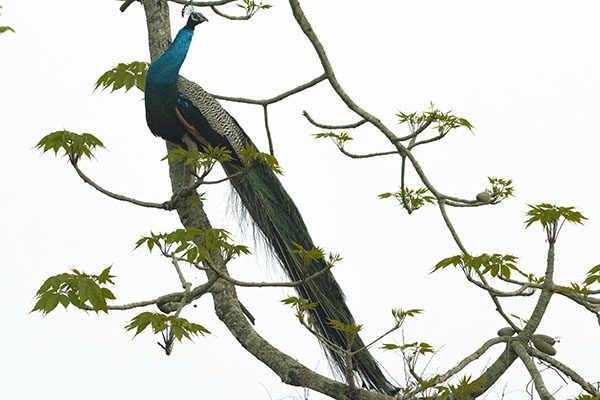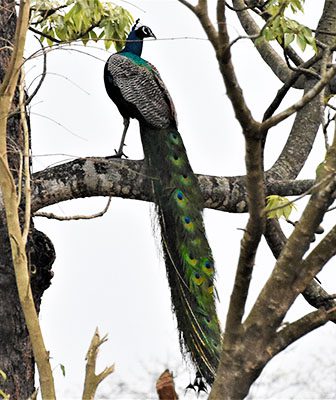 A fully grown Rhinoceros walking to your right draws you attention next. As you stop, he turns to looks at you and quickly vanishes behind tall bushes.
Little further, an attractive 'Changeable Hawk Eagle' is spotted seemingly watching visitors cross by from atop a leafless tree. No sooner you stop to take its pictures it gets conscious of your presence and takes to sky. In flight with its wings spread, this majestic avian looks inexplicably awesome.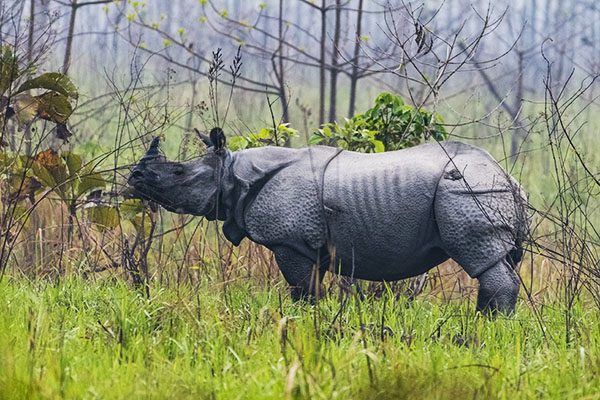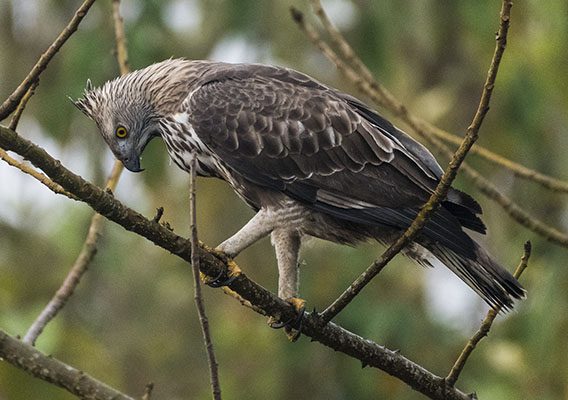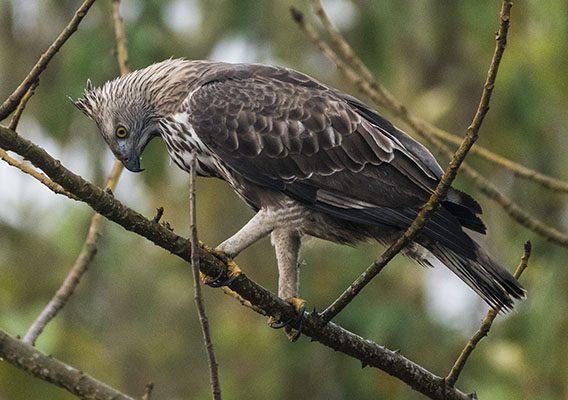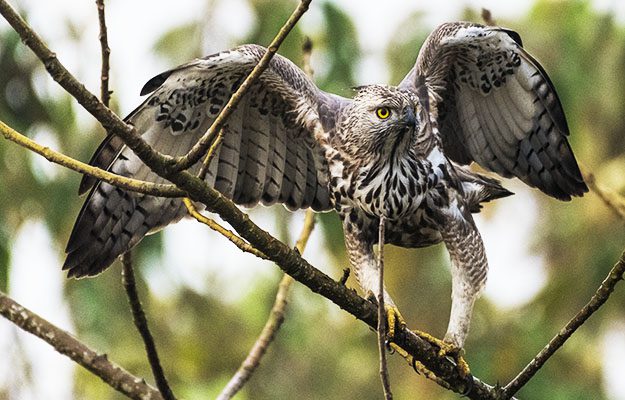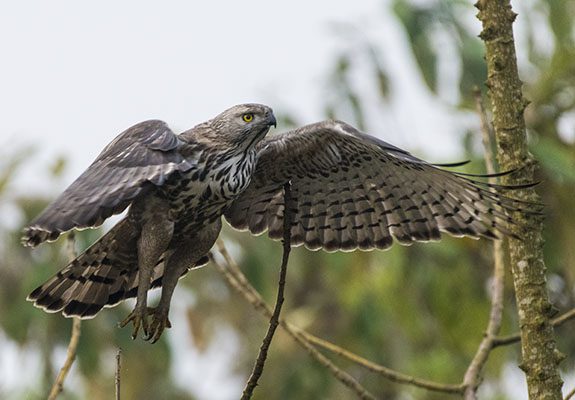 Then there are few dears grazing who look at you as you stop and then continue grazing nonchalantly.
Tapan then turns his Jeep towards the area reputed to be a preferred habitat of few exotic birds/avian. Some of them are rare and presumably seasonal visitors. Incessantly pointing at different species of Birds having myriad plumages and distinct beaks, Tapan prods you to take their pictures. You oblige of-course. Knowledgeable Tapan rattles out the names of each of these colorful avian even as you are occupied capturing them in your Nikon D850 DSLR.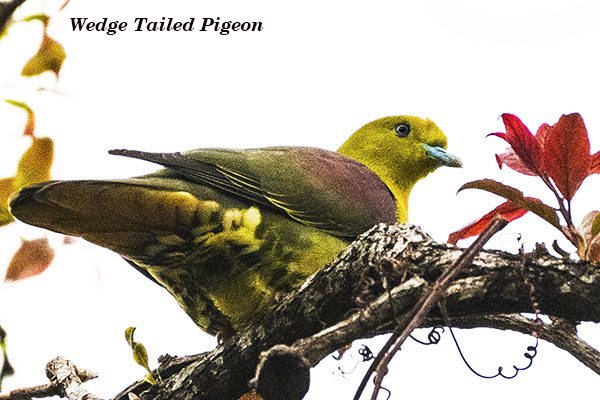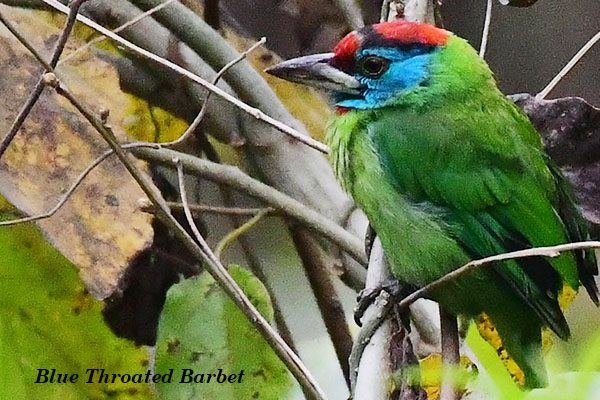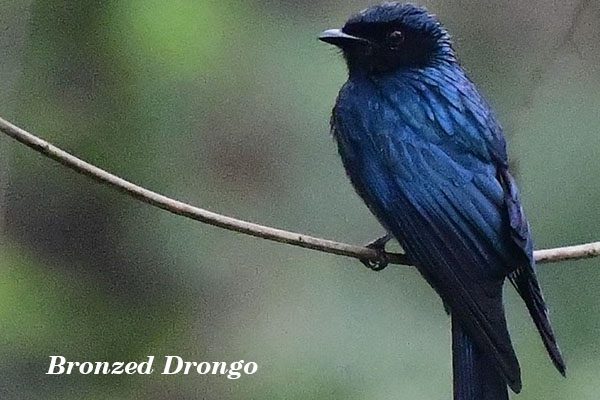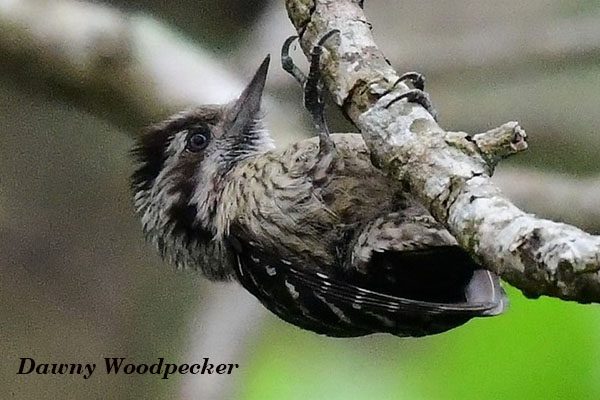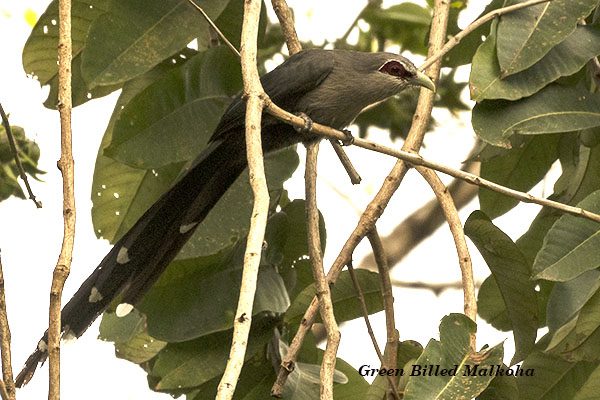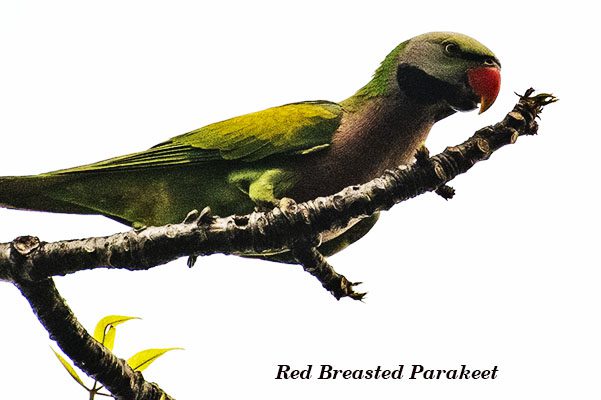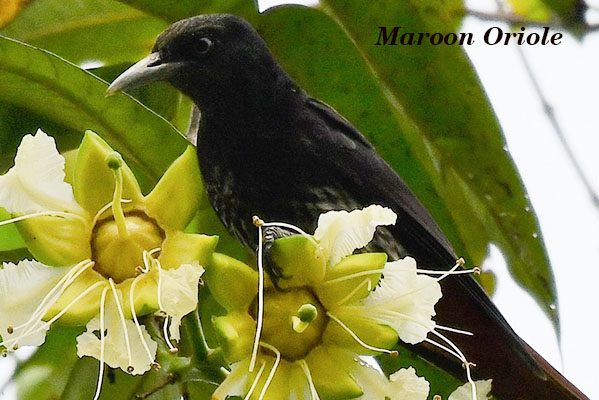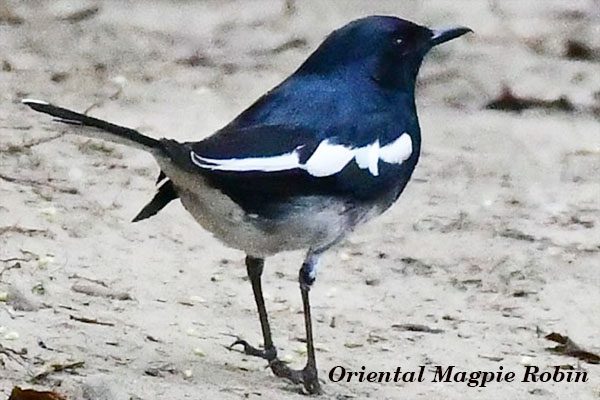 Breakfast Break
Moving slowly ahead stopping at each vantage point, it's 9.AM. You reach Latajhar Camp, a forest post deep inside the forest. Resort management has packed adequate quantity of breakfast for all of us to have. Tapan stops here for breakfast.
As the breakfast packages are unloaded, you see couple of large Elephants along with a juvenile in the area. Soon more join and the caravan expands. In short span of time over a dozen of them are there together. You are heartened to see these wild Tuskers some of them supporting huge tusks with your naked eye . The carnival but has just begun.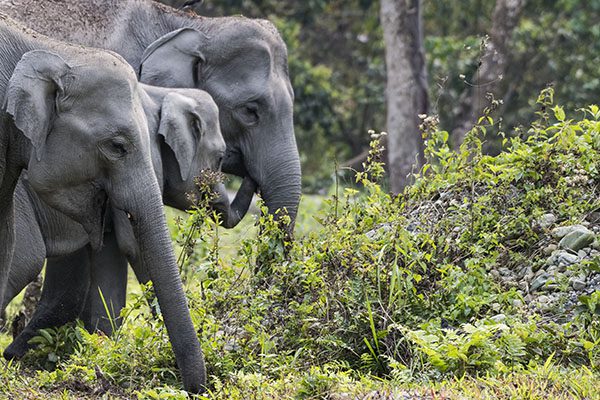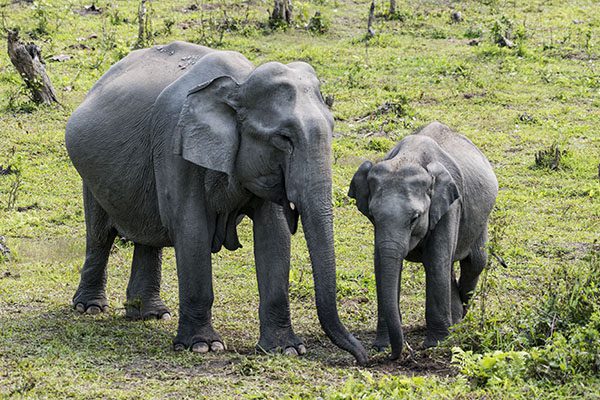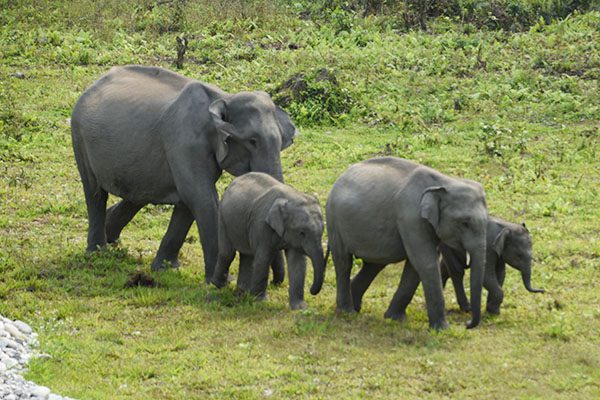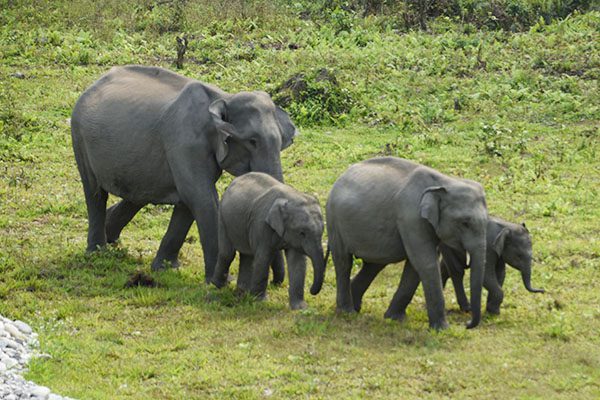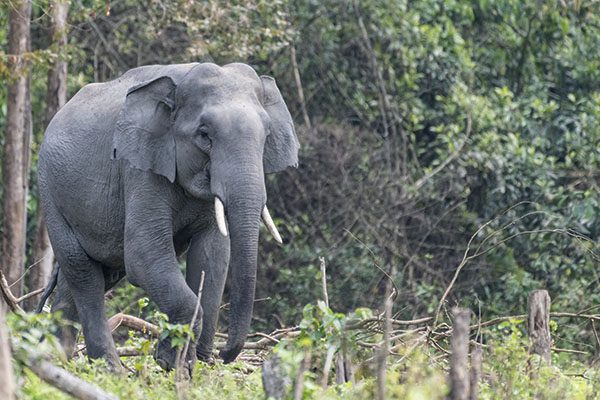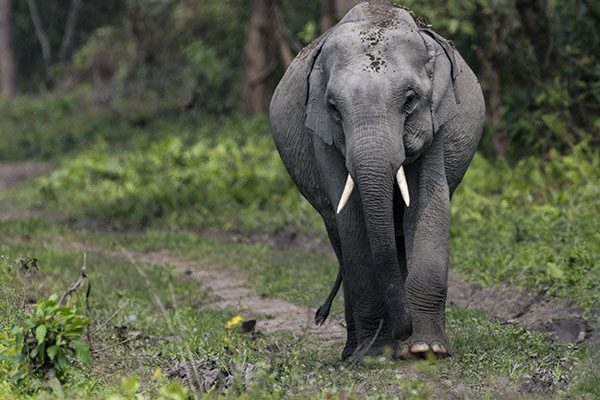 The breakfast has taken back seat and filming these largest mammals on earth gets priority. Unquestioningly. Clicking their images from different vantage position gets incredibly exciting. Tapan however warns not to get too close to them and you listen.
The climax begins to unfold when two of these Tuskers, plausibly in a bid to demonstrate one's dominance over the other, start fighting. In the bargain you get some real action filled pictures that would be abiding and memorable.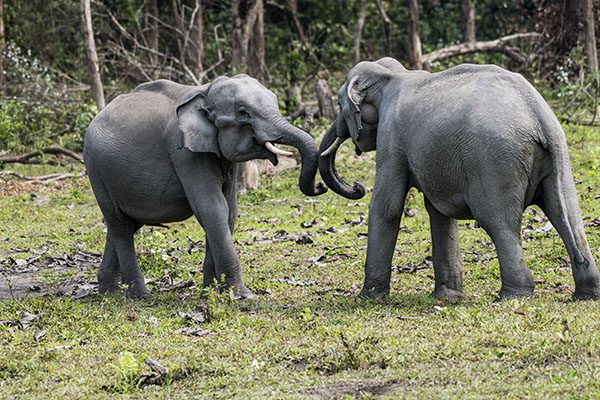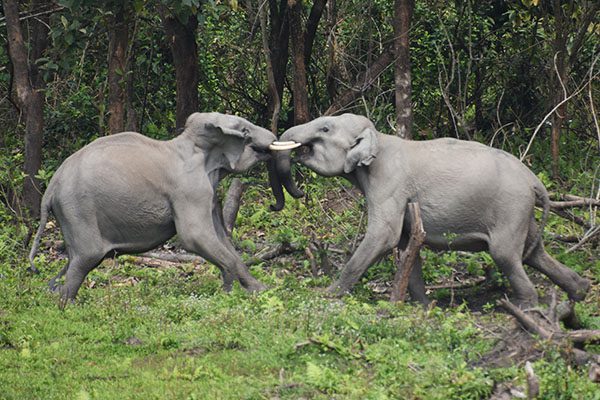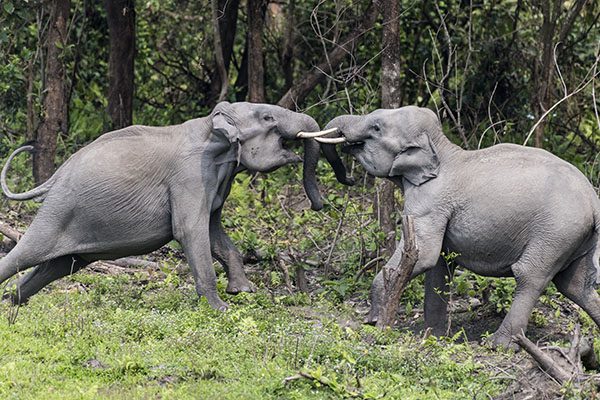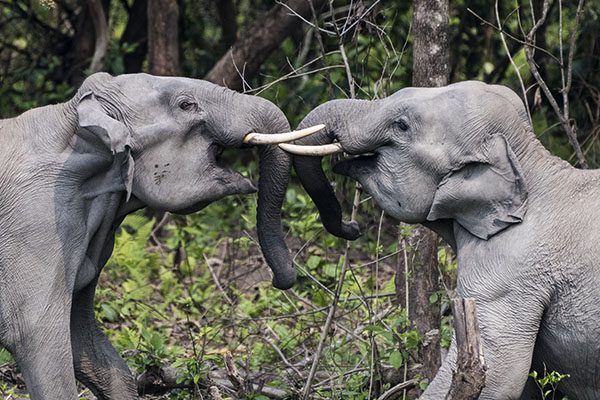 After Breakfast soon after resuming Safari, you come across a bunch of Capped Langurs, couple of them with their babies, carefully nurturing them with pleasing compassion. Tapan stops and permits you to capture their activity. It's amazing, even as they notice you point lens towards them they stay put and continue to do their chores without an iota of trepidation.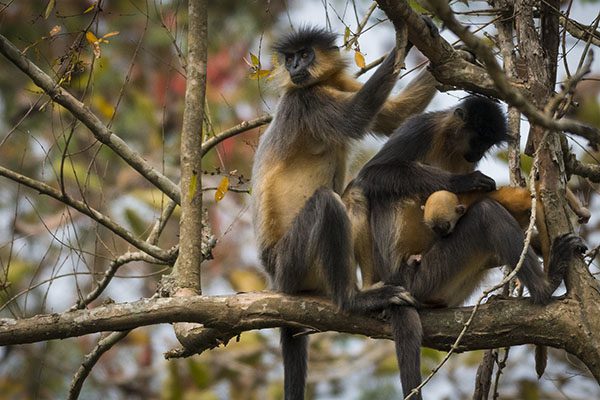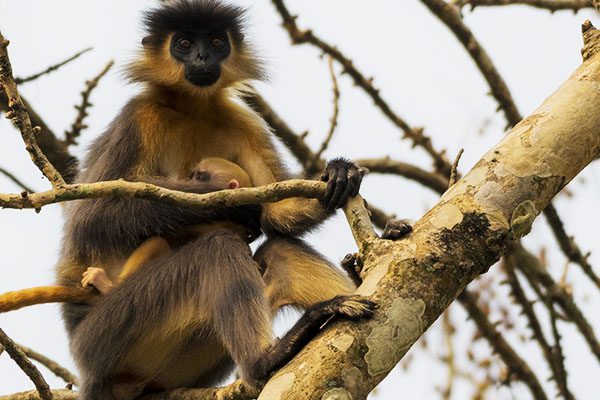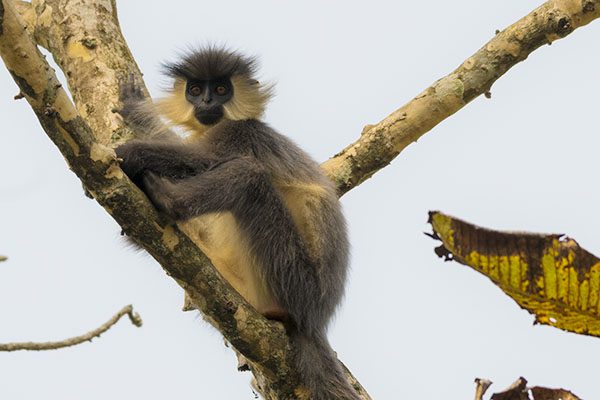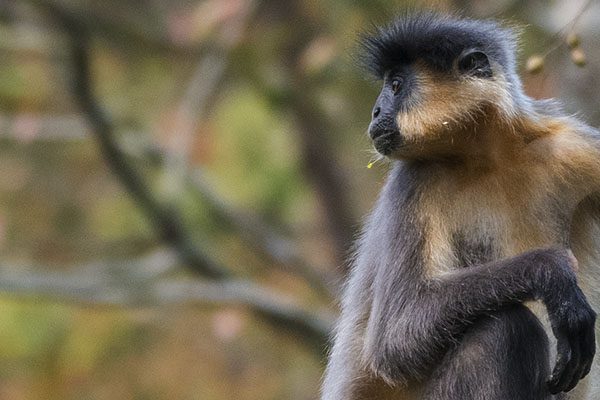 Then as you drive towards Matangudi a Government Guest House situated near the Indo-Bhutan border, you see more species of birds and a huge presumably aged Monitor Lizard who has just brought himself out of his hole located within the tree.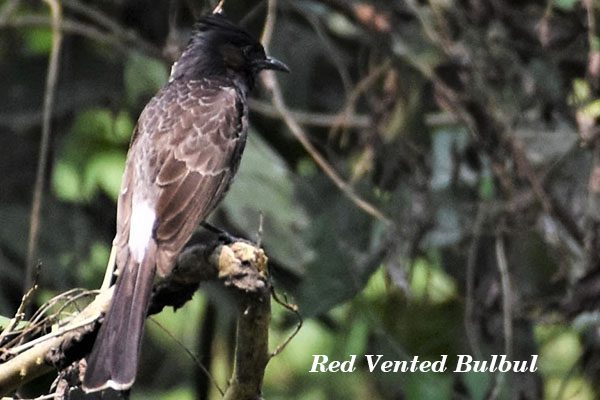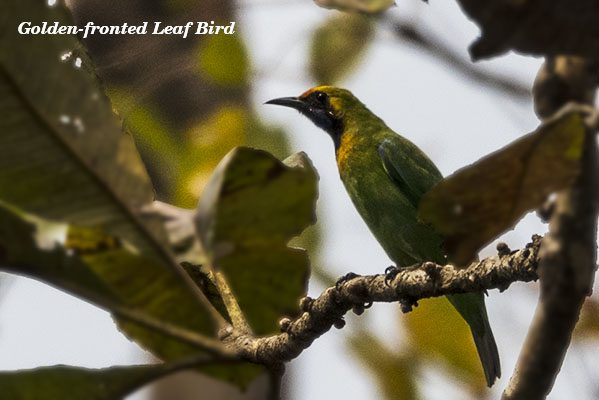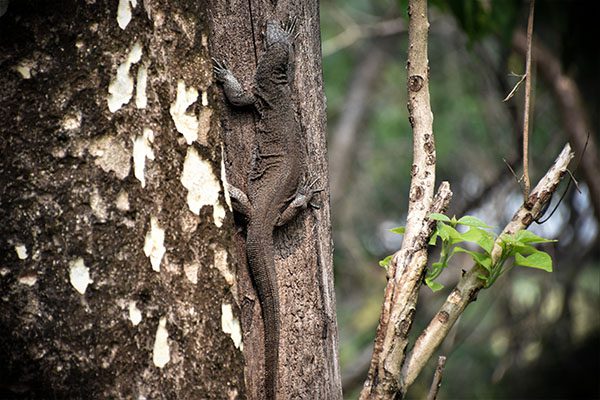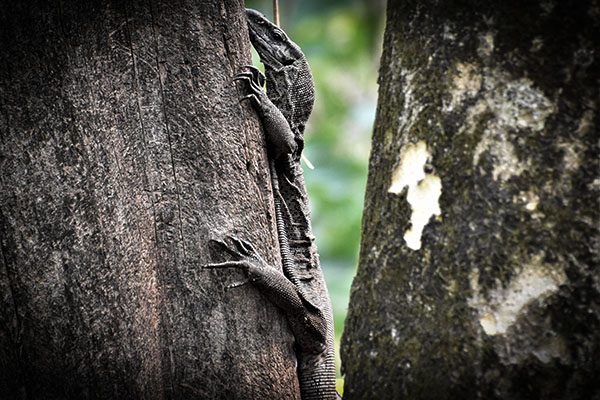 Matangudi is an ideal place to break for lunch. As the lunch is prepared, you sit quietly and admire the silent flow of the massive Manas River that comes down from Bhutan into Indian territory. Few Cormorants are seen flying over its surface splashing water as their feet touch the river water.
After rest for a couple of hours, your journey to explore more of flora and fauna of this place continues. Tapan now drives you few hundred meters towards the North into the area that falls under the territory of Bhutan. The Gunman has deposited his arm at Matangudi which is mandatory as you are not allowed to carry arms when within the Bhutan.
The advent of fabled Horn Bills every evening at a particular spot within the Bhutanese Territory is the reason that pulls you in here. Horn Bills are exceptionally colorful and attractive migratory birds who come visiting this place only on particular months each year. Sun set is the ideal time to watch these bright colored, down-curved bill winged visitors fly in.
However as you wait patiently for your Guests to come in, Tapan finds a rare bird in the bush near-by. This supposedly rarely spotted avian is Red Headed Trogon (female). As it flies from one branch to another, Tapan follows it assiduously and so do I. Soon you find its male partner too sitting on one of the branches. Interestingly the Male seems to look more beautiful with multi-colored Plumage adorning his body. So, till your main guests arrive, you have time to capture these birds and few others in your camera's SD Card.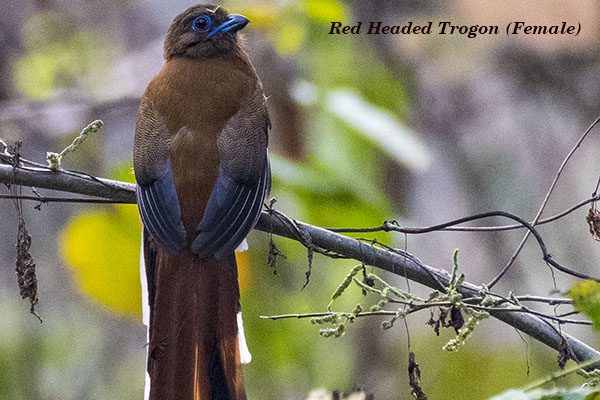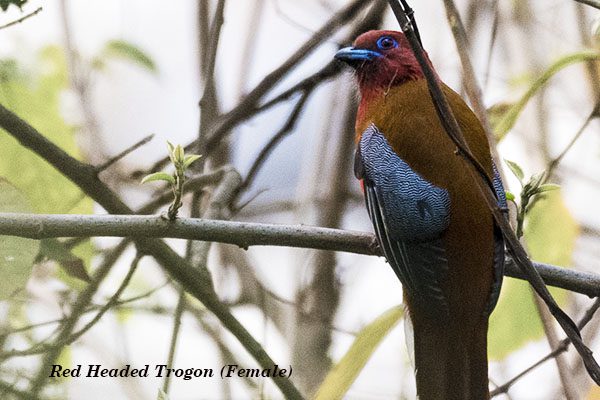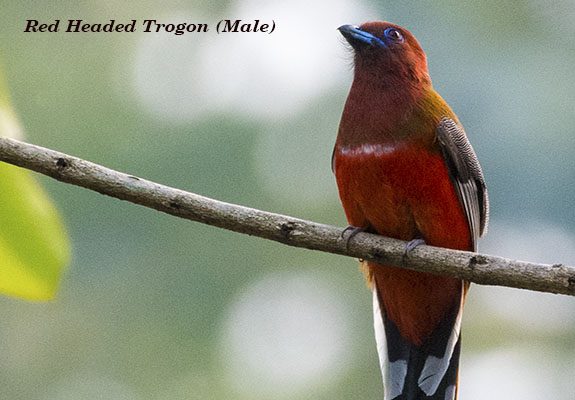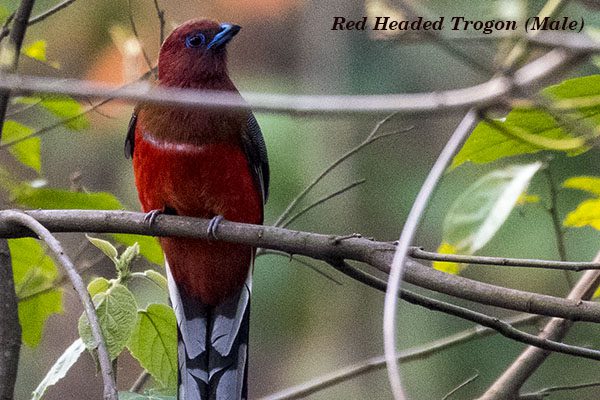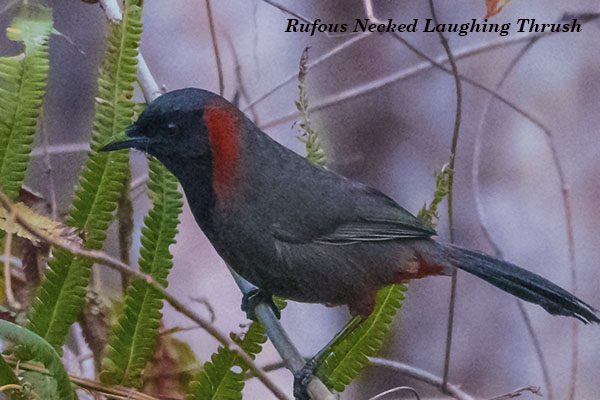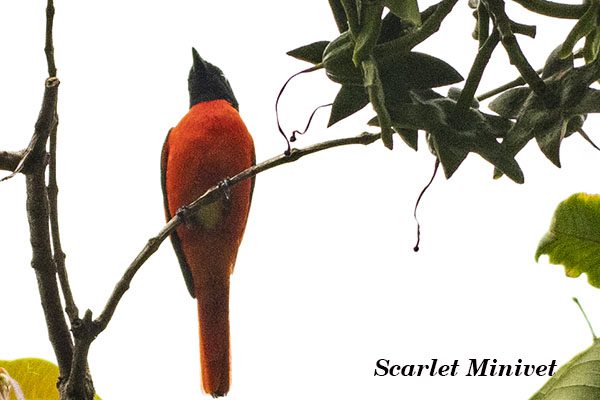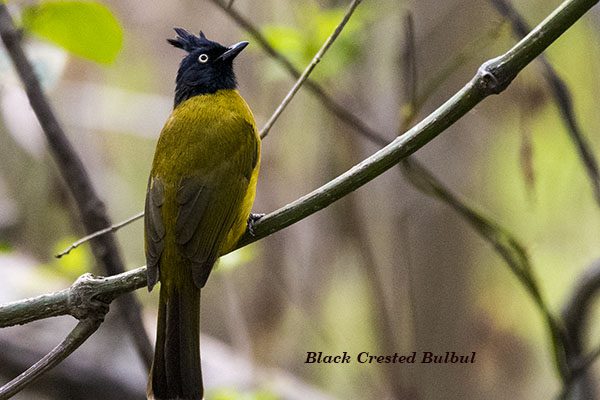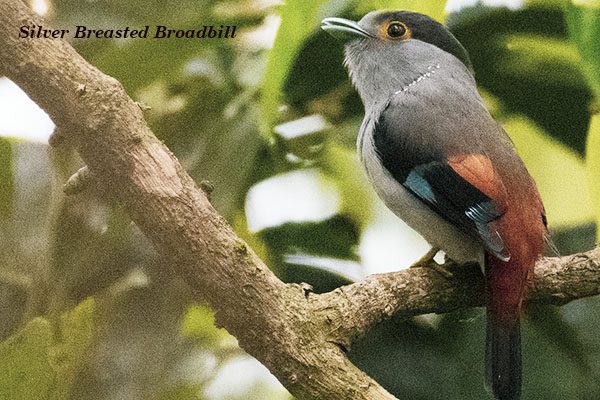 The Sun is about to set but the Horn Bills, for whom you have come all the way here are still elusive. You question yourself, hope they are not holidaying or are they at some better party in some other place today? Slightly dejected but not despaired, with your camera in hand, you wait without losing hope. The Sun has dipped behind the hills. You have now nearly given up just then you hear an unmistakable sound of wind been dispersed with audible force. The Horn-Bills have arrived.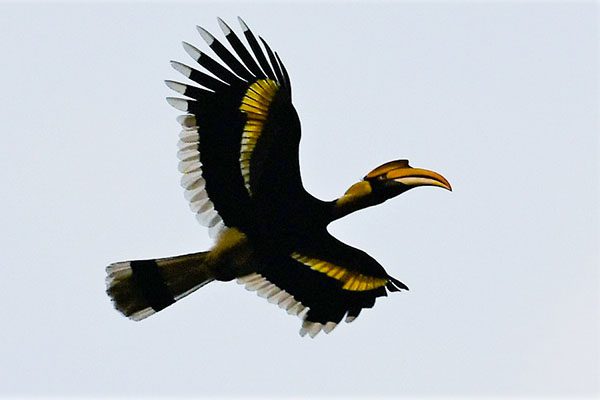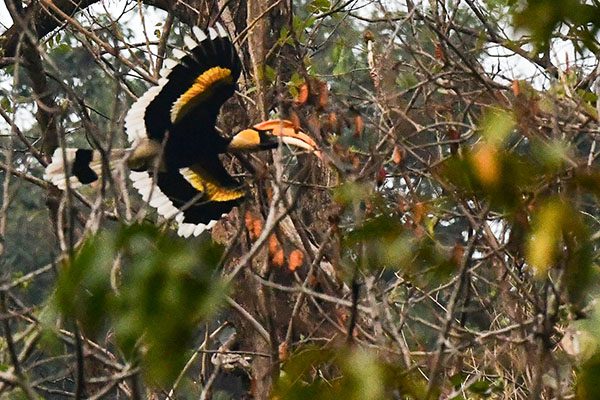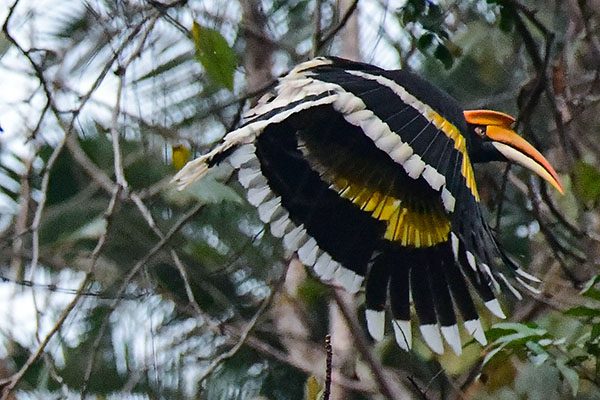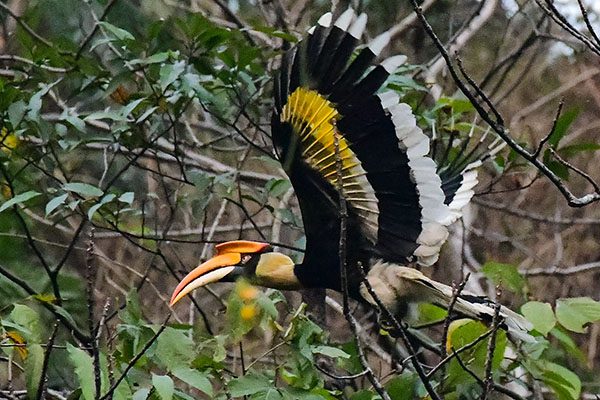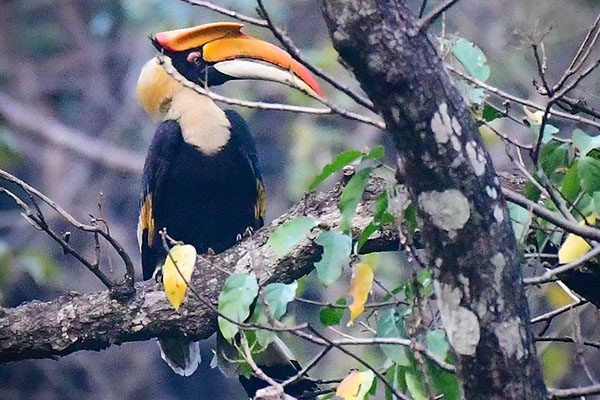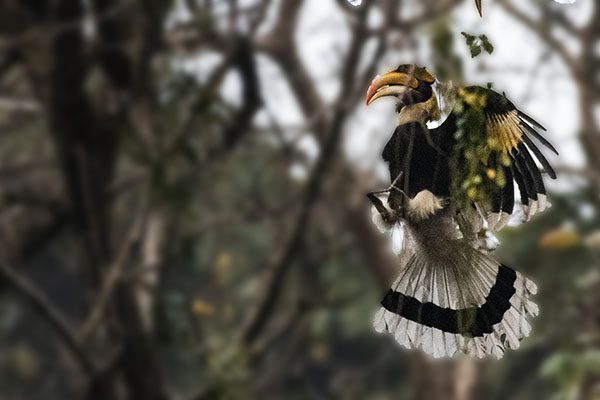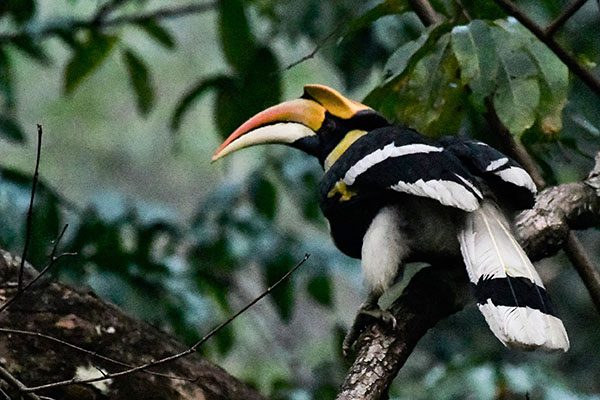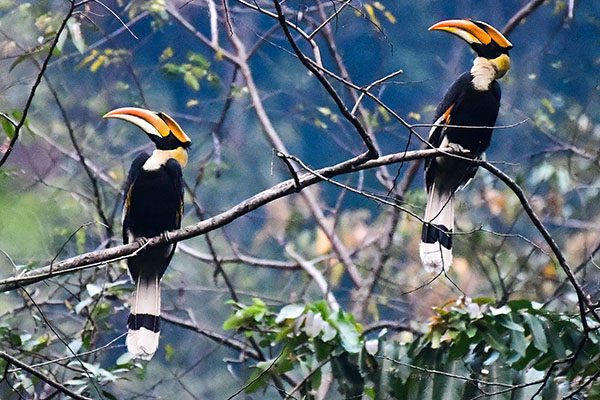 Their large colorful wings have capacity to make an unmistakable sound as they lift and drag piercing through the otherwise calm air. With a broad smile you pick your camera and aim to take their interesting actions. At one place, perched on a tree branch, you see two of them unabashedly display their passion with a quintessential beak-kiss creating a captivating scene worth a capture.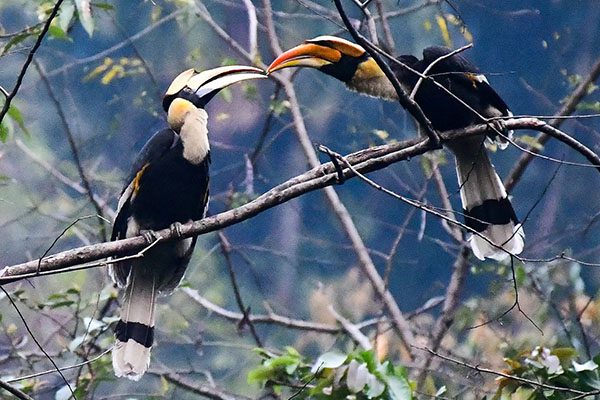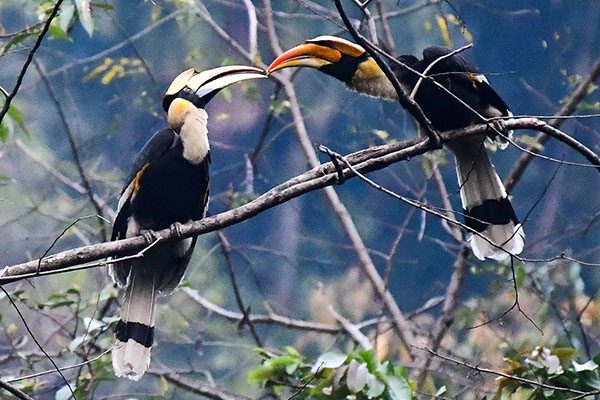 It is Dark now and time to return. Tapan refuses to spare the accelerator and in the next 75 minutes you are back safe and sound at your resort.
Happy and satisfied with your first day adventure into fabled Manas reserve, you have your dinner and hit the pillow to be awake and ready early next morning for yet another round of a riveting Safari.
For more travel blogs on Kashmir, Leh-Ladhak, NewZealand, US, Canada, Alaska and other places kindly visit www.bhupendergupta.com