A little over 5 hour drive from Las Vegas, the Sin City in the district of Nevada to the La-la Land, Los Angeles, Cultural Capital in California you pass through wide roads, non-descript deserts and unassuming mountain ranges. Moment you enter the contours of this fabled City, the traffic snarls get thicker and more frequent. Your safety is nevertheless secured as long as your companion, i.e. your GPS remains your friend & Guide. Caution : If you lose your way once, you may have real trouble getting back to your planned route.
L.A., nick named 'City of Angels', is a quintessential financial & commercial metropolis with infrastructure of tall buildings, wide roads, traffic jams, and all the other good & vices associated with any bustling city. But it is not the downtown alone for which Los Angeles is famous for. Its fame augments from being home of Hollywood, the famous Universal Studios, the Disney Land, Beverly Hills and other beautiful satellite cities like Santa Monica Blvd on its periphery. Camarillo Premium Mall, a Factory Outlet where you can get nearly all world famous brands at heavily discounted prices is a place no foreigner would like to miss.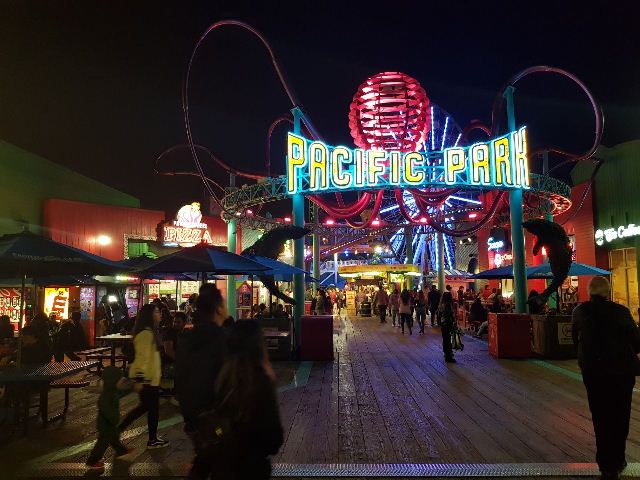 After night's rest, next morning the concierge at hotel Hilton pulls out a map from under his desk and suggests places that I need to visit. First on the list was the Camarillo shopping Mall situated at an hour drive from the Hotel. No Problem I thought to my-self. I have a Car. Pressed the ignition & obediently followed the GPS's advice to reach this sprawling Mall spread over large area divided primarily into three blocks. The shopping list was long but not beyond my Credit Card Limit, luckily. Shopping spree thus ensued. After over three captivating hours, it was time now to leave towards the fascinating Santa Monica Beach.
Santa Monica is a coastal town and famous for its beautiful beach. By the time I touched its periphery, the Sun had set and the lights had begun to glow. The entire place looked extremely enchanting. Well-lit Malls, Shops, Restaurants, lined up as I drove admiringly towards the Beach. Parked my Car and moved towards the far end restaurant built right into the sea. I seated myself at a vantage point from where the Glitter & Glamour of the place could be conveniently enjoyed. Few drinks and some good Sea food was all that was needed to refuel my hungry-belly. Satiated, both visually and gastronomically, I paid the parking charge and drove back my left-hand beauty to the Hotel.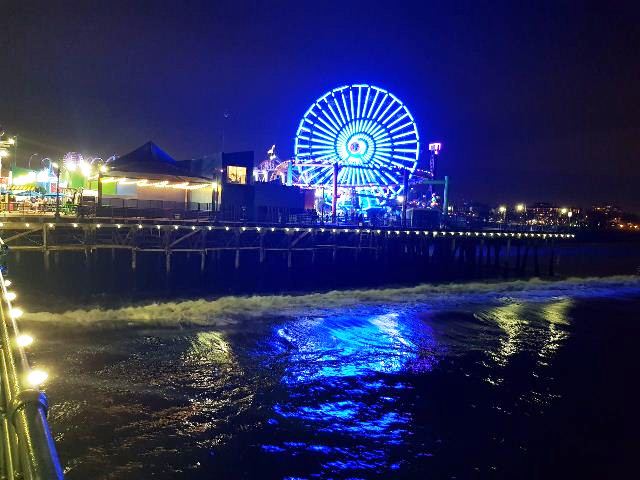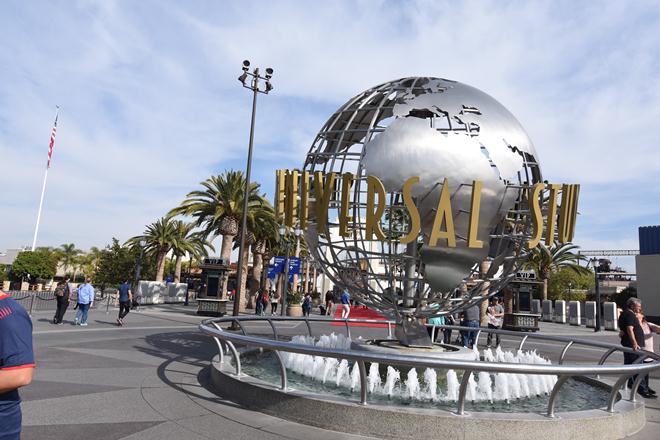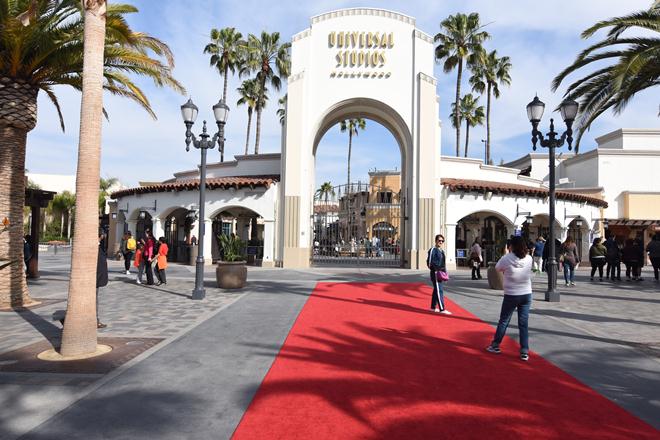 Next Morning, was the time to visit the very famous, "Universal Studios". A place where countless Hollywood Movies and popular TV Shows are been produced. After parking your Car, you walk through near the iconic Universal Studio Globe and then towards the entry ticket window. Pay US$180 for an Express Pass and walk inside the huge gateway into the sprawling studio premises that, sometime or the other must have had made space for the famous celluloid celebrities to capture their theatric/acting abilities.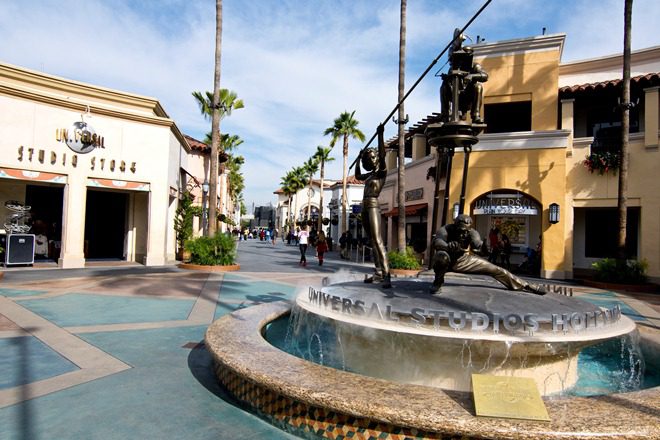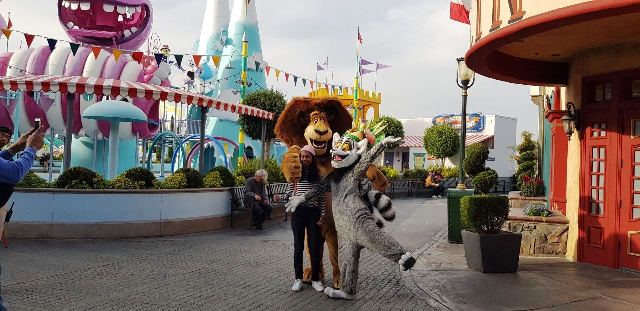 Once inside, Studio Tour in Tram is the first thing one should go for. This multi compartment Tram ride, that is enthralling as well as educating, takes you around the entire studio with high quality pre-recorded audio-video system installed in each compartment. This facilitates the passengers to have a clearer and better perspective of each site and every situation. You first pass through various enclosed sets and then through an open streets that resemble those in London, Paris and other important world cities. Your tram then takes you from near an artificial lagoon in which animatronics of intimidating Sharks can be seen swimming.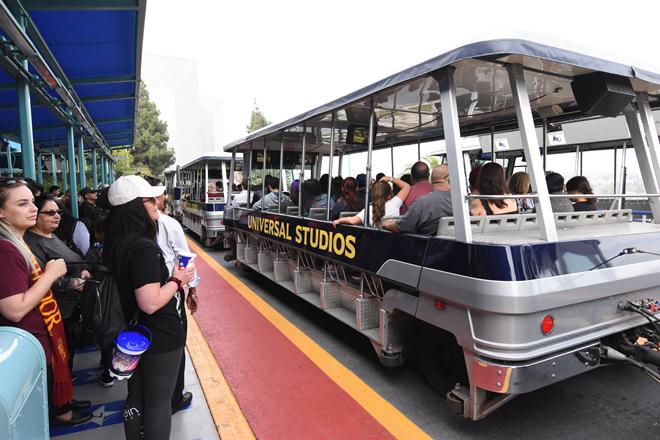 Further as it passes through within one of the studios, it halts unannounced, and suddenly the whole compartment starts shaking vigorously, making you feel as if you are in the midst of a terrible earthquake. You are really shaken. Before you recover, the tram moves ahead to another place where you see a small stream of water suddenly swelling and turning into flash flood. The approaching slab of water scares the hell out of you. The smart tram driver moves out just in time to escape this fury.
If this was not enough, you witness person carrying a corpse of a woman, trying to hide her body in his car dicky. As he notices you watching him, he angrily rushes towards you with his knife. The driver once again drives ahead and you are seemingly saved from his wrath. Then the tram moves into the Sound Stage. Here you are directed to put on your pre-provided 3D Glasses. There comes alive the riveting 360-3D drama. You see dangerous looking illusionary creatures running menacingly behind and along your tram. As they come scarily close, King Kong intervenes and fights them all to save us from being harmed. Awe inspiring sounds effects of air and water, simultaneously played; enhance the dramatic effect of the entire play exponentially. Indeed a memorable experience.
Next, the tram drives in to a garage where "Fast & Furious" is played. Once again you wear the 3D Glasses and watch an incredibly amazing chase where protagonist chase the antagonists as screeching cars move out on the freeway, banging, breaking and crashing all the way. The synchronization of Sound & Visuals makes you feel you are an intrinsic part of this daredevil action. Stunned, the tram moves out to take you back to the starting point.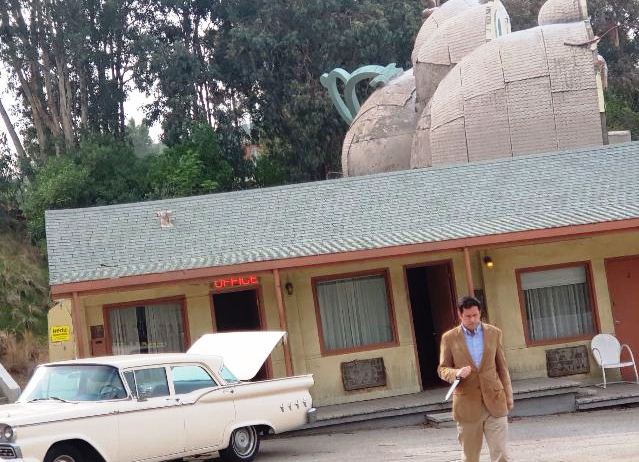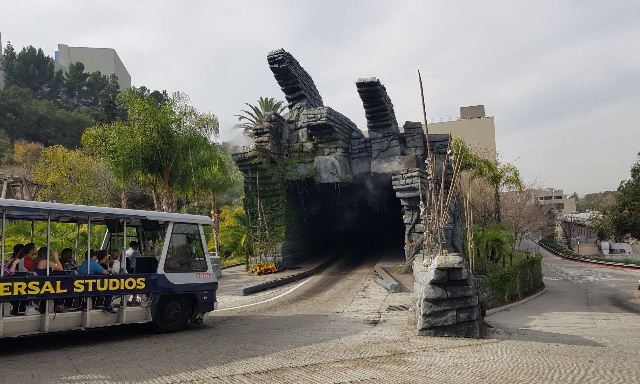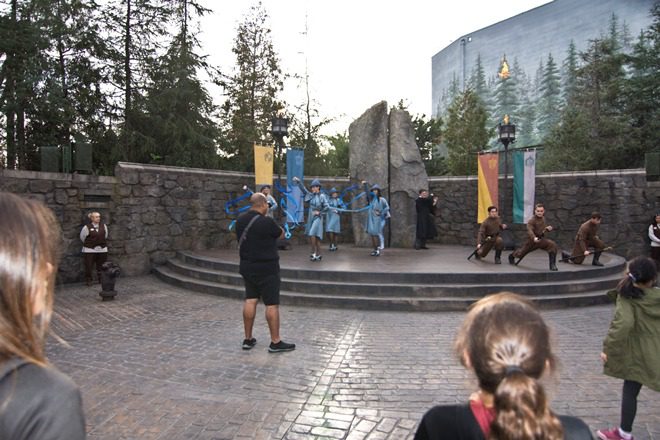 "Water World" is next. Here you come across some exceptionally daring live stunts enacted on 'Water and in Air'. The intrepid actors, both male and female keep the audiences on their feet, totally engaged and thoroughly entertained. (Play duration 20 minutes).
Almost dazed, you return your 3D glasses and alight. Outside, the awed experience of this unique place continues. Lined up are auditoriums that present enthralling Shows that included "Harry Potter and the forbidden Journey". In this 10 minutes trip, you walk through familiar classrooms of Hogwarts and enjoy the thrilling and entrancing adventure of Harry Potter and his friends in a short movie in between.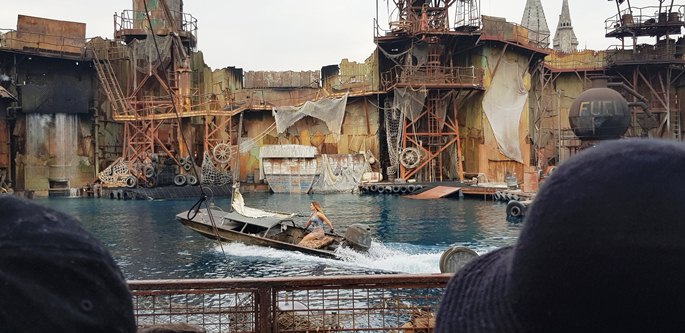 "Flight of the Hippogriff" is a 5 Min family friendly Coaster ride where even a wary person like me enjoyed the ride going up and down with remarkable élan.
"Show on Special Effects". This is awe inspiring and educative 25 minutes show where you uncover the hidden secrets of Hollywood Movie making. You see real Hollywood stunts; practical effects and cutting edge technologies come to life, right in front of your eyes.
Though I did not attempt, "Jurassic Park the Ride" is another heart pounding water ride that will plunge you into an 80 foot waterfall as you go roller coaster. Sounds exciting ?? Not for me but …. Ha ha…
The scary "Walking Dead". As the name suggests, you quite literally pass from near the dead who can surprisingly walk. A 5 minutes' walk along the chambers lined up with apparently hungry dead people. Imagine if one of them suddenly tries to jump over you as you walk close to their chamber. You hear screams all around. A quintessential horrifying experience but it makes you laugh at yourself as you leave this amazing place.
"Revenge of the Mummy" is a 20 Minutes terrifying thrill ride full of ghastly creatures that uses linear induction motors technology to catapult riders deep into the heart of the film.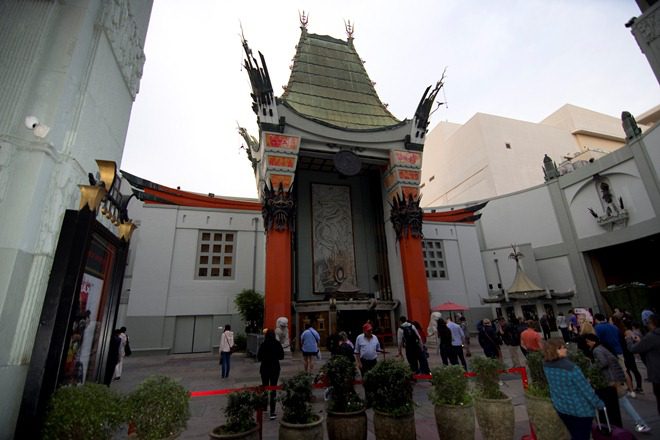 In "Despicable", you join Gru, his daughters, and the mischievous minions on a heartwarming and hilarious 3D ride for 20 Min.
& in "Transformers the Ride" you are transported into 3D Next Generation immersive Theme Park that displays astounding cutting-edge physical and special effect technology.
After this four hour memorable trip, the next place to visit before I took the late evening flight to Tahiti, in French Polynesia, was the Hollywood street and a trip to Beverly Hills (house to the rich & the famous). On reaching Hollywood Street, I realized that going to Beverly Hills would mean risking my chance to catch the flight. The ensuing 11 day Cruise to various Islands within the French Polynesia including Bora, Bora, was something that I wouldn't even dream to miss. So after a quick visit to some malls, purchased souvenirs, walked around the street, clicked pictures with actors dressed as Spiderman, Superman, Batman, peeped into restaurants, saw people queued up at various theaters ostensibly to watch their favorite movie, I walked back to my car to cruise towards L.A. Airport, in time to return the Car & board the Flight.
Before bidding sayonara, let me add, don't miss going to Disneyland Park if you have children accompanying you. Pay US$20 and take a shuttle from LAX Airport that will take approx. 45 minutes to reach Disney Land. Your children will surely love you for it.