Come join me on a Journey to the Wilderness at India's " Jim Corbett Tiger Reserve ". A Jungle Fantasy where Geographical Boundaries blur and conflict of caste creed or religion remains nonexistent. Animals & Birds live to eat and procreate. Pollution is alien and the Law of Nature is ultimate.
A chance going through some exceptionally stunning wild life pictures clicked by a good friend captured my imagination. Floored by his hitherto shrouded quality, I called him to congratulate and amidst conversation, the idea of joining him in his impending visit to India's oldest sanctuary – 'Corbett National Park or Jim Corbett Tiger Reserve ' germinated.
A flight to Delhi followed by 6 hours Train Journey to Ramnagar in Nainital District of Uttarakhand and there we were, outside the precincts of the World renowned 'Corbett Tiger Reserve'. It was 9 PM and the entry into the Park being restricted after 5PM, we had to spent the night in one of the many resorts lined up outside the park. Next day early morning, with valid permits, we proceeded in two separate green colored open Jeeps into the fabled forested sanctuary. My Driver cum Guide for this tour, Diwan Singh informs that the Cost of Jeep for each day is Rs. 4500/- which includes cost of permit and two Jungle Safaris, one in the morning & other in the evening, each of 4 hour duration.
Named after Jim Edward James Corbett, the Jim Corbett Tiger Reserve is an animal's paradise spread over 1318 Kms of which 1288 Kms lies in the State of Uttarakhand and remaining in the adjoining State of UP. The National Park area however is limited to only 520 Kms. Established in 1936, this Tiger reserve provides its inhabitants a place to stay in their natural environment and is the result of commendable efforts of hunter turned conversationalist 'Jim Corbett' who endeavored to protect the endangered Bengal Tigers from indiscriminate and unconscionable machismo hunters.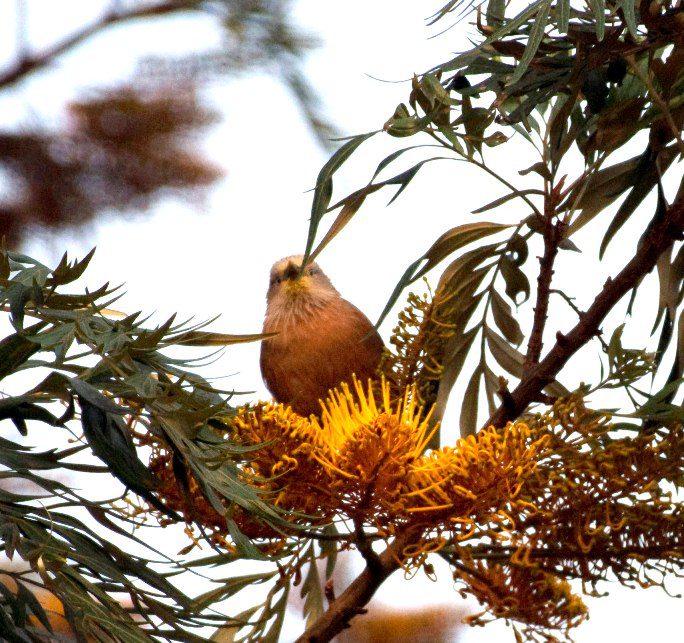 Standing on the Open Jeep, armed with Nikon D7200 with powerful 200mm-500mm Lens and my friend with a still higher quality and more powerful, Nikon D500 with 600mm Prime Lens, our Jungle Safari begins. As the wheels of Jeep turn towards the wilderness of this expansive Jungle, richness of Mother Nature, through its Flora & Fauna gets increasingly pronounced. With soft red Sun rising right behind, the chirping of birds gets louder and shriller. The Jungle has, as if woken up to welcome a new day. The branches of trees replete with agile, colorful avian keep swinging as the birds pull out their wings and relentlessly hop from one branch to another. Both our cameras begin to do what they were supposed to, Focus & Click, Focus & Click.
There we see a pair of colorful red Jungle-Fowls incessantly pricking the ground through the fallen golden leaves, ostensibly to grab some food. We stop; take few pictures and move ahead. Suddenly the sound of Bow Bow is heard at a distance. The drivers of both the Gypsies put on the breaks and stand up, pull their binoculars and begin to scan the valley. In whispers, they inform us that such sound is created by 'Kakar' or barking Deer; an unmistakable signal of a large Cat like a Leopard or Tiger on prowl around. We waited for some time but neither Tiger nor any Leopard turned to greet us. After a while the Barking too stopped and we moved ahead consoling ourselves – "Better Luck Next time".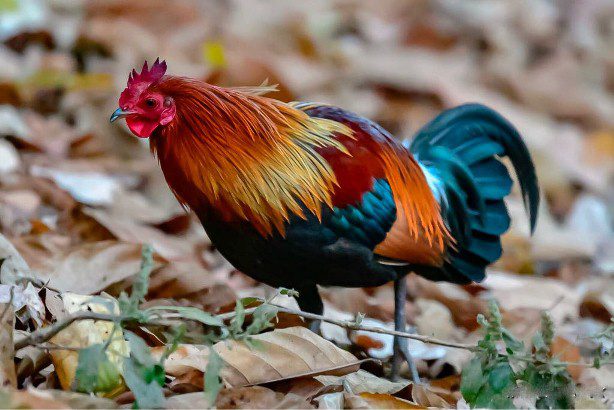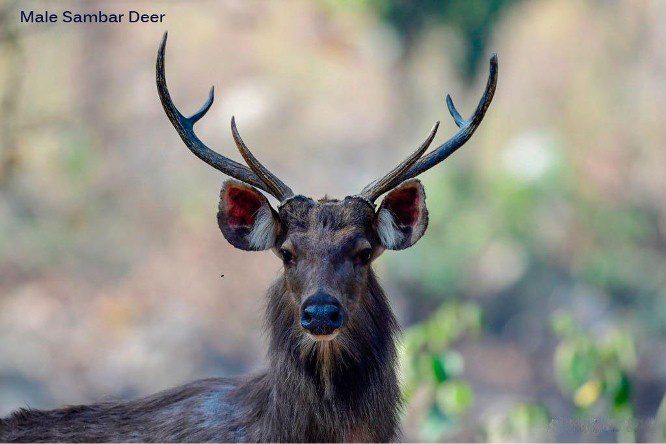 Then suddenly an astounding greyish-brown large Male 'Sambar' Deer with dense manes on his neck and impressive long antlers/horns over his head (one of the 40,000 deer that supposedly live here) positions himself right front of us, at the center of the road. His audacious look into our eyes seemed to convey challenge; 'dare if you go further'. We were delighted. Not that he had blocked our way, but that we could, in leisure, focus and capture him in our cameras. He then himself, mercifully, decided to move towards the other side of the forest. The path got cleared and we moved on too, wearing a smile.
Next the drivers turned both the Jeeps towards a cliff and stopped. After alighting, one could see RamGanga River flowing silently deep below. And there were, right at the center of river's shallow waters, seemingly a cute just delivered baby Elephant with skin still overtly reddish & tender, sucking milk from his mother's mammary glands (Tits). Besides was another fully-grown Elephant standing silently. The sight was awesome; the scene that you could see in Geographic Channel or Animal Planet. With their chores over, all three started walking slowly towards the shore. Reaching Shore, the accompanying Elephant used its long impressive trunk to suck dry soil from the ground and sprinkled it on all the three. A traditional way to dry themselves?? Plausible.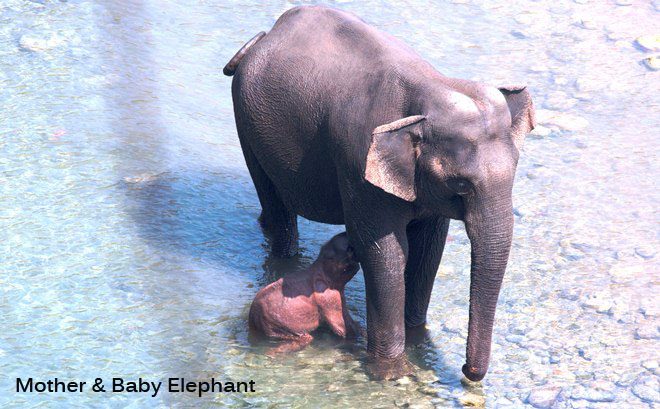 After they left, on the other side was another amazing creature basking under the Sun on the River Bank. You zoom your lens and see a massive slender snout; a critically endangered Gharial Crocodile lying motionless on a flat stone absorbing solar heat. Some more clicks of this rare alligator (some 100 left now) and we move on.
Breakfast time Now. Diwan Singh drives us towards a secured enclosure within Jim Corbett Tiger Reserve for some quick snacks. But just as we settle, someone rushes in to ask us to come out fast. We go out to find a huge "Lesser Fish Eagle" perched on small cliff just few meters away from our boundary wall. No way could this propitious opportunity to capture her in our cameras be missed. Soon she turns, gives an intriguing stare at us, spreads her wings and off she goes, to a more secluded space, I suppose.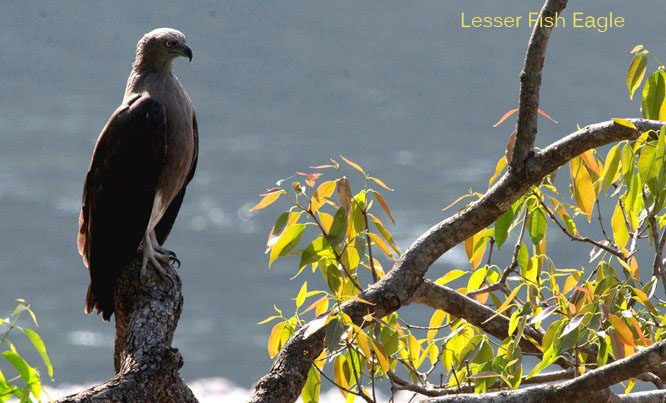 Driving steadily through various paths within the park, we culminate our first safari at a rest house in DHIKALA, one of the six ecotourism zones situated within the confines of the Jim Corbett Tiger Reserve. Offloaded our luggage, had Lunch, took some rest and were soon ready for the second round of wild exploration. This time Diwan Singh takes us through a different route in an endeavor to encounter more varied species of birds and animals. And as we move, we spot, we focus and we shoot. (With our Cameras Of course)
Ironically laws are followed more assiduously in the Jungle than out. Here "disciplined-wild" is not an Oxymoron. 6.30 PM and all the Safari Jeeps shall be back at their respective bases. No cajoling could convince Diwan Singh to stay-put beyond this time. His license could be impounded if caught, he pleaded. With no option, still in-satiated, we turn towards DHIKALA witnessing an captivating huge round ball – "Sun" set behind the hills near the Grass-Land. The only thing satiating after that was a delicious vegetarian buffet dinner served in the restaurant later.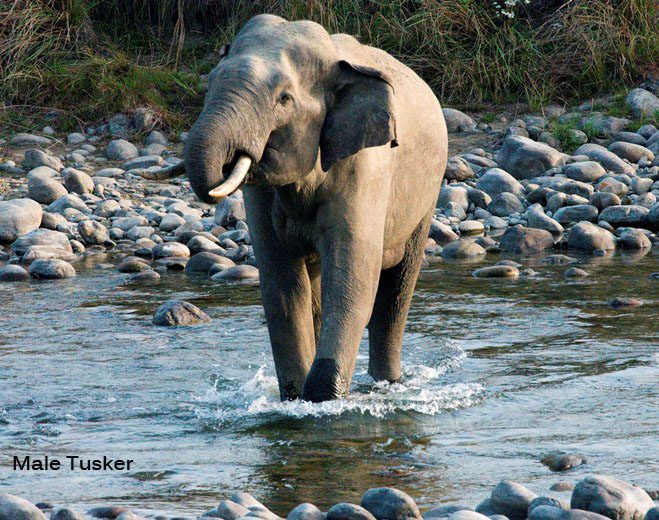 Not a bad day, but as the adage goes …. "Ye Dil mange More"…. Next day early morning at sharp 6 AM we are out again for our third and last Safari. This time the first to spot was a single male Asiatic Tusker walking majestically up from the riverbed and mercilessly trampling all that came his way. As he came closer and closer, his massive figure got beyond the frame size of my 200mm-500mm Lens. He then harmlessly walked from behind our jeep and quietly vanished in the Jungle.
A little further were a herd of 'Chital' or Spotted Deer, with black nose and white spots of hair scattered amidst golden hair all over their bodies.
There are over 600 species of Birds in Jim Corbett Tiger Reserve . Of them we came across a few splendors like the Chestnut-headed-Bee Eater, Grey Winged Black Bird, Plump headed Parakeet and Himalayan Bul Bul. All these feathered beauties wore remarkably distinct, captivating and mesmerizing hues across their bodies. One wondered if some divine painter had plausibly descended over this paradise and used his magical brush to paint each one of them with such incredibly stunning colors.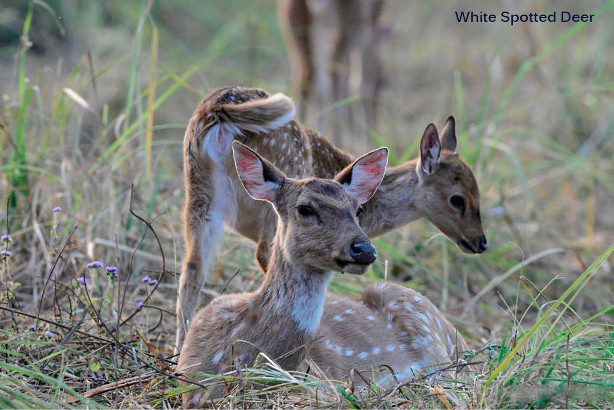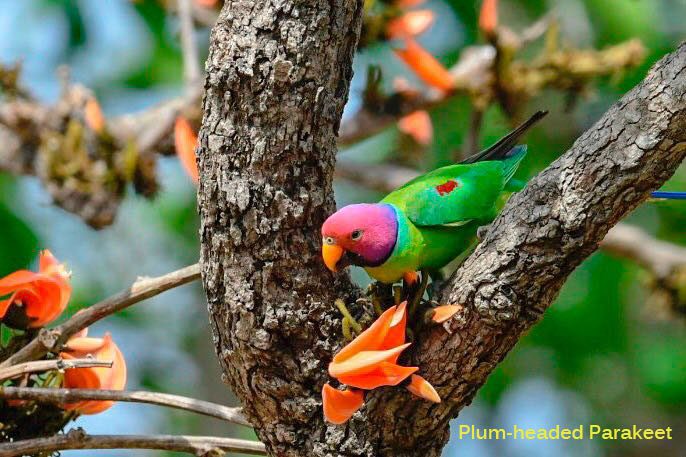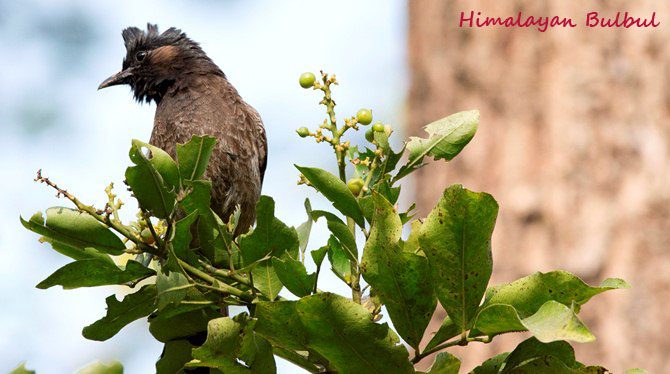 Suddenly our eyes fell on an astoundingly beautiful 'Crested Serpent Eagle' sitting ensconced between the branches of a tree close to our path. Overwhelmed, we stopped and began clicking this awesome winged vertebrate from as closely as we could get. Luckily she too co-operated; gave us some really good poses, looked at us through her piercing eyes before she decided to get airborne.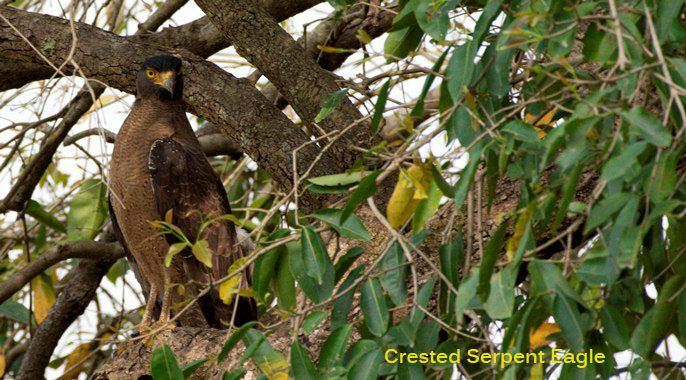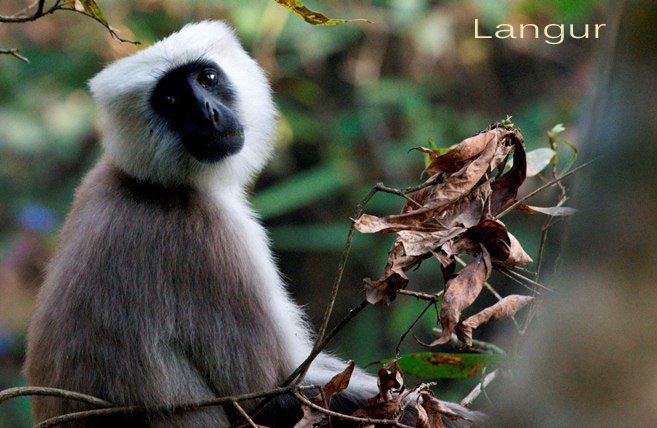 Time was the enemy. We had to leave, as reluctantly as one could be, to catch late evening return flight to Mumbai. On the way, towards the exit, a bunch of enchanting Monkeys or Langurs, stood with their impressive long tails, black eyes indistinguishably embedded in their pitch black faces and slim body covered with shiny grey hair apparently waiting to bid us a warm adieu. How could one miss a picture of such compassion? Some Clicks and soon we were at the Gate of this unforgettable Jim Corbett Tiger Reserve. As we came out, another vehicle was ready to take us back to the Capital City just in time to board the flight.
The experience was, undoubtedly, something that would stick to your memory for a long long time to come. Only regret, the fabled "Royal Bengal Tiger" refused to show-up. Reason ? May be this celebrated Jungle Boss despised giving last minute appointments. It's OK. Understandable! Swear to seek advance appointment with the striped Cat before planning next visit to this remarkable reserve. Hopefully he will oblige. Ha..ha…
For Travel blogs on New Zealand, Kashmir, Pangong Lake, Las Vegas, Los Angeles and more visit www.bhupendergupta.com