Bhigwan, a paradise for migratory birds is situated 100 kms away from Pune in the state of Maharashtra. Frequented by Bird and wild life photographers, the backwaters of Ujani Dam at Kumbhargaon in Bhigwan serve as an ideal habitat for several species of birds that endeavor to travel thousands of Kms to assemble here during winter each year.
Touted as the Bharatpur of Maharashtra, bird aficionados from armed with their camera gears plan their trip here to co-inside and celebrate the arrival of these incredibly impressive avian.
So with intention not to miss this opportunity, you too with your Nikon D850 fitted with powerful 200-500mm tele-lens decide to become a part of this celebration.
Before you leave, you contact Nagare, a well-known local organizer who essentially helps you with a home stay located just at the banks of these backwaters. At Rs.900 per day per room, the offer is undoubtedly alluring; extra for meals albeit.
On the fixed day your driver reports early and you proceed for a 4 hour drive via Express Highway to Pune and from there to Bhigwan. An enthusiast relative is happy to give you his company.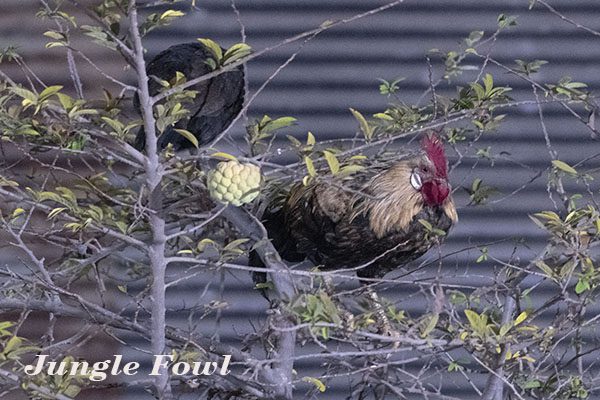 On reaching at Kumbhargaon, you find Nagare has planned three safaris for you. Two safaris are by boat; one at later in the evening and the other the following morning. The third is the night Safari to be undertaken by walking into the nearby jungle later in the evening. A couple of attractive jungle fowls perched on the tree nearby seem to be waiting to welcome you as you arrive.
Shortly after you take some rest in your allotted room, its 4 pm and time to wade in for the first Safari. Choose between an hours long Safari or the two and half hour long one. The longer one returns you back after the sunset wherein you get opportunity to shoot birds while sun slides down the horizon.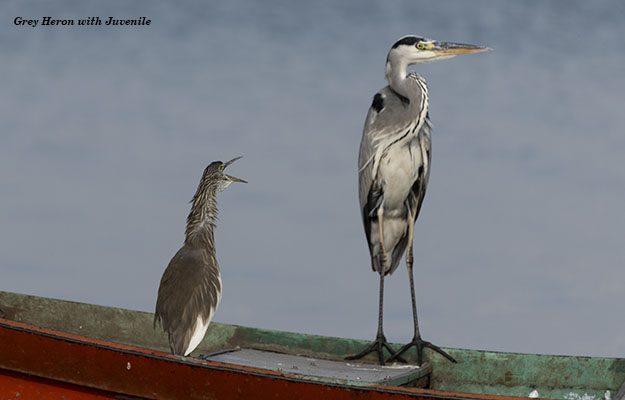 Ganesh, the assigned Guide cum Boatman for the day guides you towards his small boat. As you walk towards the shore, just couple of hundred meters away from the home-stay, you find scores of beautiful Flamingos (Greater) scattered all around along with other avian.
Even before you climb the boat, there is an attractive Grey Heron with her presumably hungry juvenile perched nonchalantly on the upper edge of one of the boat's hull. A few good clicks of this pleasant demanding juvenile and you climb your allotted boat to move into the deeper area of the lake. During this long safari Ganesh introduces you to various species of water birds that come along the way.
The receding water level has resulted in the formation of few small islets here and there. The migratory birds use them intelligently between flying, scouting for food in shallow waters surrounding these islets or enjoy a cool nap on their dry portions.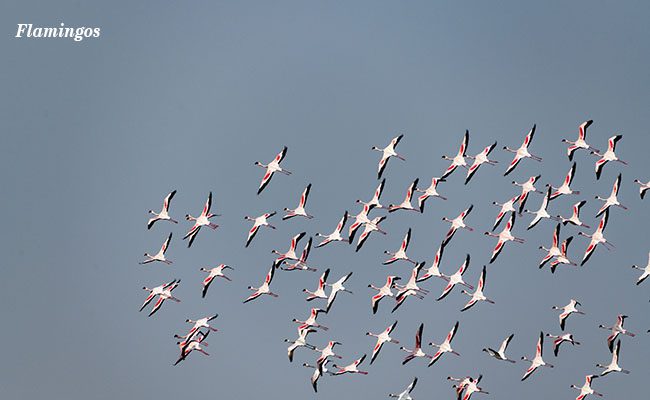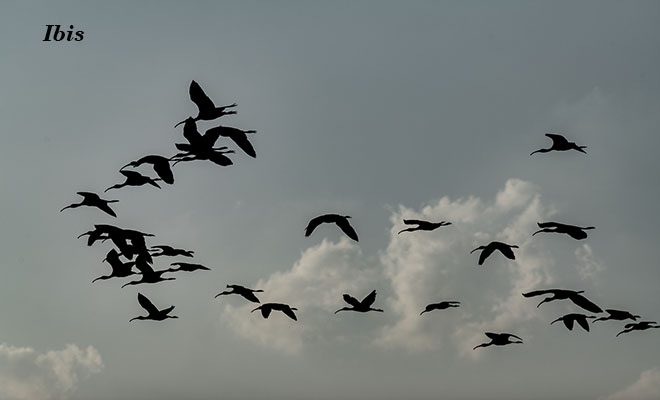 Incessantly cruising from one place to another, you keep clicking pictures of these amazing birds in action. They include : Greater Flamingos along with Grey herons, Eurasian Spoonbills, Black-headed and Glossy Ibis, Asian Open Bill, Pond Heron, Little and Great Egrat and some other water birds. You soon realize why this place has attracted scores of people to come here each year.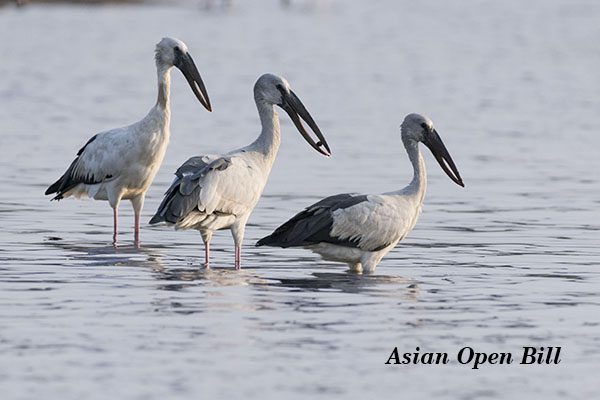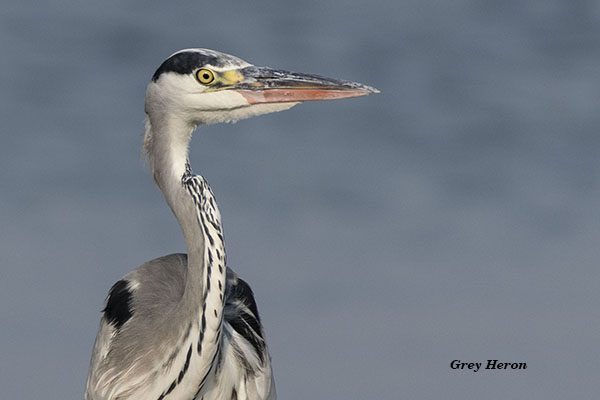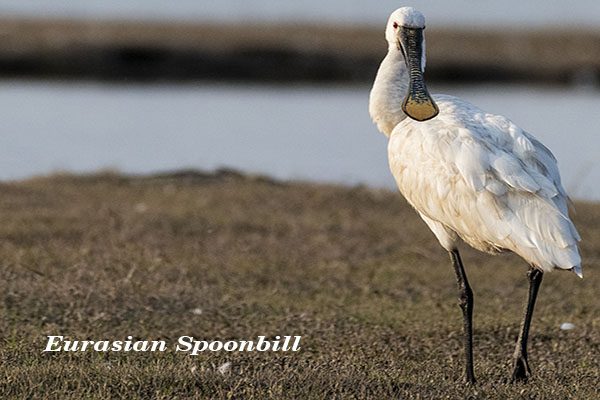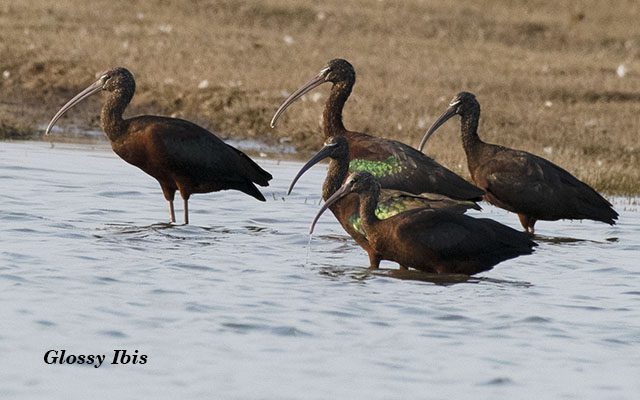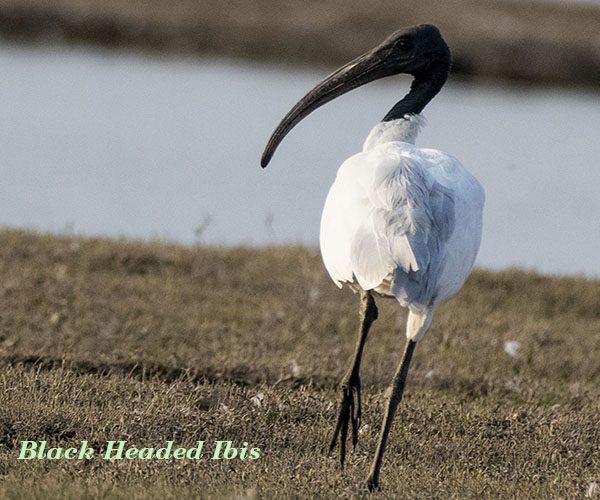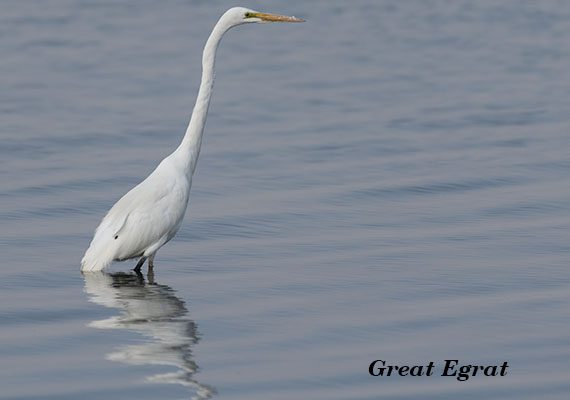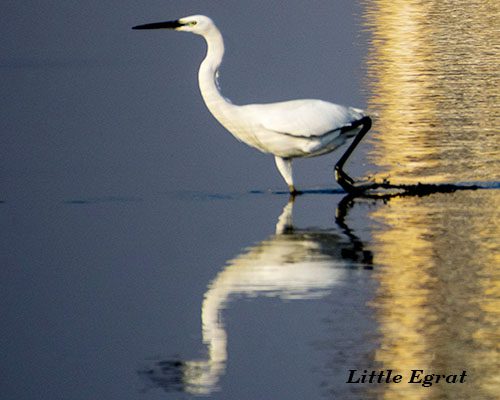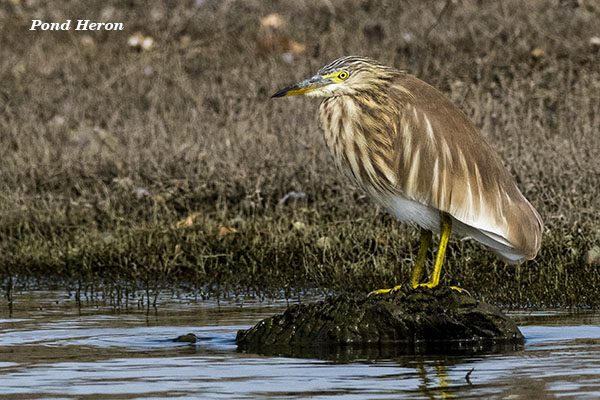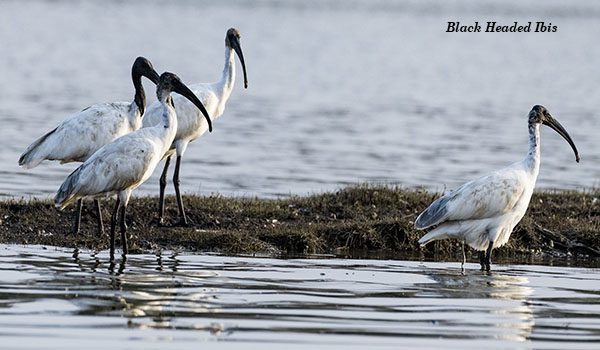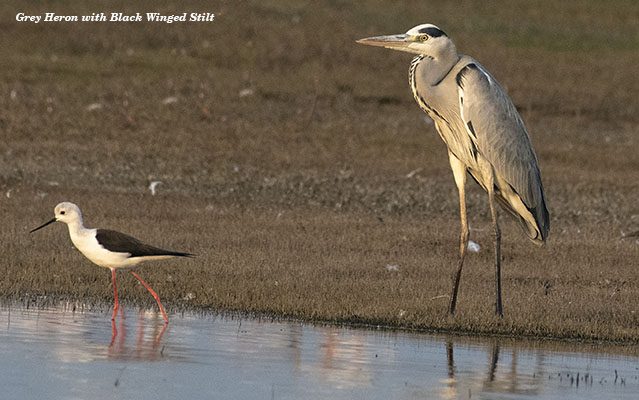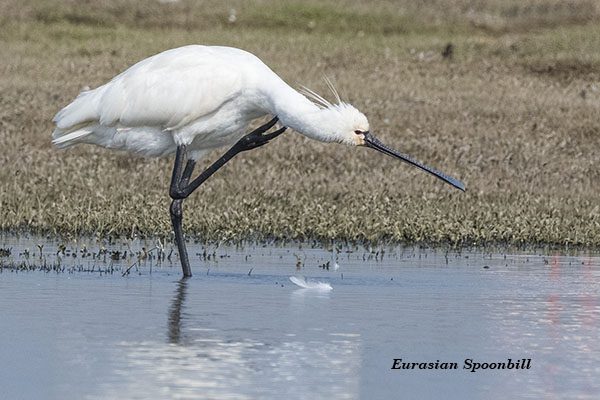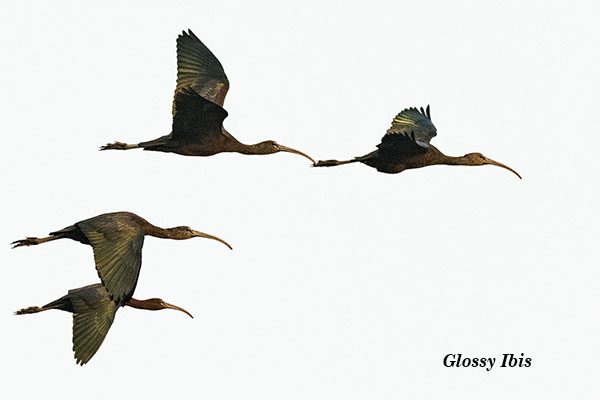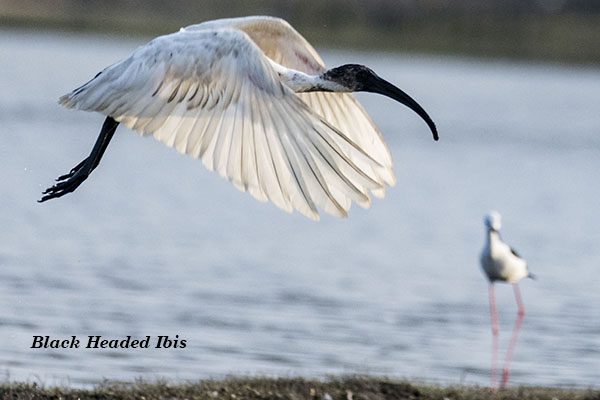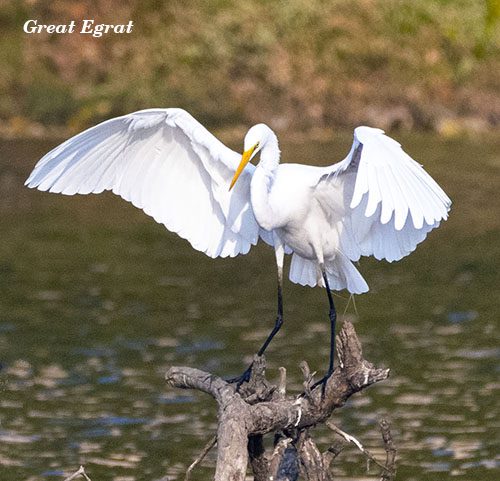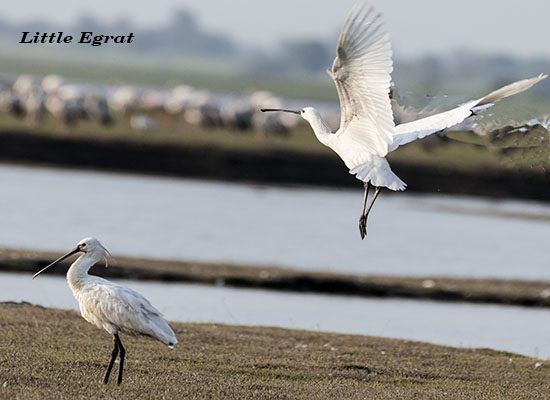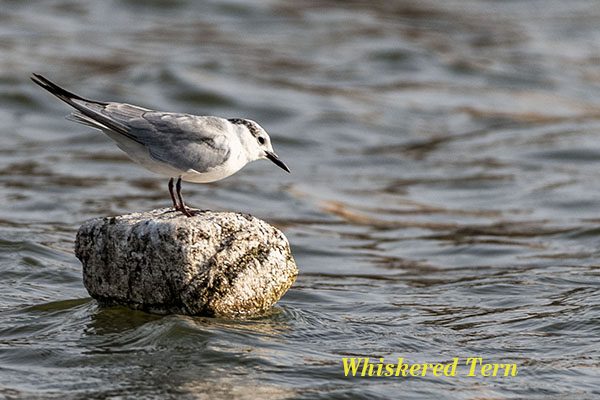 The Sun is now set to set; the soft golden light has turned the landscape look surreal and charming. The color the feathers of the birds seem more vibrant as tinge of golden hue starts to reflect from them. No one can miss to capture this alluring façade. You see few other boats carrying visitors like yourself doing exactly what you have come here to do. Capturing images of these fascinating avian.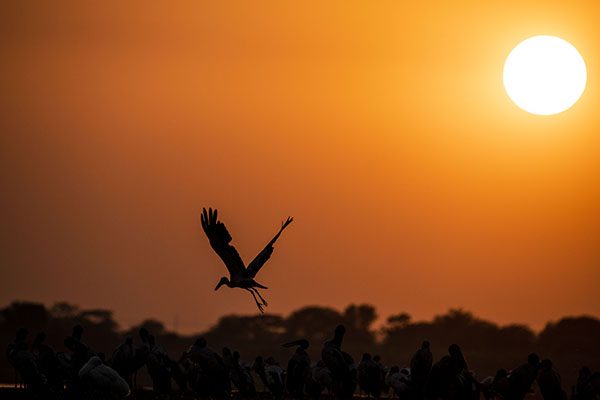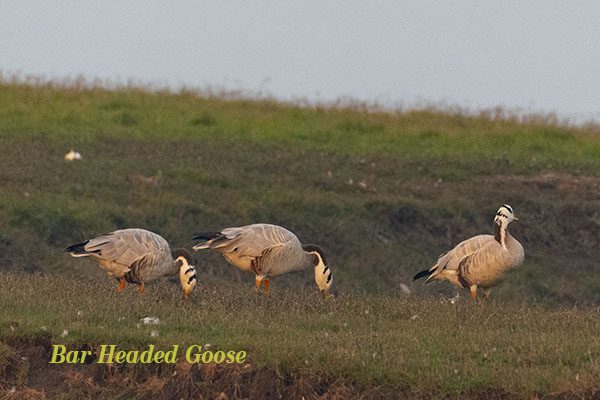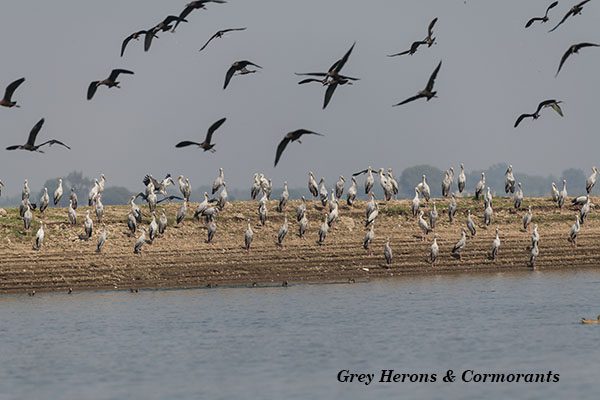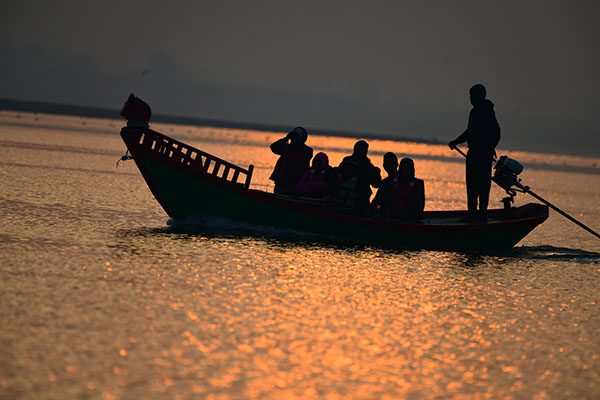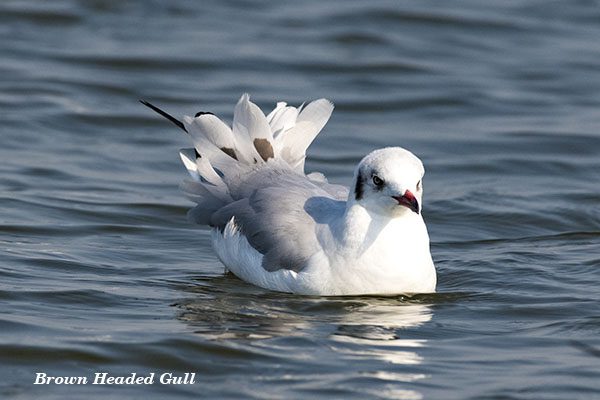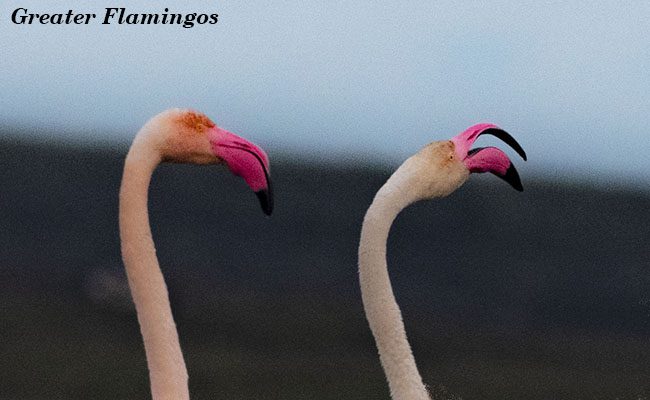 The Sun has now set, the darkness has begun to engulf the area and the birds have resumed their return journey. Ganesh too then directs his boat towards the shore.
Night Safari
Freshen-up, have a quick drink and Ganesh is ready once again to take you for the night safari. As you walk in to the eerie forest nearby, Ganesh with his torch scouts for species of night birds or insects around.
Soon he finds a timid looking Indian Nightjar sitting silently under a bush. As he directs his torch to light the bird, you waste no time to capture its image in your camera. Little further up the hill you see a beautiful green color Indian Chameleon holding on to a tiny tree branch. Same procedure is followed. Ganesh carefully directs the torch light towards it and your camera does the rest.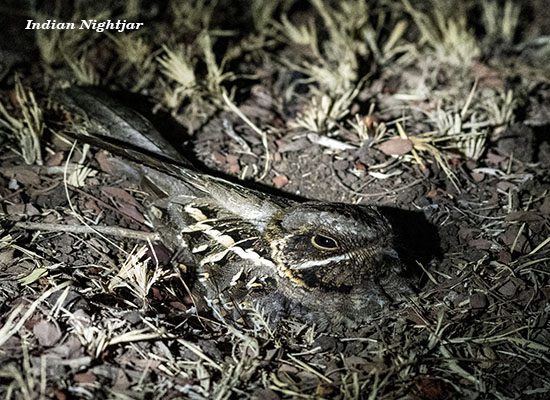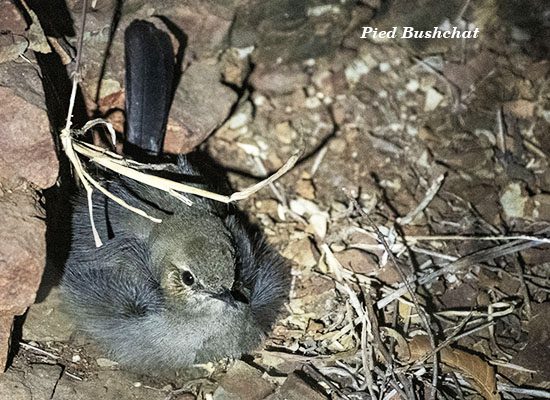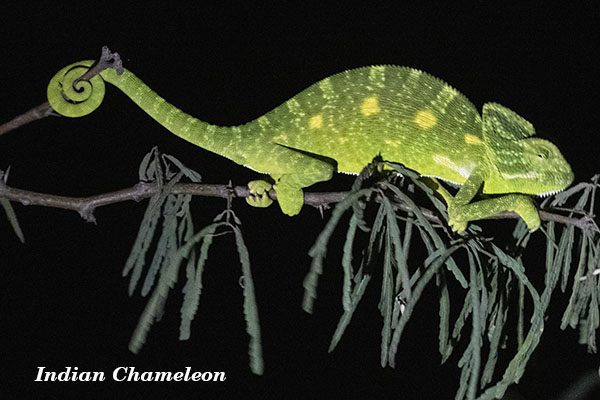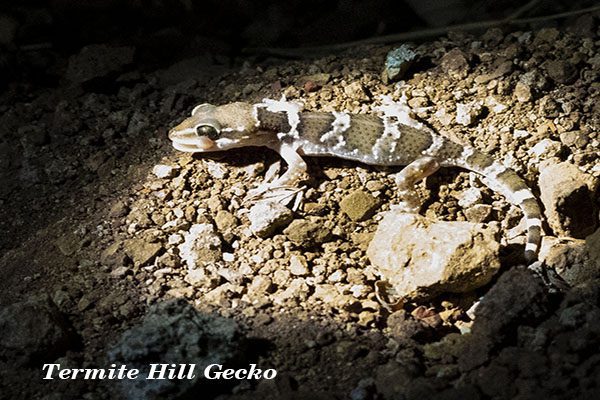 Then a few others like Pied Bushchat sitting in a small chasm up the hill and a Termite Hill Gecko that resembles a lizard move around a rock. It is time now to get back for dinner. Ganesh guides you back despite dark as if he knows this place at the back of his hand.
Day 2
After dinner and night's rest, next early morning you are again at the shore for the morning safari. As the Sun rises from behind the far off hills overlooking the lake, you observe various species of birds flying towards the lake once again presumably to hunt for breakfast.
As they position themselves, you too position yourself carefully to shoot them with your camera, ensuring not to shoo them away. Nikon D850 with 200-500 mm lens ensures that you get some good pictures of these avian in action.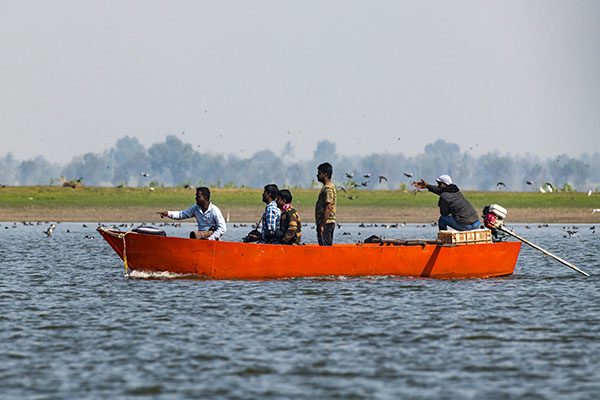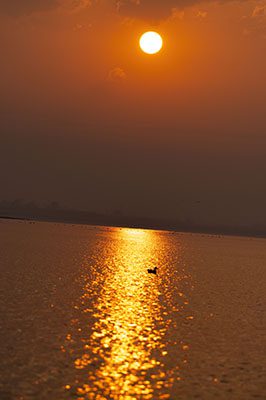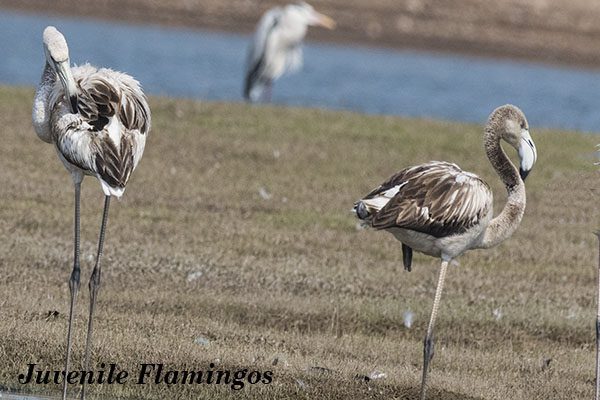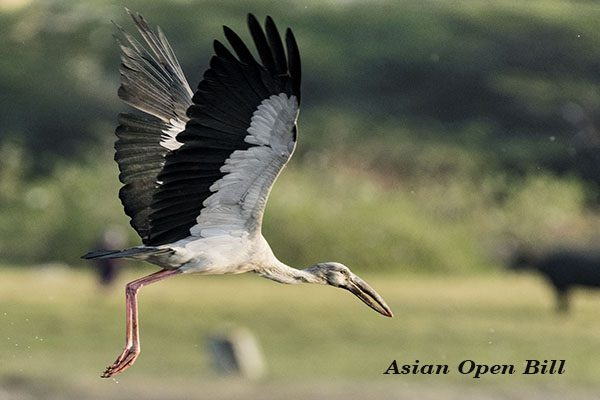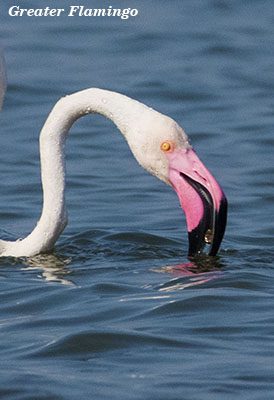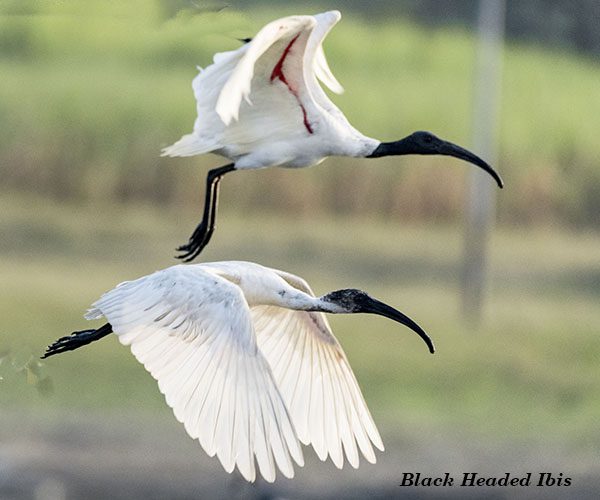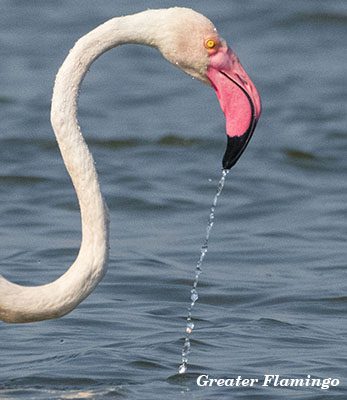 Occasionally bunch of Greater Flamingos take to sky making it a spectacular sight. Their run-up to the flight is so well synchronized that you are awe struck by their unmistakable chemistry. The scene is incredibly striking and delightful.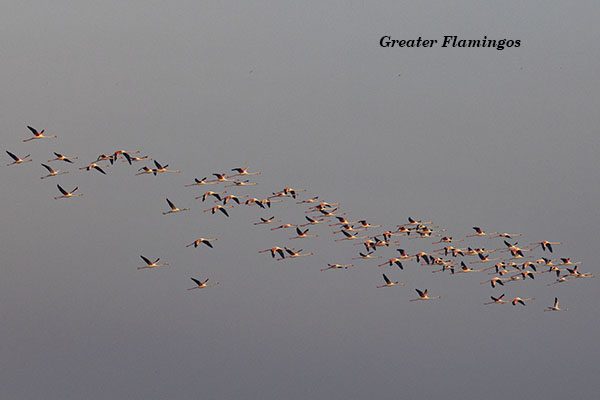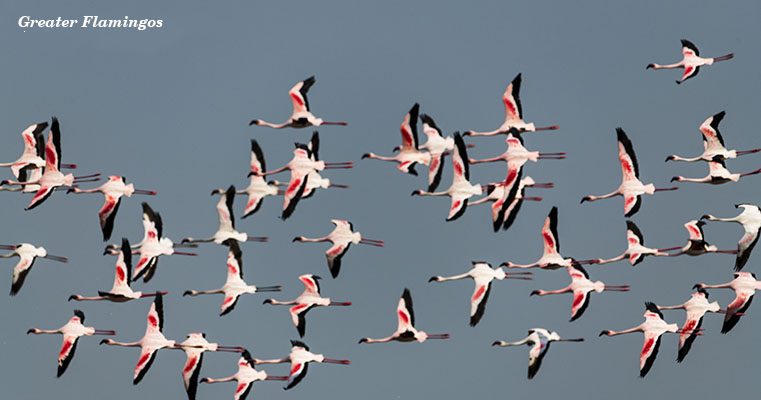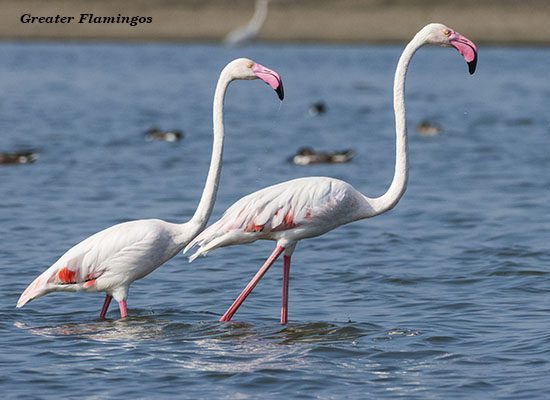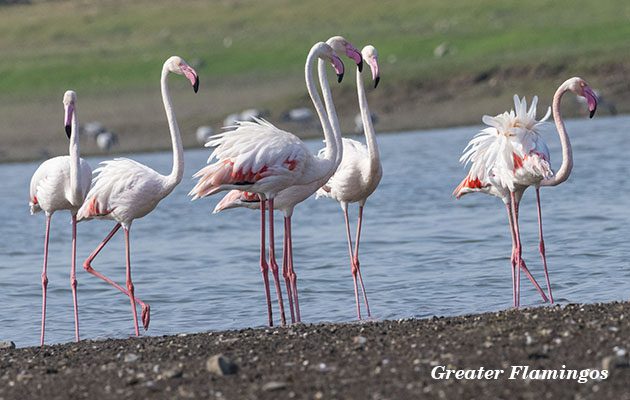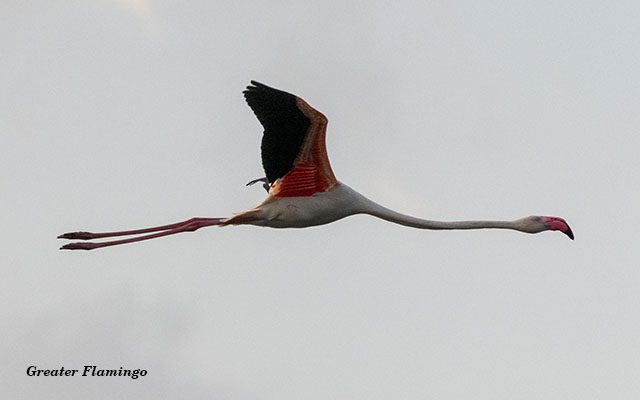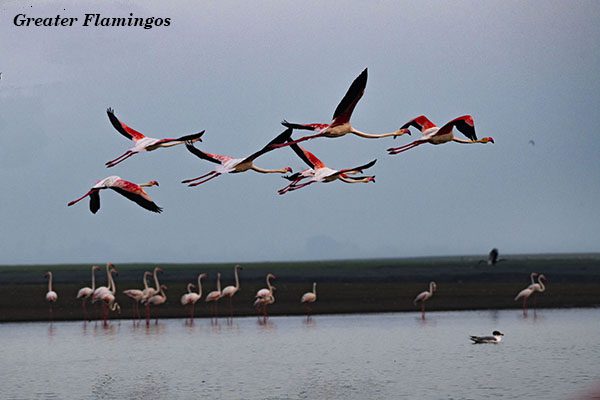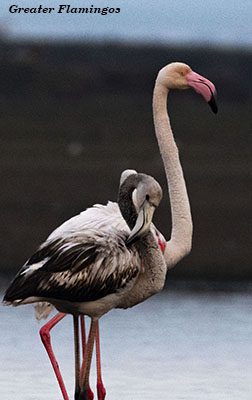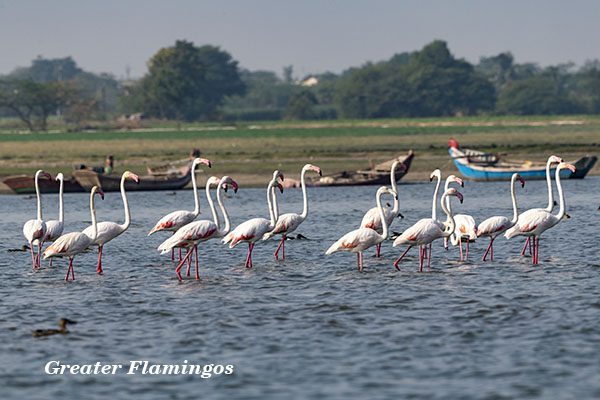 There are few fishermen around trying to pull their nets out and gather their catch. Ganesh approaches one of them and on his advice we purchase a few medium size fishes.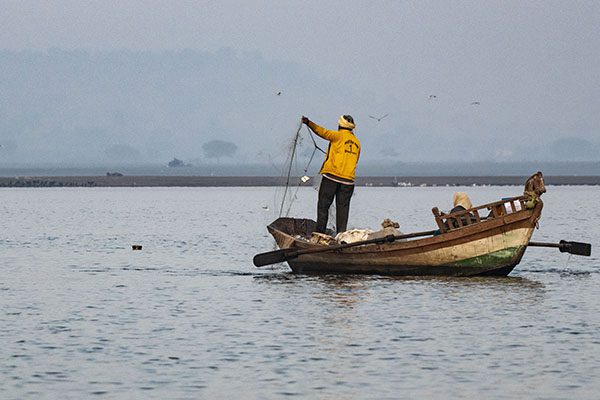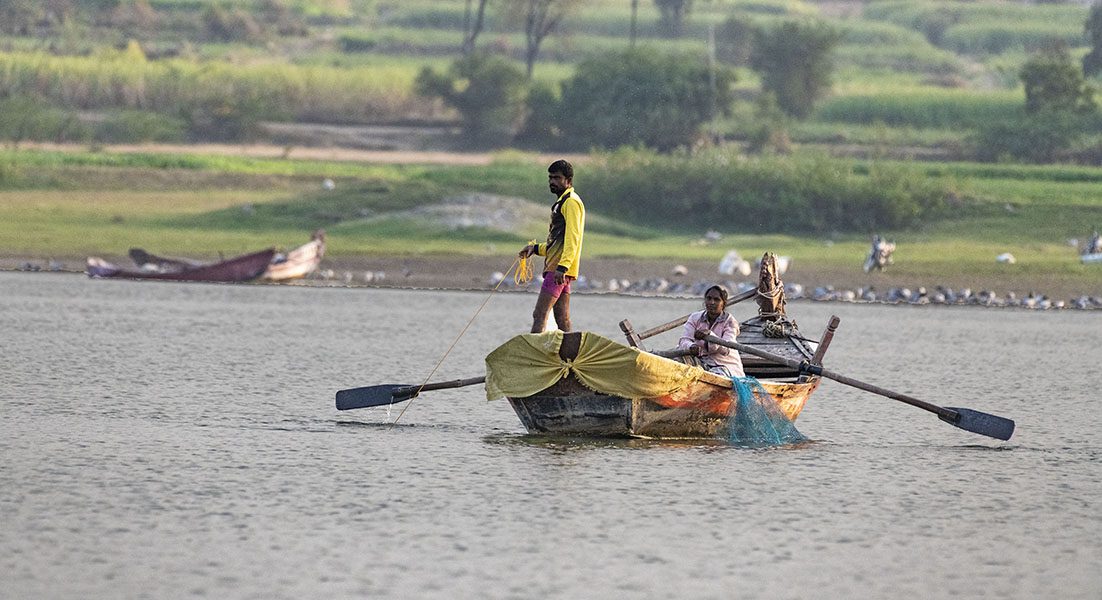 Painted Storks
Next Ganesh turns his boat towards the area where some full-size Painted Stroks have assembled. One after the other he throws these fishes close to them and they oblige by gladly picking on them. As they relish their God-sent catch, you leave no opportunity to click some incredible pictures of fishes in their beaks.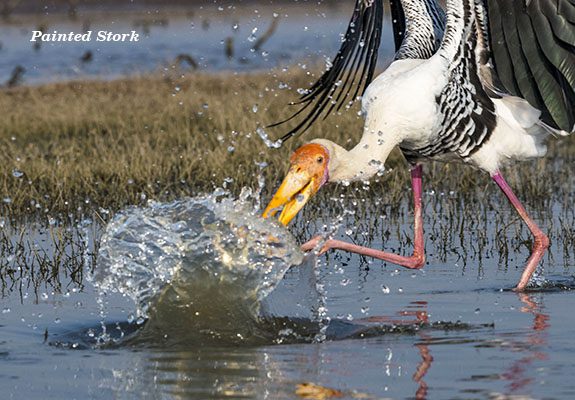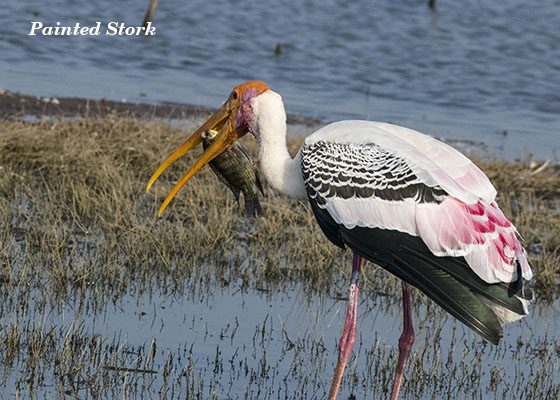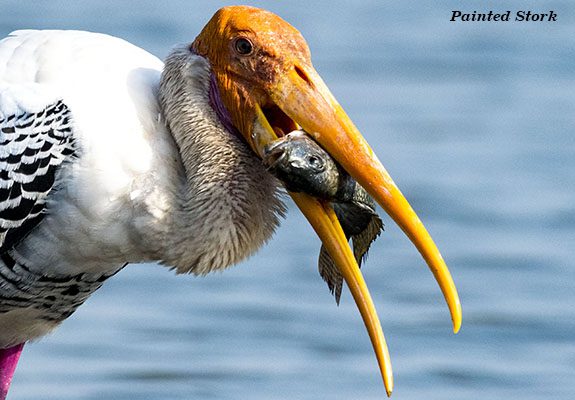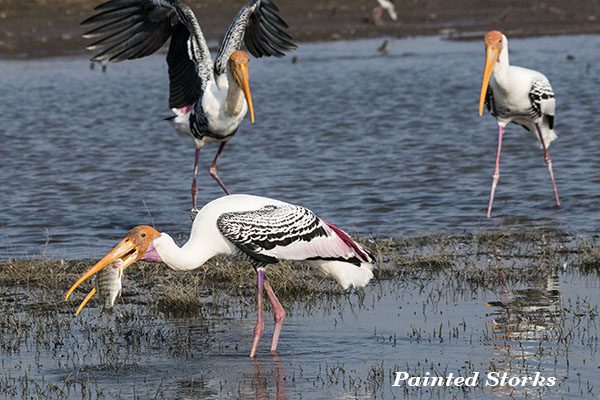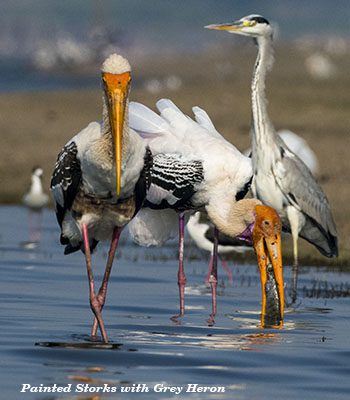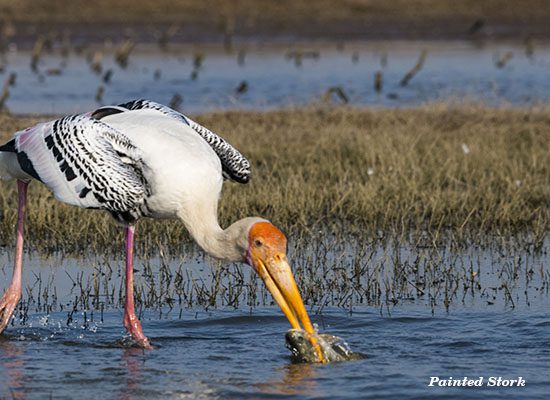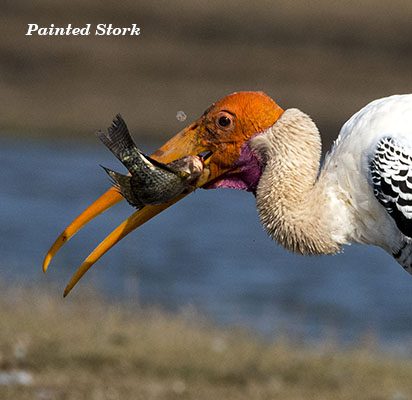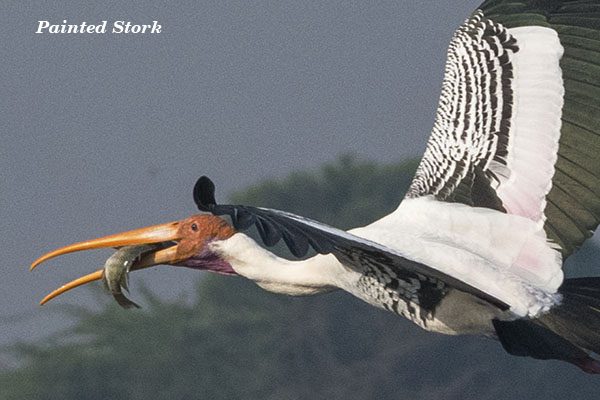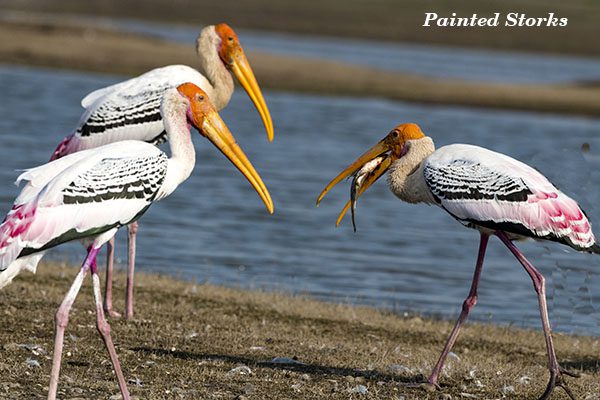 Just as your two and half hours are about to be over, Ganesh gets a call. The caller informs him of the advent of Lesser Flamingos in the area. According to Ganesh the coming of lesser flamingos at Bhigwan it is a rare phenomenon.
Lesser Flamingos
Without delay we rush to the advised spot to see hundreds of smaller size Flamingos assembled. As the boat approaches, all of them gather their wings take to sky. We follow them. There they are. This time you find them standing mixed-up with a group of Greater flamingos. The size of the two is incidentally discernible creating no room to make mistake between the two.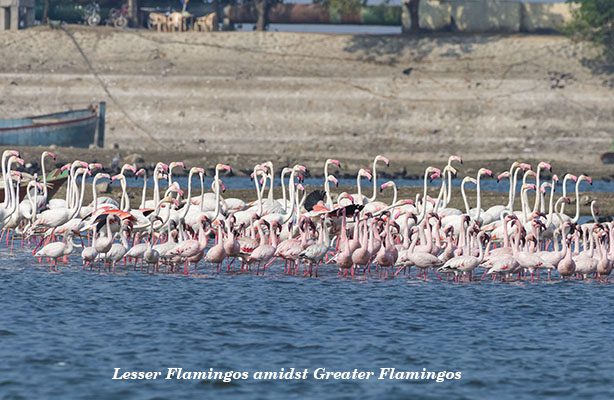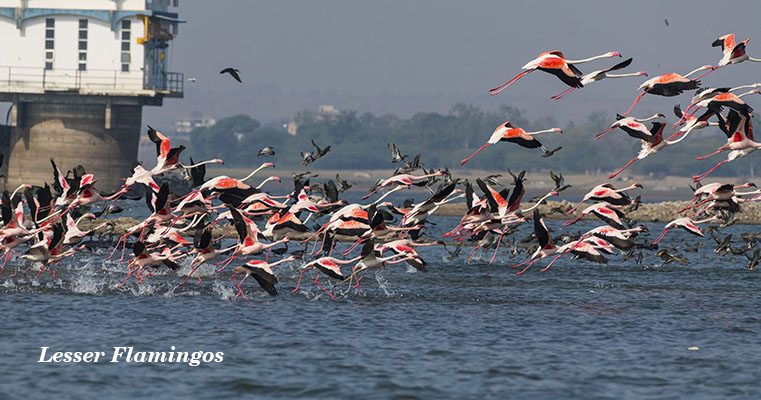 Then there are a few attractive birds like Western Marsh Harrier, Black (eared) Kite and Greater Spotted Eagle around. Greater Spotted Eagle is supposedly a rare bird found here. Unfortunately she does not allow anyone to come near and flies off before you get too near to her. But Ganesh follows her persistently to wherever she goes. This helped to capture her images in different location, in different angles.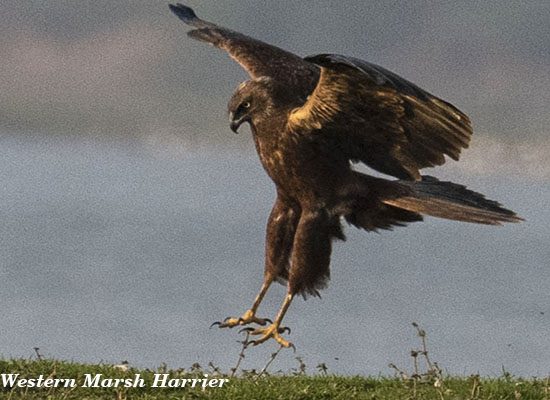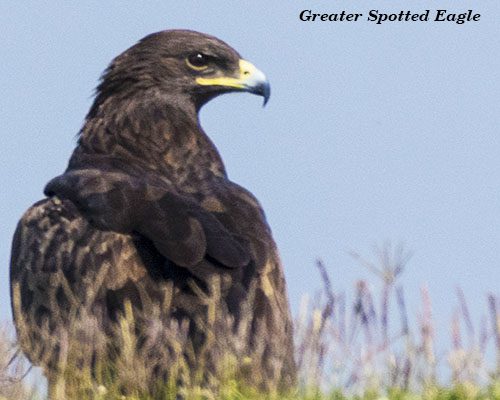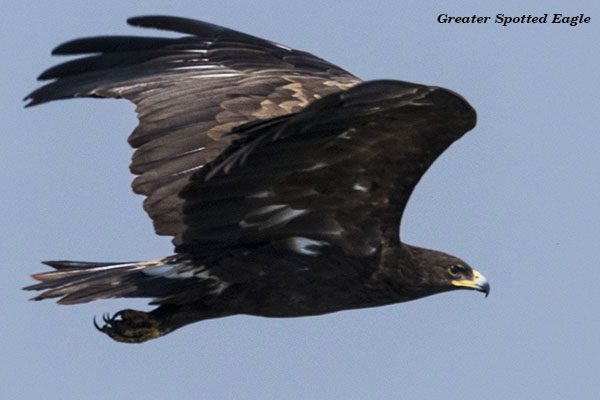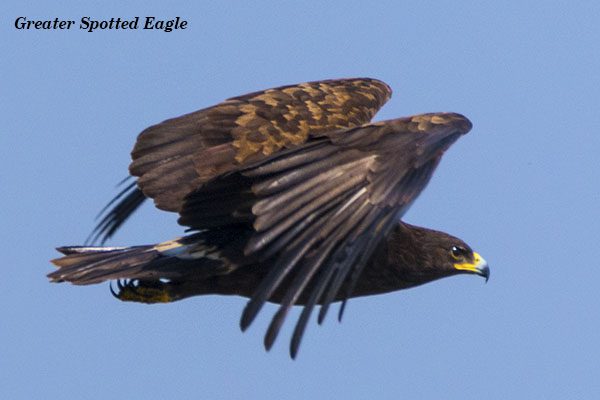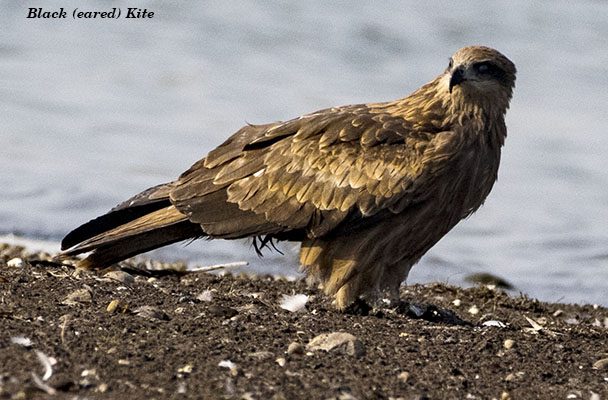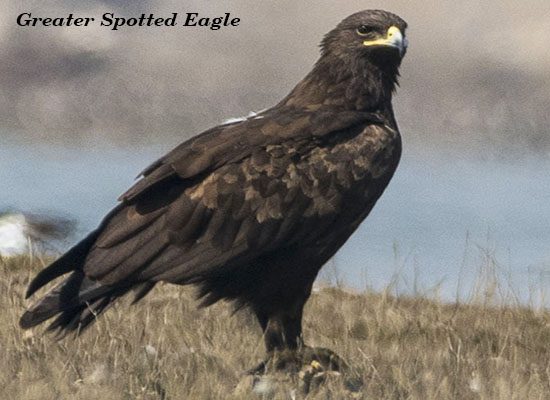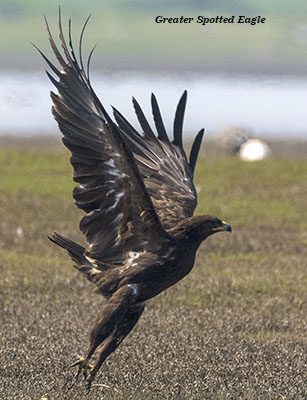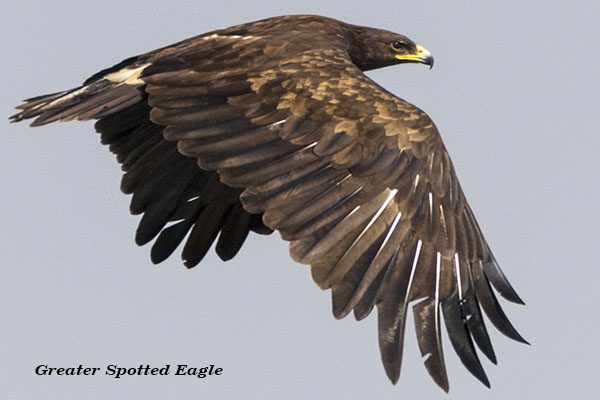 After having spent nearly 5 hours in the lake, it was now time to leave. The short but delightful time spent here gets embedded in your memory. As you leave, you wish these amazing new winged friends a happy sojourn at Bhigwan and hope they enjoy the choicest delicacies of this terrain as long as they choose to stay.
On returning, have lunch, make your payments, pack your bags and return back to Mumbai (Navi-Mumbai).
For more travel blogs please visit : www.bhupendergupta.com
Click on links for blogs on Corbett Park, Denali National Park and Preserve, New Zealand , Alaska and many other.