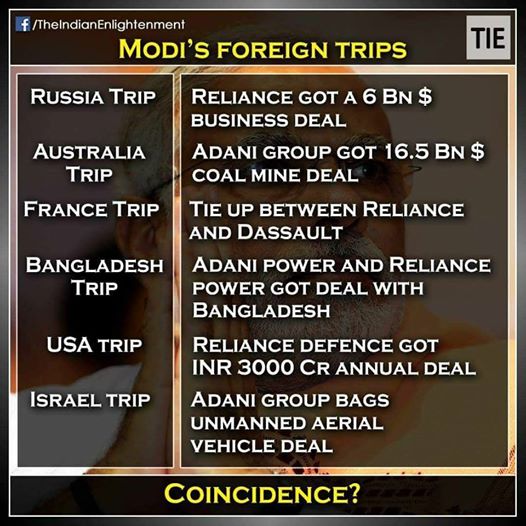 What India has ostensibly benefited from 

PMModiji

's innumerable 

foreign trips

. Cost to exchequer : Rs. 275 Cr. on just flights (excluding 5 trips whose data is not available).
Report : Narendra Modi has travelled approximately eight_and_a_half times around the globe since assuming the post of Prime Minister of India in 2014.
As part of official foreign trips, the Prime Minister has reportedly travelled 3.4 lakh kilometres over the last three years.
The PMO website states that PM Modi travelled across 45 countries over 119 days; which is approximately 10 per cent of his time as the PM.
Data which has been made available on the website of PMO indicates that India has spent Rs 275 crore on flights used by PM Modi for these visits since May 26, 2014. This excludes expenditure for five trips, data for which is not available.
The most expensive trip- Rs 31.2 crore was undertaken by the Prime Minister for an eight-day journey through France, Germany and Canada from April 9-17 in 2015. The second on that list is the Prime Minister's trip to Myanmar, Australia and Fiji from November 11-20, 2014, amounting to Rs 22.58 crore. The third most expensive, being the Prime Minister's visit to Brazil from July 13-17, 2014, with a tag of Rs 20.35 crore. The detailed expenditure is listed on the website.